Tabasco and Texas
The time had finally come for this summer's trip to the USA after a long wait. Neither Tim or I had been in USA since April :-). This time, I would be together with Tim, at least at the beginning and end of the vacation. This time most of the trip turned out as planned, except for one small detail in Tim's schedule, but more on that when we get that far. When we checked in with British Airways online the day before departure, Tim was unable to print his boarding passes for the Atlantic trip, but had to check in at the airport, We had to go to the check-in counter anyway though to hand in our checked luggage.
An explosive check in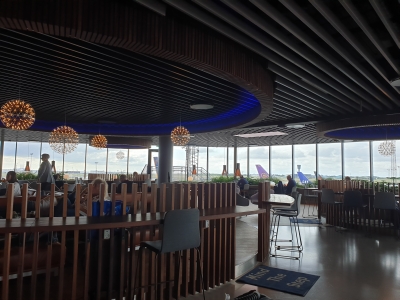 Eventyr Lounge (Fairytale Lounge), the dedicated British Airways lounge in Copenhagen Airport.
Initially, we had to get underway, and that went very well. We were taken to the airport by my son-in-law in his car, so none of us had to park in the airport. I already had both my boarding passes and Tim also got his boarding pass for the trip from London to New Orleans, the one he couldn't print, with no problems. The boarding pass was marked with a code though, which we later discovered meant that he had been selected at random for extra security check in London. This extra check only meant that they before he could board the plane, his backpack and his shoes were checked for explosives, of which he of course had none. In London, like in Copenhagen, we spent time in the BA lounge and in London we had time to take a photo of Tim with the famous "Horse with Lampshade" outside the lounge. The flight itself, both to London and later to New Orleans Louis Armstrong Airport was as usual boringly uneventful.
When we arrived in The Big Easy, we had to wait in line at immigration for almost an hour as there were only two gates open to non-US citizens, and there were many planes arriving at the same time. Also, the border police guys were not the fastest, we have experienced, but the one who checked us was incredibly nice when it finally became our turn. They are not always ! When we got to the baggage carrousel, our suitcases were already taken of and waiting next to the carrousel, and getting through customs was a piece of cake. Unlike many other airports, you don't go by bus to the car rental office, as it is right next to the arrivals terminal, so you just walk there and so did we. When we got there only a single couple or two were aread of us, so we got the car without any delay either. It was parked in a parking garage right next to the office and turned out to be an SUV, the first of those we've ever had; a Kia Sportage. As I've mentioned on earlier occasions, cars in the United States suffer from having astonishingly small trunks, compared to the size of the car, and this no exception. There was room for our suitcases, but that was all, so our backpacks went into the back seat. Also the ice box we usually buy on each trip was going to go in the back seat. But apart from that, it turned out to be a very good car. In fact, the only thing we could complain about was that the car was not cleaned very well at all. At least it wasn't washed outside, and there was a lot of smashed insects on the windshield (they were gone after the first heavy rainfall though). The license plates were from Illinois, so we agreed that it had probably just been returned, filled up with gasoline, and then rented to us. As we would return it in Dulles, the Louisiana office wouldn't have to give us one of their local cars.
We left the airport with me behind the wheel and headed for the first night's stop, New Iberia in Louisiana, a trip of around two hours, so we figured we could be there at 11 pm, even with a meal break along the way. Except for a short stretch of freeway just after the airport, the entire trip was on US Highway 90, which arcs to the south, so even though Louis Armstrong International Airport and New Iberia are actually on par with each other, the trip is not a straight line. After about an hour's drive, we reached Morgan City and here we chose to have dinner. It was at a restaurant from the Shoney's chain, which Dorte and I used a lot in 2002 and 2004, and which Tim and I had previously tried to locate, but so far unsuccessfully. The food was good given it was past 9.30 and the kitchen closed at 10. We got what we ordered and served with a smile. Before continuing we switched seats and Tim was the driver the rest of the way to New Iberia.

At the hotel we had booked a room from home, so checking in was fast and once in the room we went almost straight to bed. We had to get up early the next morning, as we had a long driving day, and just had a couple of errands to take care of before we could head north.
North to Texas
After getting up and getting ready, I went down for breakfast, while Tim got ready as he didn't want breakfast. When I got back to the room, he was ready for departure. We carried the suitcases down to the car and took off. The first stop was the local Walmart where we bought ice box, water and ice as mentioned above so we could be self sufficient with cold water on the trip. On the same occasion, we also bought sun screen as we could see from the weather that it would be necessary and I got some fruit for the trip. Then we headed south to Avery Island, where we had planned to visit the Tabasco factory's country store, which we always do, when we are in southern Louisiana. We even once took a 380 mile afternoon drive just pay a visit. The store opens at 9 am, and since it was only around five minutes past when we got there, we were the only ones in the store at the time. This meant that the staff had plenty of time to talk. First we chatted with the two young girls who were handing out tastings, and later with the lady who was at the counter, when we had to pay for our shopping. When she learned that we had to bring our fairly large purchases to Denmark, she wrapped each individual bottle in bubble wrap, so it took a while before she was done. At that time the two young ladies, who were obviously bored in the tasting department as there were no customers, had also showed up at the counter, and it didn't make it any faster that we now had three people to chat with. I should probably mention that one of the sauces that we tasted was the company's new sauce, made from Trinidad Moruga Scorpion chilies, recognized as the second strongest chili in the world, surpassed only by the Carolina Reaper, which Tabasco had tried using for a sauce the year before, but that sauce was no longer in production. The Scorpion was also really hot - not least when you got it on a small piece of pretzel without anything to dull the taste. Cooling our mouth with a little habanero icecream however, helped a bit J. All that talk and helpfulness meant that while the previous year the visit to the country store had only taken us 10 minutes, this time it lasted for almost 45.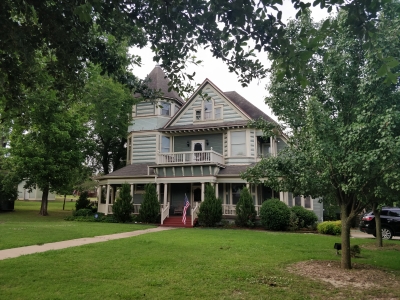 Granny Lou's Bed and Breakfast in Bonham, Texas
When we got back to New Iberia (there is only one road to Avery Island so you have to return by the same route) we took US 90 north to Lafayette, where this road turns west and follows Interstate Highway 10. We continued north however, on I-49 on which we stayed for the next 300 miles or approximately three hours. In Bossier City, we changed to I-20 west, but already after 20 miles we left the interstate once more, and headed north on minor roads until we reached I-30, which we then had to follow further west. Then again on small roads up to the goal of the day, Bonham. Here we first visited the B&B that we had booked from home, Granny Lou's. The owner works in a children's clothing store, so her parents who took care of the B&B - together with a somewhat bulky basset hound named Baily. We got our room which was on the third floor, or rather our suite, because Tim had an octagonal room in the "tower" of the house, while my room was more irregular in shape, but a bit bigger than Tim's and with a livingroom area with a sofa and chairs as well as the bed. To get to the rooms, we had to climb a fairly steep and narrow staircase, so we decided that we would each only bring one suitcase up there. Should we then need something from the other one, we could always get it from the car.
After settling in, we headed out to say hello to Shaggy and her family. Here we were welcomed, not least by her children, as long lost family members, even though they had actually only met us once before the previous year. We had brought some gifts in the form of Danish candy, that we now handed over. Shaggy's husband had not yet returned home from work, so we did not meet him on that occasion. As we were a little tired we didn't stay long, but after having arranged to meet the next day, we headed out for dinner at a local, very local place, named Muddbones, which our hosts had recommended. They were said to have the best burgers in town, and they were actually excellent - and cheap. Here too, we had a long chat with the host about which burger to choose. The one we ended up with was served with an excellent BBQ sauce that we later discovered was made by Shaggi's neighbor. After dinner we headed back to Granny Lou's, where we were already around 9.30, and relaxed in our rooms with books and the internet for the rest of the evening.