C

icadas and fireflies
After eating breakfast this last morning at Clichy Inn, and settling my bill, I said goodbye and headed off for another day of moving to a new place. Today's stage was quite short, namely from Statesville to Ferguson, a trip of between 42 and 60 miles depending on the route I chose. According to Google Maps, the time would be the same, namely one hour regardless of route. But I didn't actually take any of them. I had received an email from Expedia the previous evening, through which I had booked my last stay, that I should contact the Zevely Inn in Winston-Salem. Based on the email, I concluded that something was wrong with the credit card information. In fact, it looked like they had gotten my old credit card number and I didn't want to give them the new information over the phone, so I decided to visit the inn instead. From Statesville, there are about 45 miles to Winston-Salem and on the freeway most of the way, so it was less than an hour's drive. When I got there, it turned out however, that the inquiry had nothing to do with the credit card. The lady who runs the place just wanted to know what time (some days later) we were expecting to arrive, and of course I could have told her that on the phone. She also used the opportunity, as I was there anyway, to ask if any of us had problems with what we could eat (allergies, etc.), and I could tell that apart from Tim's lactose intolerance, which he himself controls (ie what he can eat and not eat), then we did not suffer from anything of that kind.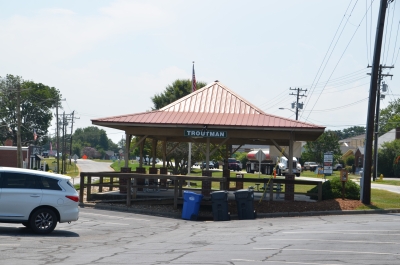 Former railway depot in Troutman
After leaving the inn, I headed back to Statesville to visit the Farmer's Market, which is open on Saturdays. I couldn't do it before my visit to Winston-Salem, as I was supposed to be there before 10, when they "lock" the front door so that the place can be cleaned without anyone interfering. Once you are a guest, you have a key yourself, but for others the door is open between 8 and 10 and then again after 3 pm, unless you have arranged something else, and what I arranged with the lady was that Tim and I would be there around 4 pm. But now I drove back to Statesville and visited the small but excellent Farmer's Market, but I didn't buy anything on this occasion. From there, I set my course for the small town of Troutman south of Statesville, a town that I had driven through a few days before, when I was visiting Lake Norman State Park and now I just wanted to see the town, but it was over quickly. There were some houses with a couple of advertising murals, and a former - I wouldn't call it a train station building, because it was just a pavilion without walls, but that was what had been in the town when passenger trains were still serving the town. I therefore soon set off for Ferguson, at first by small roads, but then by the highway as it is somewhat faster.
AAt 12.45 pm I arrived at the small open-air museum, Whippoorwill Academy and Village, which is open on the third Saturday of each month between 13 and 17, and this was exactly the third Saturday in July. However, Margaret and Dick had told me that they would probably be there by 12 o'clock to get ready. Furthermore, after normal closing hours there should be an event with art exhibition, music, wine tasting and more, so on this particular Saturday the museum was open until 7. Margaret and Dick were there when I arrived, and as on my previous visits, I was received as the prodigal son returning. We chatted while they made the last preparations for business hours. There weren't many guests from the beginning. It was probably due to the weather which was not that good, quite the contrary. That is, in Ferguson it was excellent with sunshine and a nice temperature, warm but not too hot; but pretty much all the way around Ferguson they had heavy rain and thunderstorms. We got that confirmed shortly after when Margaret's cousin, Renee, arrived. She could tell that in Taylorsville, where she came from, it poured down so much so she wouldn't drive in the birthday present she had been given by her husband the day before, a Ford Mustang Cabriolet, but had taken another car. Renee is also one of the "helpers" at the museum, where she also keeps a few bee hives. In typical American manners, a sign warns you that it is at your own risk if a farm animal causes you harm and the only farm animals that are not fenced in are the bees. In the days I was there, I didn't see a single one though. By the way, as I knew Renee was a beekeeper, I had brought her some Danish honey, which I believe she liked.
Eventually, some guests arrived, and of course they were having a guided tour of the place, and Renee took care of that while Margaret and Dick were preparing for the later event. Soon after John Hawkins, whom I had been in contact with a few days before, arrived. We had agreed on meeting at the museum. John also knows Margaret and Dick, so he too was welcomed by them as warmly as I had been. Unfortunately he could not stay long, but now we had met face to face once again. John is, , a very knowledgeable and also a very friendly like most people in the area, and as former director of Calwell Historic Museum he has helped me a lot in my Tom Dooley research. When he had left, I just spend the day at the museum, walking around looking at the buildings and chatting with Margaret, Dick and Renee and some of the other guests. When it was past 3 o'clock Charlotte and Bill Barnes, who had driven up from Matthews, arrived and we had a lot talk to about as well. As the clock approached 5, Margaret and Dick had put out food an drink for the guests, and now the musicians who were going to play began to arrive, as did the two artists who exhibited their works in the small gallery on the site, Smokehouse Gallery, and eventually also the owners of the winery which was to host the wine tasting. They were from a winery called Six Waterpots, that I have not yet visited, but I will make up for that on my next trip to the area in April 2020. It's located somewhere between Lenoir and Granite Falls, so it's easy if I stay the the Irish Rose, where I have already booked a room. Eventually more guests arrived and in the end there were quite a few who listened to the music, looked at the art and tasted the wine. It was really enjoyable, and I found that the paintings were really good, but they are a little hard to pack in a suitcase, so I didn't buy any. Instead, I bought a few bottles of wine, and I had previously bought a glass of Grandma Ferguson's Hot Pickled Bamboo and, moreover, Renee gave me a glass of her homemade honey (actually I guess it's made by the bees), which I could easily find room for.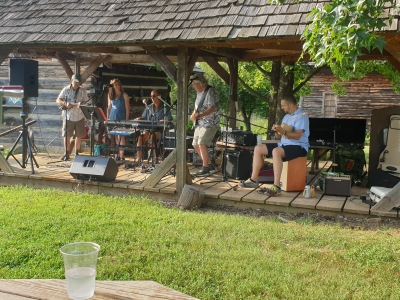 Musical entertainment at Whippoorwill Academy and Village
I was going to stay for the next few days at The Old Ferguson Place, Edith Carter's former home right behind the museum. Edith was Margaret's mother and an incredibly nice lady whom I liked very much, although I only met her far too few times. Like everyone else in the area, she was nice and very helpful when I came by. And it was Edith who founded the museum and ran it until she passed away in 2014. Around 6 pm I drove my car from the museum parking lot down to the house and carried my baggage inside. It was on that occasion I discovered that there was no internet connection. When I returned to the museum, Dick told me that there should be internet, but that their signal extender had probably broken down, so he would take it with him and get it repaired. At the same time there was no phone connection, which I had not really expected either. Ferguson is far out in the countryside! Dick told me though, that at one specific place on the path from the museum to the house, you could get connection, and it turned out to be completely correct. When I got back it was almost 7 pm and the crowd began to leave the place again, and I said goodbye to Charlotte and Bill, whom I should see no more on this trip. Gradually Renee, Margaret and Dick also left after having cleaned and locked up the place, and then I was all alone. Dick had told me that there was a wifi router in the little store, Matt's Store, and if I sat on the porch outside, I could get a good wifi connection, so I picked up my tablet and settled down on the porch and the conenct was actually quite good. I checked if the outside world still existed which it did, and I also played a bit of Wordfeud with Dorte and Else back in Denmark (and also with Tim, who had now reached Florida and was staying with his friend's parents) and had a great time with the two free roaming dogs of the place, who were incredibly friendly and loving. They were originally Edith's dogs, and they still live around the place, where they sleep outside, whereever they like, typically in the open barn, and then someone comes and gives them water and feed every day. Of the three days I lived in the house, it was the only time I saw both of them, the next day I only saw the female dog, Brownie, and the last day I was there I didn't see any of them at all, so when I told Margaret, she believed they had probably been on field trip.
While I was sitting on the porch, it got darker as nightfall approached, and already at around 9 it was quite dark, which is not surprising since Ferguson is on par with North Africa, which is quite far south of Denmark. As darkness fell, the cicadas' song became the only sound I could hear. From the museum is about 100 m to the main road, which is definitely not busy in the evening - by the way, not by day either, so it was absolutely amazing to experience something that was so quiet - that is, apart from the cicadas, which sound incredibly loud. Later there were also fireflies and the whole atmosphere was so good that I actually considered it lucky that the extender didn't work, and I ended up sitting on the store's porch every night enjoying the silence, the fireflies and a little earlier on the the next evenings the sound of roaring cows from time to time interrupted by a braying donkey. I didn't hear that this first evening because of the music. As the clock approached 11 I walked down to the house to go to bed and it must be well soundproofed, because unlike other places, I had stayed at, in the area, the cicadas' song didn't actually sound so loud once I closed the door.