No Boone Today
First morning in The Old Ferguson Home in Ferguson! And the first challenge - breakfast! Ferguson is located far out in the countryside, 14 miles from the nearest town - and thus the nearest restaurant. There is a small place in Ferguson, which serves good burgers and specializes in livermush, but none of those appealed to me for breakfast - and the livermush not at all. On the other hand, there was a note on a message board in the hallway recommending a restaurant in Wilkesboro, which was supposed to serve good breakfast, so I decided to go there. It's just 20 minutes drive, and after getting ready and locking up the house, a good half an hour later I had found a place to park my car in town. I walked to the restaurant, called The 50s, which is on Main Street close to the Wilkes Heritage Museum, only to find that it was closed on Sundays! So no breakfast there, and on a Sunday morning, there were no other places open. So I decided to go to the nearest Walmart and buy some bread, cold cuts, etc., enough for the next few days, so I didn't have to think about breakfast any more in the days I was going to stay in the house. Next time, I come to that part of USA (in April 20), however, I will test the place to see if the recommendation holds. After shopping in Walmart, I used the opportunity, now that I was at a place with cell coverage, to call the family back home in Denmark.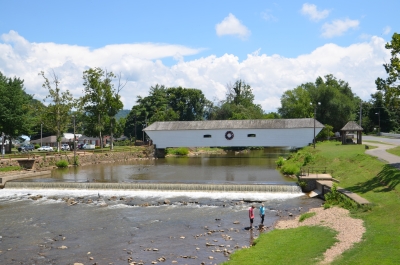 The covered bridge across Doe River in Elizabethton, Tennessee
When I had completed the phone calls, I started my excursion of the day, which should initially take me to Boone, which is literally just down the road, when you're at Walmart in Wilkesboro. Go 32 miles west on US Highway 421 (where Walmart is located), and there you are - in Boone. This is a stretch of road I have often driven, and I have passed through Boone many times, but had not stopped there since 2002, and I would now remedy that. However, it should not turn out like I had planned, because when I got to the city, all the parking lots, both in the main street and the closest (and not so close) side streets were occupied, so others had decided to visit town as well on this fine Sunday. Instead, I continued along US 421 into Tennessee via Trade to Mountain City, where I also have a murder mystery that I'm interested in, and about which I might write a novel sometime - maybe - if I feel like it - and can think of something to write. There is little to see today from the time of the murder in 1903. The small settlement, Sawmill Creek, where the actual murder took place, has disappeared, engulfed by Mountain City itself, and the only thing you find there is a couple of churches and they are of a much more recent date. Instead, I headed further into Tennessee toward Elizabethton, which I visited in 2015. Back then, I visited Sycamore Shoals State Historic Park just outside of town, and I would repeat that now. Along the way, I made a short stop outside the small settlement of Pandora to take a few pictures of Doe Creek, where Tom Dooley was apprehended back in July 1866.
I parked the car outside the park, and entered the information center, where I wanted to see if there were any books I could not do without, but when that turned out not to be the case, I went out to the park and looked at the replica of Fort Watauga, which has been built on the site - a bit away from where the orginal fort stood. The fort was built in connection with the Chickamauga wars in 1776, and I could tell you a long story about that, but I have already done that (at least in the Danish part of this website) so I will not repeat that here. After looking at the fort, I went down to the river to look at the rapids that have given the place its name. Then I decided to go for a physical exercise walkas I was walking aroun danyway, but it only mounted to about 2.5 miles, because it was still both hot and very humid. When I was leaving the park and and once more had to go through the information center with its gift shop, I bought a few books about the Cherokees even if I had at first decided not to, but the tribe is one of my big interests, after all. Then I drove down to historic downtown Elizabethton, which I had not visited before. It turned out to be a pretty area with a nice "main street" and they even had a covered bridge over the Doe River, so of course I had to walk across it. Also, the county jail was in or rather just outside downtown, so it was also photographed.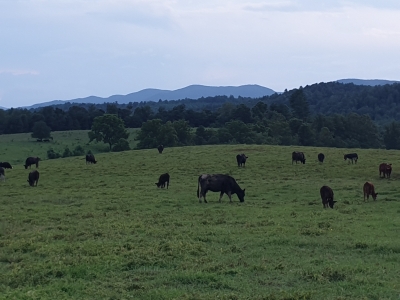 Evening view from Whippoorwill Academy and Village
Then I set off back to Boone with a few stops along the way to take pictures of Watauga Lake and some butterflies that I had a rendezvous with there. Just after the state line to North Carolina, I made a stop in the small settlement of Zionville, to visit the local Baptist cemetery. Here I would look for a headstone of Lieutenant Colonel James W. Grayson, 4th Tennessee Infantry (Union), the man who in his time arrested Tom Dooley together with two deputies from Wilkes County. After a bit of walking back and forth at the cemetery I actually found the stone; in the last row I went through, and thus the one closest to my car, as I hade stater my serach in the farthest end of the cemetery! Then I continued back towards Boone, as I supposed that by now, most tourists, there would probably be room for my car somewhere. As you may figure I don't consider myself a tourist. After 16 visits to the area I'm almost local.. I was right about the parking spaces being free, but just as I reached the city limit there was a huge cloudburst. Unfortunately I had left my waterproof poncho as well as my jacket back at the house; it had after all been 86 degrees and sunny when I left "home" in the morning. I therefore just continued through town. When I got a bit out of town and had turned south on US 321, it stopped raining, so I turned around and headed back, only to find that as soon as I reached the city limit, it poured down again. I agreed with myself that the weather gods didn't want me to visit Boone that day.
Instead, I headed for Lenoir, where I would find a place to have dinner. Other than a single slice of bread and a hard boiled egg (bought in Walmart) in the morning and two nectarines, I hadnít eaten all day, so I was getting pretty hungry. In the end I choose Ruby Tuesday once again, and I the food had just arrived, when my phone said beep. It was a text from Margaret Martine, who I then called back. Margaret asked where I was and if I would like to visit them and have dinner and a dip in their pool. Unfortunately, I had to explain that I had already had my food in front of me - even though I would have rather eaten a homemade meal with Margaret and Dick. Instead, we agreed to meet the next day somewhere in Lenoir, where Margaret was to teach, and then we could eat there. After dinner, I drove back to the house in Ferguson with a stop along the way at a gas station to fill up the car, so I was ready for the next day's excursion, wherever it would take me. Back in the house, I used the opportunity to wash my clothes so I didn't have to do anymore laundry before I was back in Denmark.
When I had moved the clothes to the dryer, I went up to the museum and sat down on the porch outside Matt's Store with a cup of coffee and my tablet, and there I stayed and enjoyed the summer evening, the cicadas, the mooing of the cows and the sound of a single donkey now and then, while I watched the fireflies flying around me. After an hour, I went back to the house and took the clothes out of the dryer and folded it, so it was ready to pack. Before I walked back, I just said hello to Brownie, the female dog, while I didn't see anything of Socks, the male dog.