Reunited
Including the ice cooler I forgot at the gas station the previous day, the next few days would prove to be filled with forgetfulness.
Visiting my best friend in Statesville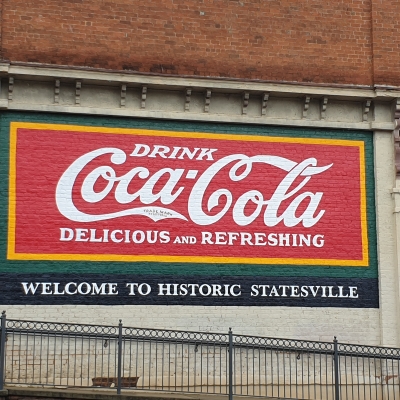 Coca-Cola advertisement as a mural in Statesville.
The day had arrived when I had to leave Ferguson. As I had already packed most of my stuff the day before, it was actually just my toiletries I needed to pack and it was quickly done. Once again I made breakfast, ie. coffee and one of the buns I had bought at Walmart that I warmed on the toaster. For the last time, I went to the porch outside Matt's Store to enjoy the beautiful morning while checking the internet to see if the world had been overturned - it hadn't. I stayed for an hour on the porch before I returned to the house and carried the remaining suitcase to the car. I locked the door to the house and left. At first, I just drove around the area for a bit, like saying "goodbye" to Ferguson and Dooley land. I ended up on Grandin Road and I followed it south to North Carolina Route 18, on which I then headed toward Wilkesboro - though not very far, because when I got to the small Beaver Creek Road, I headed north again. The plan was that I wanted to see if Zelotese Walsh, who lives on Beaver Creek Road, was home, but he wasn't. The 95-year-old gentleman was out and about! Instead, I drove back to NC 268, from where I came, and headed for Wilkesboro. Here I went to the gas station where I thought I had forgotten my ice box the day before, and it turned out that I was right and that they had kept it for me. Thus, united with both the box and the cold water in it, I was able to continue my journey.
I continued on US 421 to the Western North Carolina Visitor Center, which is located just outside Wilkesboro. I knew from earlier experience that there was a good telephone connection, so I used the opportunity to call home, and I also exchanged some texts with Tim, who was on his way north from his Florida visit. We were going join forces again the next day. Since I plenty of time to reach my goal of the day, Winston-Salem, where I hadn't booked a hotel btw, I had to come up with something else to do in between. Therefore, I went for a walk at the Visitor Center, where you can take an excellent stroll around the area, with signs along the path telling about nature and what to see. I went around twice before continuing.
After a bit of driving around on small roads where I just enjoyed the scenery, with low mountains to the south (Brushy Mountains) covered by low-hanging clouds - it had now started to rain, but it soon stopped once more - I headed for Statesville. Here there was another restored advertising mural that I would like to see (see previous articles). In this case, an advertisement for Coca Cola, where the company pays parts of the restoration itself, so that they are sure to use the right red color. When I had seen and photographed the commercial, I wanted to see if Steve Hill had returned from his trip to the beach with his grandchildren, so I drove down to the Statesville Historic Collection. It turned out that he had come back so I could give him the book I had brought for him, and then we had a nice chat for about 2.5 hours. In the end, however, I said goodbye to my best friend in Statesville, and headed for Winston-Salem. When I got there, I first went to the airport, where I was to pick up Tim the next day, when he returned his rental car. It turned out that the route I used led me along smal residential roads where I thought I had gotten lost, because there was not much evidence of an airport beling close. But there was. It was not very big; a single building with the control tower located on top. But now I knew where it was, and since there was only one small parking lot just outside the building, I was sure Tim and I couldn't miss each other.
I found a hotel on the outskirts of town, a Comfort Suite, which is an excellent chain we have used several times, and the hotel was right next to a shopping center, Hanes Mall, where there were also several restaurants, which often is the case near interstate exits . After being accommodated and having relaxed for an hour, I went for dinner. Since I didn't want to drive, I just walked to the nearest place, which turned out to be an Outback Steakhouse, which is at the slightly expensive end of the full-service chain restaurants. But the food was good. The rest of the evening I relaxed in my room with my tablet and the remaining part of the book I had started reading three weeks earlier - I never find the time to bread much whe I'm on vacation as there is so much else to do.
Don't forget to remember what you forgot
After eating breakfast at the hotel, I had to pass the time until I had to pick up Tim at the airport between 1 and 2 in the afternoon, so after checking out, I headed west. I had no real goal, but since I had never visited Mocksville, the county seat of Davie County, which borders Forsythe County in the east and Iredell County in the west, I thought I could do so on that occasion. From the hotel it was just 25 miles along I-40 and NC 158 to Mocksville. As the town was almost empty, I easily found a place to park and then I walked around a bit. I had chosen to park right at the courthouse, and on the other side of the street was the county administration building. I wandered around town for a while and saw, among other things, the town hall (from the outside) besides the courthouse and a monument to the fallen in several wars. Such monuments are found in virtually every town or at least every county seat in western North Carolina. I also saw the towns's water tower, which, funnily enough, was located at the end of Water Street. Along the way, I noticed that there were an extreme number of law offices in the area. In fact, I have never seen so many law firms gathered in one place. I'm not sure I noticed them all, but I counted 22 within a distance of less than 500 feet from the courthouse. When I had seen enough, I returned to the car. There were still a few hours until I had to pick up Tim, so I had to think of something else to spend my time on. So I studied the map and found that if I headed back toward Winston-Salem I would come close to a park that was just off the banks of the Yadkin River. Tanglewood Park was the name, and I decided to go for a visit. I set my gps to take me to the park, which turned out to be quite a nice place, with a riding course, golf course, tennis courts, swimming pool etc., in addition to a marked walking and running path of about 2.5 miles, so I decided to take a walk, although the temperature had risen somewhat, but fortunately most of the walk was in the shade of trees. When I got back to the car, I then drove around the roads of the park before leaving again.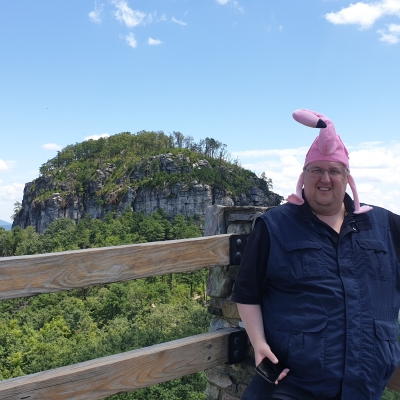 Tim wearing his Flamingo hat with Pilot Mountain in the background.
When I left the park I did not go back to the interstate in the first place, but took smaller roads to see something new and at a gas station I stopped to get a cup of coffee. Just before I left the park I got a message from Tim saying that he was expecting to be at the airport around 12.15, so I headed for Smith-Reynolds Airport. Many things in Winston-Salem is called something with Reynolds, which is the name of one of the county's largest companies, R. J. Reynolds Tobacco, which manufactures Camel and Pall Mall cigarettes (and previously also the Winston and Salem brands) and Winston-Salem is also known as Camel City! In fact, this is the second largest tobacco company in the United States, but that is a another story. I reached the airport a little before noon and then I just had to wait for Tim. When he arrived we moved his suitcases into my - now shared again - car, and then Tim went in to complete the paperwork. However, it was only around 1 pm when he was done, and I had agreed with the lady at the Zevely Inn that we would be there around 4 pm, so I suggested that we should drive up and see Pilot Mountain, a very noticeable mountain north of Winston-Salem, which he had never seen, and he agreed to that. When we got there ,Tim discovered that he had forgotten his hat in the car, he had just returned. However, since it was hot and the sun was shining from an almost clear sky, he had to wear something on his head, so he put on a "flamingo hat" - yes, it did protect his head from the sun, but he was a sight for sore eyes - to say that he looked "interesting" is a definite understatement.
We admired the view of the Yadkin Valley and thus also the interesting mountain, and then we headed back to Winston or rather the airport where Tim would pick up his hat. When we got there, however, it appeared that the car was gone and the young man who was managing the rental office could tell that it had been driven to Raleigh and that he had seen no hat. Tim believed that it must have slipped under the seat, but we could not drive to the state capital, so he never saw his hat again. We then headed for the inn, and even though we were there before 3, our room was ready. In fact, we didn't get the room we had booked with two single beds, because the lady thought it would be better if we got her suite with two bedrooms, two bathrooms and a living room - and with no extra charge for the upgrade, so of course we happily accepted that.

When checking in to a hotel or B&B, you normally have to present a credit card and when I took out my wallet to do just that, it turned out it was not there. I started thinking about where I might have left it, and believed that it was on the Outback restaurant ther pevious day, as I hadn't had my wallet out of my pocket since then. The lady at the Zevely Inn was very helpful, however, and found a phone number for the restaurant, and I spoke to a manager who could tell me that they had found the card. At the time, I thought I remembered that I never got it back after having paid. We had decided that we would eat at another restaurant in the same area, but as it was only a little after 3, it was a bit too early for dinner, so we went for a walk around Old Salem Historic District, where the inn is located, and looked at the old buildings and not least in the very interesting cemetery, God's Acre, as the Moravians call it - in fact, it's one of the world's largest Moravian cemeteries.

Around 4.30 pm we went back to the Zevely Inn and relaxed for an hour. Then we headed to the Outback Steakhouse where I got my credit card back. Then we found the Golden Corral, a buffet restaurant where we had decided to have dinner. The food here was as good as the Golden Corral we had previously tried in Florida (in 2018), and when we couldn't eat anymore, we drove back to the inn and relaxed for the rest of the evening. Here, I wanted to show Tim my Bigfoot T-shirt, only to find that it wasn't in any of my suitcases, so I must have forgotten it in the Ferguson house. The day proved that we were both born under the Sign of The Forgetful!
- Return to Summer 2019 page -
- Return to Travel page -