The end
Our vacation had almost come to end. We were to spend one more day in North Carolina and then head up to Dulles Airport and return to Denmark. At that time we were still planning on getting back in April 2020, Tim tov Arizona and me to North Carolina, but that was before the covid-19 shut everything down. Tim can still hope for the travel ban to abandoned though, but my trip is definitely gone. I just hope I can get my money back - either from the travel agent or from my insurance company. But as for now we are both hoping for the virus to "go away" again, so we can come back to the states again. We have already planned a trip to the midwest in the summer of 2020, so now we are crossing our fingers. But let me get back to the 2019 tour.
Ferguson once more
The final day before we had to head north had arrived. Even before coming to the US, we had decided that we would spend some of the day visiting Laurel Gray Vineyards, our favorite winery in North Carolina, and I had agreed with Kimberly Lewczyk that if she had time, we should meet there, because she liked the place too. If you've forgotten who Kimberly is, read the article Put here into Spencer on time once more. I sent her a message (via Messenger) telling when we would be there, and she replied that she would come around 10.30. I had breakfast while Tim skipped it as he usually does, and after breakfast we took it easy as there are no more than a 40 minutes drive from Zevely Inn to Laurel Gray. Then around 9.45 we left and we arrived at almost exactly half past eleven. As Kimberly hadn't arrived yet, we went inside and started a tasting and had a chat with the lady who took care of business that day. Ten minutes later, Kimberly arrived and while we continued our tasting and she started one, she said "hello" to Tim, and besides that we just chatted. At some point we had to move on though, but first we had to pay for the wine etc. that we had bought, and as usual there was problems with our credit cards in that particular store, and I have yet to find out why. I had come prepared for this though and had brought cash, but Tim hadn't, so as he drove to the nearest ATM to withdraw some, I chatted with Kimberly. When Tim returned he could pay for his purchase and we said goodbye for this time and see you again soon to Kimberly.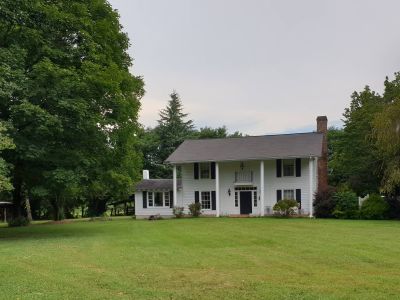 The old Ferguson home (behind the Whippoorwill Academy and Village) in which I stayed while in Ferguson
Leaving Laurel Gray in Hamptonville, we headed for Wilkesboro, as I wanted Tim to see the newly renovated town square in front of the museum. The last time he was there, the whole square had been dug up and it had been for a few years, but now the work was completed and the square looks very nice. Then we headed for Ferguson. The previous year, I had, with the help of very kind people, located the small cemetery that Tim and I had been looking for for five years - or at least during all our visits over a period of five years. I showed Tim the cemetery and the few gravestones there, and I also showed him where James and Ann Melton had lived and where Bates Place had been. All of this has something to do with Tom Dooley, as you may have already figured out, and the locations had been pointed out to me be Zelotese Walsh, soon 96 year old, Gatherer and Keeper of Family History from Boomer back in 2018. From that area we headed for Margaret and Dick's home, as Margaret had also expressed an interest in meeting Tim.

When we got there, only Margaret was home, but of course we were invited in, where we also met her oldest grandson, Maddox, whom I had met a few days earlier. We sat in their cozy living room in the oldest part of the house, which dates back to about 1860. In fact, they live in one of the oldest brick houses in the entire area; probably the second oldest. An hour to an hour and a half later, Dick returned and then we chatted with him as well. It was during this visit that I inquired more closely into the machine that could make ice cream from fruit (which Margaret had served me a few days earlier). I had completely forgotten the name of the device, but was now told that it was called a Yonanas and that it made frozen fruits and berries into ice cream. If you only use fruits and berries in general, it becomes sorbet, but if you mix in some ripe banana, it will most of all come to something like soft ice. In the end Tim and I both bought such a Yonanas machine when we got back to Denmark (we had to order it from an internet store but it worked, and we got it all right), and it's an easy and quick way to make dessert when I have guests for dinner. Around 4.30. we agreed (Tim and I) that we had to head back to the inn in Winston-Salem. However, we would first go to the house where I had stayed, so that Tim could see it and also I could pick up the T-shirt I had forgotten.
Margaret went along, though in her own car, as she had to get the place ready for a meeting of the museum's (Whippoorwill Academy and Village) board that evening. I actually found the T-shirt, which had obviously fallen down next to the bed where my suitcase had been placed when I packed. Anyway, that was where I found it. I showed Tim around the house and then Margaret showed us both around the part of the house that is not for rent, but is reserved for private use, especially for the family and the boad, but is also used in other contexts. Among other things, it has been used in 2019 for an event with food and drink (actually a tea party) to raise money for the museum. The event was based on characters from the TV series Outlander, which is very popular in the area, where many people are of Scottish descent, including Margaret and her family, who on her mother's side are Fergusons. At this event Margaret's cousin, Karen Reynolds, who is both an actor and a writer, played the part of Aunt Jocasta. Although it was exciting and nice to be with Margaret and Dick, in the end we had to say goodbye and thank you their hospitality, and then we headed back to Winston-Salem. At the inn we packed what we had not already packed, including the wine we had bought from Laurel Gray, so that the next morning we only had to pack toiletries. When we were ready, we headed out to find a place to eat - we had decided that it should be at Applebee's so we could finish properly with our usual "2 for 20", that gives you a starter to share as well as two main courses for $ 20.
North and home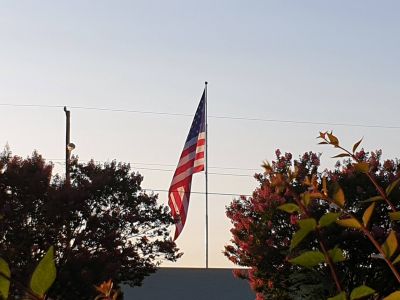 Goodbye - hope to be back soon!
Tim had breakfast! When I open the last chapter in this dramatic way, it's because it was pretty much the only time in all the days, we spent together that he did so and it was only because the landlady at the Zevely Inn looked so unhappy, when he initially rejected her offer. (In fact, he also ate breakfast the last day at Granny Lou's in Texas, when the lady who ran the place for her daughter, didn't want him to leave without having tasted their morning servings.) Tim's later comment to that was: "My heart can't stand how broken these lovely hostesses look when I reject their food". After breakfast, we carried our suitcases and bags to the car, and then we took off. And the trip was as undramatic as they usually are. According to Google Maps, there were several routes to choose from, all of which took about the same amount of time. The one that was the fastest would take us on I-40 east to Durham, then I-85 northeast to Petersburg, Virginia, and finally I-95 north to Washington, from where we could use Dulles Toll Road to the airport. Other routes would take us in along other routes, but of course, we did not take any of those suggested routes, as we had plenty of time, and people, who know us, know that we like to take a detour now andn then. So instead of using the interstate out of Winston-Salem, we decided for the smaller U.S. Highway 220, which we took north to Roanoke, Virginia. We had never used that route before, so it was nice to see something new. From Roanoke we did enter Interstate 81 though, and stayed on it to Strasburg, where we changed to I-66, and finally Va Route 28 to the airport. Of course, as usual, we made a few stops along the way to switch driver, get gas for the car and coffee for me etc. Just before Dulles, we filled up the car for the last time, as it was to be returned with a full tank. As you may already know, it's very easy to return a rental car. When entering the rental company's parking lot, an employee comes over and scans a barcode in the windshield, checks if the tank is actually full, notes the mileage and that's it. We took the bus to the terminal, where we quickly checked in, got through security and walked to the British Airways lounge, where we then spent the next 4 or 5 hours until we boarded. In London, where we had a stop over, we spent the time in the lounge, having breakfast, before we continued our flight to Copenhagen; just as boring a flight as they usually are. A taxi home and then another vacation was over.
And finally just some statistics:

We (and I alone) had driven 4,939 miles or 7,949 kilometers and besides that, Tim had been driving between 1,500 and 1,900 miles while he was on his own. The longest drive in a single day was the last day before we split up, when we drove 530 miles from Lebanon, Missouri to Lexington, Kentucky. My shortest trip was 23 miles from Cherokee to Bryson City and back and the longest trip I drove alone was from Lexington, Kentuckyto Cherokee in North Carolina. Tim's longest trip was when he drove from Lexington to Florence in South Carolina, and his shortest was probably while he was in Florida, where he basically didn't get outside of Lexie's parents' house.
As goes for the economical status, the trip was as usual. We spent a lot of money, maybe even too much J. The shared part of the trip plus my expenses when I was alone amounted to about $11,000. On top of that comes the amount that Tim spent while alone. The most expensive single item was, probably not that surprising, the plane tickets, since we had flown in Business Class and did not fly out and home from the same airport. Second most we spent on lodging, not least because we had stayed mainly in B&Bs on this trip - and it's more expensive than staying at a motel, but also much nicer in my opinion. All in all a rather expensive vacation, but well worth every cent.

In 2020 - if the corona virus allows - we will visit some of the states in the central United States that we have not yet visited; Iowa, Kansas, Michigan, Minnesota, North Dakota and Wisconsin; though not in that order, but we are also planning on visiting Arizona, Texas, and Kentucky to meet with our friends there, which is also the reason for visiting Iowa, a state that both Tim and I postulate does not exist at all (we compare it to Narnia) - much to the annoyance of Tim's friend, Jennifer, who claims that she actually lives in the state. In Minnesota I will see if I can locate any descendants of my relatives who emigrated there between 1909 and 1923.
The end for this time?
- Return to Summer 2019 page -
- Return to Travel page -