Market days and dinner
The first day of the vacation that was not primarily used for transport! I had breakfast with a couple who was also staying at the B&B, and while I was doing that, Tim got ready so after breakfast we took off. However, we only drove a few hundred yards down the road to Fort Inglish, a local fort from the late 1830s, built as a defense against hostile Indians (Native Americans, not those from india), but it turned out that the fort was closed and it was only open between 11 am and 3 pm, and as it was not even 9 am, we decided to come back later.


Guy selling lawn mowers at Bonham Trade Days
Right next to the fort, however, there was something going on that most of all looked like some kind of flea market. We chose to visit it, and we walked around and looked at many different stands, where everything was sold from lawn mowers over mattresses to cowhorns and antiques; some things were used (and some looked mostly like junk) while other clearly came right from the factory. In addition, some small animals such as chickens, rabbits, pigs and dogs were put up for sale; some of these in cages that, in my opinion, were far too small for the animal but not all treat their animals nicely, and especially not if they are to be sold. We found out that the event was known as Bonham Trade Days, a market that took place over a whole week once a month, at least during the summer, when people from the town and the surrounding area came to sell whatever they wanted to sell. Along the way, we got to chat with different people. While admiring a Texas Longhorn skull with an impressive set of horns, we were addressed by a man who we told of our hunting in vain for these animals on previous visits. He could tell that if we drove northeast from the city, he knew a farmer in that direction, who had such animals. Later another guy told us that we could see some of these 'horny' beast south of town as well. We didn't go hunting for cows though but postponed it to a later time.

When we got tired of walking around the market, we decided to visit Shaggy, who were still on maternity leave and therefore at home at this early time of day. Her husband, Jay was at work, but we had a nice chat with her and the two oldest children, known as Squirrel (11 yo girl) and Squeaker (8 yo boy). If you are in doubt these are not their real names J. The youngest child, and the reason for the maternity leave, was only six weeks old, so we didn't talk with him much. While Shaggy was making, what we in Denmark call "flødeboller" (translates to "cream buns"), a kind of chocolate covered, creamy marshmallow on a bisquit bottom - yummi! Squirrel went to get her shotgun, which she proudly showed us. In fact, it's not hers, but is registered to her father, because you have to be 12 years old before you can get a gun permit in Texas. But she could hardly wait to become old enough to register it for herself. Her father's somewhat larger shotgun was also brought out, and then Shaggy had to show us her handgun as well. We were in Texas after all! I don't think that any selfrespecting Texans, at least living outside the big cities, could live without their guns. Later, Addie arrived with her two children, Mayhem and Mischief (not their real names either) and her husband. Addie's children are only 3 and 1 and she's expecting a third. When they left, we chatted for a while longer with Shaggy and her children, before heading back to our B&B to charge the batteries on both our phones and ourselves (yes, we are androids) before the next item on the day's program, which would be dinner.

On our way back to the B&B we passed the fort once more and now the place was open, so we paid a visit (entrance is free), and was given a tour by one of the volunteers who work at the place. Not that there was that much to see, but we also got to know the history of the fort and how, from time to time, things had been collected that are now on display in the few buildings. The fort itself was originally just a palisade with a single block house in one corner in accordance with the custom of the time. Around 4.30 pm we headed to Shaggy's home once more. Tim and I had invited everyone for dinner at a restaurant of their choice, as we didn't know any in that particular area (or elsewhere in Texas by the way), and they had chosen a Mexican restaurant in the town of McKinney, one of the outer suburbs of Dallas, about 40 miles north of downtown. Shaggy was driving her own car and Tim and I followed along because we were going to pick up Addie, and we didn't know at the time where she was living, as the family had moved from the house where they lived when we visisted in 2018.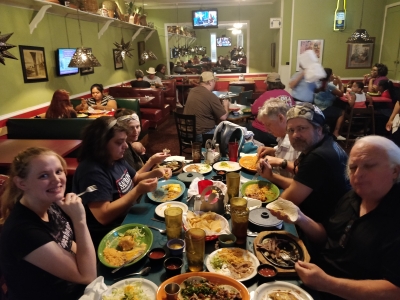 Dining at Jalapenos in McKinney. From left, Addie, Maddy and Shaggy, and on the mens's side of the table, yours truly, Ronin and Skep. Tim is not invisible, he just was the one who took the photo, so you don't have to worry.
After having picked up Addie (both ladies had appointed their husband babysitters), we followed Shaggy and Addie, as they knew the way to the restaurant, which we didn't. Tim and the "girls" had agreed that some of their Twitter friends whould join us there as well, Maddy, Ronin and Skep (the last two being gentlemen, the first a lady). The food at Jalapenos, as the restaurant was called, turned out to be really good (that is if you like Mexican food), and the service was fine too. The company was nice and we chatted (and ate) for about three hours before we broke up. By that time, it was getting dark and we decided to call it a night as everyone was going to drive about 40 miles to their respective homes and Tim and I was going the same distance back to our B&B. We said goodbye to everyone in the the parking lot, and then Tim and I set the course for Bonham.

We were back at our B&B around 10.30 and just said hello to our hosts before going up to the rooms, after the shortest day of driving so far on this trip. Only 90 miles in total. The day before, we had driven over 400 miles from New Iberia to Bonham, and even on the first day when we drove from the airport to New Iberia, it was around 125. However, longer drives would come later on the trip. In fact, only two would prove to be shorter, and that was after I had dropped off Tim and was on my own. I don't know about Tim's alone time because he didn't record the mileage every day, but I'm pretty sure he didn't drive long distances while in Florida, but only on his way down south from Kentucky.