Eiffel tower, phone and the horn of a unicorn
Our last day in Texas had arrived. The next day we were going to head north towards Kentucky. But before then, we wanted to see a bit more of the northeastern part of the state. We started the day by driving to Paris. Paris, Texas is the name of a 1984 feature film, but that's not why we wanted to visit. No, the reason was that we wanted to see the Eiffel Tower! Of course, all cities named Paris must have one, including Paris, Texas. However, there are several cities in the US of the same name that also have an Eiffel Tower, so something had to be done to stand out from the crowd, so the Eiffel Tower in Paris, Texas was fitted with a red cowboy hat on top.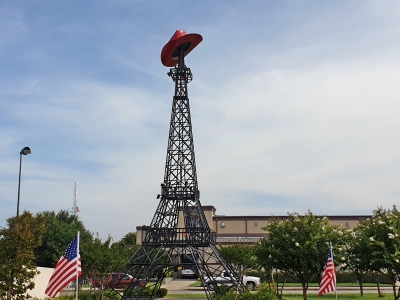 The Eiffel tower in Paris Texas
The tower is found in the eastern part of town, and as we arrived from west, we had to pass through the center of town to reach the tower, so along the way we noticed more things that we would like to explore after the visit to the tower. The tower is not 984 feet like the one in Paris, France but a mere 65 feet, but it had cowboy hat on top and that makes a lot of difference. Actually, it is the second version of the Eiffel Tower on the same site. The first one was build of wood and was destroyed by a tornado, so the current one is built of metal. It turned out that right next to the tower was a monument or a kind of memorial park for all those who had fallen in wars since Texas became independent from Mexico (1836) and later part of the United States (1845). We spent a lot of time walking around the monument, where there was, among other things, a memorial for war dogs - you do not see this every day, but they have actually made a great service, the dogs that is.
From the tower, we headed back toward downtown, where we parked the car at a church that looked interesting. First United Methodist Church was the name, but we just looked at it from the outside, and did not enter as a sign at the entrance proclaimed "No perfect people allowed" and that excluded both of us. We left the car and walked from the church to the towns's central square, where we looked at the fountain that stood in the middle of the square, but also at the interesting buildings around it. We left the square and went down to the county courthouse and the Civil War Monument, located outside. The four busts located at the bottom of the monument were picturing Confederate President Jefferson Davis and three generals, Robert E. Lee, Stonewall Jackson and Albert Sidney Johnston, the latter of whom were from Texas. Fortunately, here you have not reached the point as in Virginia, that all statues of Confederate generals must be removed! After visiting downtown, we headed back west toward the town's former railway depot, Union Station, which now serves as a museum, but we did not enter. Neither did we visit another museum opposite, the Lamar County Historical Museum. Instead, we admired them both from the outside, and then we left town again.
From Paris we headed north towards Telephone; not because there was anything we wanted to see there, but just because we found the name interesting. The story goes that when the inhabitants of the area wanted a post office, they had to come up with a name for the settlement, but all the names they suggested were rejected by the US Postal Service because there were already towns or villages in Texas of the same name. In the end Telephone was proposed because the local general store had the only telephone for miles around - and that name was approved by USPS. The town has a full 200 inhabitants and as we had expected, there was not much to see. On our way there we had also passed Tigertown with even less, and from Telephone we headed for Ivanhoe, but why these two cities are called, as they are called, I have no idea. Ivanhoe is even smaller than Telephone but has a general store as well as a post office and a winery - and moreover a school where children from Telephone and Elwood go to school (we didn't visit the latter though). The only photos we took here were of the signs with the town names on them.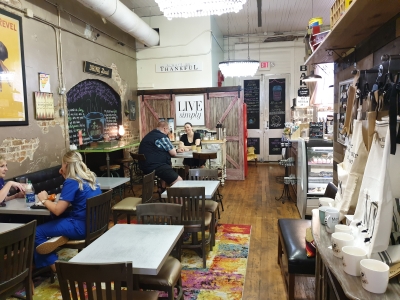 In the coffee shop. Tim and Shaggy in the background.
After visiting Ivanhoe, we drove by Shaggy, because she had promised to show us the coffee shop where she worked when she was not on maternity leave. It proved to be a very cozy place, behind a children's clothing store, and we had a cup of coffee; that is, Shaggy and I had coffee - Tim don't drink coffee! Even if he grew up in a very coffee drinking family, we haven't been able to convince him it's good! Leaving the store we met the lady who owns the B&B we were staying in. She works in the children's clothing store and then her parents manages the "bed and breakfast business" for her. On this account Tim was equipped with a toy unicorn horn, which he later gave to Lexie when he got to Florida. But before that I managed to get a picture of him with the horn on his forehead. As we had only used "our car", we drove Shaggy home and then we visited Addie and chatted with her for an hour or so, while Tim was teased by her children, not least the 3 yo. Then we returned to our B&B with a stop at Walmart along the way, where we shopped for dinner in the form of ground beef and burger buns. Both beef and buns were brought back to Addie, and then we finally reached Granny Lou's, where we could relax for an hour.
About a quarter past six, we headed back to Addie's place, where we were having dinner, and when we got there she was busy making burgers with both beef and tuna. Eventually Shaggy and her children and later also her husband arrived. We ate and afterwards we chatted for a couple of hours until Tim and I decided to go back to the B&B to get our night's sleep. We had a fairly long ride ahead of us the next day, so we wanted to be rested. Before leaving, of course, we said goodbye to both children and adults and thanked them for having us running around bothering them with our presence, but they did not seem to be too annoyed and invited us back next time we come to those parts, which may already be will be next year - you never know.