Two days to Kentucky
After a really nice visit with our friends in Texas, it was now time to head north to Kentucky, where Tim and I would split up. The goal was Lexington and we had decided to do it in two steps with an overnight stay somewhere in Missouri.
Visiting indians along the way
As we had said goodbye to our friends the previous day, and had also packed our bags, we were ready to go as soon as we had had breakfast at Granny Lou's and for a change Tim participated in the meal as well. He normally doesn't eat breakfast, but the elderly couple who run the place looked so unhappy that he didn't get the chance to taste what they could create, so he took pity in them. We left Bonham and headed north on the small road we had also taken last year up to the Oklahoma border. This time, however, we did not turn around as soon as we had crossed the state line, as we had done last time, when we just wanted to be able to say that we had been in the state.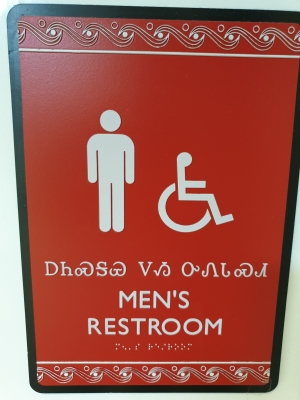 Sign outside the men's restroom somewhere in Talequah.
Instead, we continued to the small settlement of Yuba, where we turned west, still on rather small roads until we reached US Highway 75, which later became US 69. We were to stay on this road to our first goal of the day, Talequah, Oklahoma, which was not exactly on the most direct route to our final goal, but which I would like to visit. Along the way, we passed the - compared to Danish lakes - rather large artificial lake, Lake Eufaula, which was created by damming the Canadian River. In Muskogee, known from the song Okie from Muskogee from 1969, we switched to US 62, which took us the rest of the way to Talequah.
In 1838, most of the Cherokee tribe was forcibly removed from their original settlements in North Carolina, Georgia and Tennessee, and had to move to the so-called Indian Territory west of the Mississippi River on what is today known as the Trail of Tears (directly translated from the Cherokee, Nunaidunadlohili, as "The Trail Where They Cried") because between four and eight thousand Cherokees died along the way. Already some members of the tribe who had been forced to move from Arkansas in 1828 where living in Indian Territory, and these two groups of Cherokee Indians formed the basis of two of the three federally recognized groups, the Cherokee Nation and the United Kituwa Band of Cherokee Indians. Both of these groups are headquartered in Talequah, and as I have an interest in this tribe, I would like to see more Indians. The third group is the Eastern Band of Cherokee Indians, which I should visit later on the trip and which I have already visited 8-10 times.
It was interesting to visit the town where all the traffic signs plus street signs (and even a sign outside a restroom) are written both in English and with the Cherokees' own syllabarium, invented back in 1821 - incidentally by a man named Sequoyah who actually was illiterate when he invented the syllabarium. We visited a couple of places, including the Cherokee Nation's capitol building, a few museums, a gift shop - where we bought some souvenirs to take back home, and we saw the monument of the first telephone conversation west of Mississippi in 1885. When there was no more we had the time and the desire to see, we continued our journey. Here we used some very small and winding roads northeast through the mountains.
At one point we got very close to the Arkansas state line, but we did not enter that state as the road stayed on the Oklahoma side while the ditch six feet away was in Arkansas. After a while we reached Missouri, and then it was interstate driving for the rest of that day's trip; first I-49 to the north and then I-44 east to Lebanon, where we decided to make a stop for the evening and night. We found a hotel on the outskirts of town with 14,000 residents (the town, not the hotel) and we didn't visit the town itself, as we found a place to eat near the hotel. And then it was just back to the room to relax. Although we had seen some things along the way including Talequah, we had actually driven more than 460 miles, so we were a little tired and we had an even longer drive ahead of us the next day.
Santa and cell division
The header is not funny at all in English, for which I apologize, but I will try to explain it later as it is a wordplay in Danish.

This morning we were off to Lexington, about 500 miles away, but fortunately on the freeway all the way (except when we left it to see something). Today's trip would lead us through four states, Missouri, Illinois, Indiana and Kentucky. But first we had to get underway, and it was on the same interstate that we had arrived on the day before, ie I-44. We stayed on I-44 until we reached ​​St. Louis, where we had stayed back in 2014. On that occasion, the freeways gave us some problems on our way through town, so this time we chose not to take the direct route, but to go on a minor detour along the beltway (I-255) around town. It led us to I-64, on which we were to stay for the rest of the way, and along the way we passed the Mississippi and entered Illinois. In a previous article from 2014, I talked about how tedious the trip through Illinois and Indiana is when driving on this particular interstate. This time, as usual, we had planned poorly, so when we somewhere in Indiana "lost an hour" because we passed into a new time zone, it was once again on a long drive.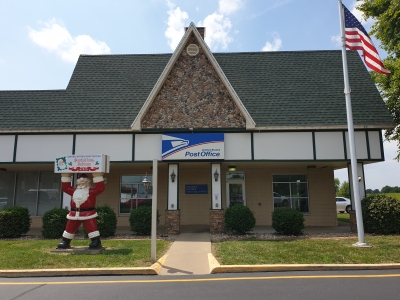 US Post Office in Santa Claus, Indiana.
In 2014, I told how we absolutely had to see something other than the freeway, which is why we left it for a short while in the town of Ferdinand, Indiana. We did the same this time as well, but this year we wanted to see more than just the church that we had visited five years earlier. Not far from Ferdinand is the town of Santa Claus - yes, the name is correct, and everything in this city is about Christmas. There are Santa Clauses everywhere, even outside the post office, the streets have "Christmas names" like Christmas Boulevard and Kris Kringle Street etc. A lake is called Christmas Lake and there is a Holiday Land (a theme park with a Christmas theme). When we couldn't handle more Christmas in July (none of us are particularly minded for Christmas), we headed back toward Ferdinand with a short detour to the small settlement, St. Meinrad, where there is a Benedictine monastery. We visited the monastery but only looked at it from the outside even though they have a gift shop, but as we didn't visit I don't know what kind of souvenirs the monks could provide. And then we went on to Ferdinand, which also can boast of a monastery that we missed in 2014, but we made up this now. In Ferdinand it is not monks but Benedictine nuns, who inhabit the monastery; The Monastery of the Immaculate Conception it is called. Also the nuns are runing a gift shop that we didn't visit.
And this is where the mentioned wordplay come into play if I may put it like that. To explain it, I have to teach you a few Danish words (two actually). In Danish the words for "division" or "dividing" and sharing can be the same, namely "deling". Some unicelluar organisms probagate by dividing the the cell in two similar cells, and in Danish we call this process "celledeling" or cell division. Monks and nuns living quarters are called 'celle' in Danish (like in prison cell), so if two people shares one cell, we also call that 'celledeling'. So the joke is: "How do monks and nuns muliply? and the answer is "By celledeling". But to continue the story, all I was going to say was, that as there is quite some distance between the two monasteries, the monks and nuns most likely do not multiply through 'celledeling', so if a nun should happened to conceive (hopefully not) it's more likely immaculate conception than caused by the monks. Well sorry if I have insulted some religious readers, but in Danish it is actually funny. Anyway, when we had had enough of religious sites, we returned to the interstate and continued east.
At Louisville, we crossed the Ohio River, and then we were in Kentucky. As there was heavy traffic on the interstate passing through the city, we took a beltway around town, like we had done around St. Louis. This however required a minor detour on a rather small road, but back on I-64 again we continued east to Lexington. Here Tim was going to stay for about a week, to visit a friend there, so he had booked a room at an extended stay hotel with no facilities other than a bed (two actually), a bath and a kitchenette, and with no service. On the other hand, it was cheap. Here I would stay until the next morning, where I would then head south to North Carolina. 529 miles was the extend of the day's drive and with a lost hour and the different stops along the way, it was actually relatively late before we were back at the hotel after dinner, so we pretty much just went straight to bed.
- Return to Summer 2019 page -
- Return to Travel page -