Visiting a museum and eating at Dooley's
Saturday morning arrived, and although I had gone to bed at 2 am the previous (or rather this) night, I still woke up at 7 and could not go back to sleep, but I stayed in bed with a book until 8 am. I should actually have woken up in the old dentist's office on Margaret and Dick Martine's property (now rented out as Airbnb), but due to the delays en route from Copenhagen to North Carolina, I found myself instead at a Holiday Inn hotel near Charlotte-Douglas International Airport. The day before, I had been in contact with Margaret and told her that I probably would not arrive on Friday, and had been told that they were not at home all Saturday, as they were going to a 100 years birthday party. They would therefore leave the door to the "office" open and place the key on the coffee table, and then I could just come whenever I wanted. NB! The house is far out in the countryside, where you not simply pass by and it can't be seen from the road so the risk of someone discovering the open door by chance and stealing something is absolutely minimal, if it exists at all.

This meant that I was not in a hurry, so I decided that I wanted to take a detour, and visit and revisit places along the way. I knew that the building only has a half bathroom though a full bathroom is on the way, and therefore I knew that my next shower wouldn't be until Monday when I had moved to my next place, so I spent some time shaving and standing in the shower in my motel room. When I was clean and freshly shaved, I went downstairs to have breakfast in the hotel restaurant. A sign said that the price for the breakfast buffet was $15, but as the man at the front desk, who checked me in the previous night, had said that breakfast was included, I ignored the sign and went straight to the buffet, and no one did object. After breakfast, I returned to the room, where I picked up my backpack and the suitcase I had brought up from the car. After carrying it down to the car, I went back to the front desk and checked out, which consisted of putting my key in a jar as all the paperwork, including payment, had been completed at night when I arrived.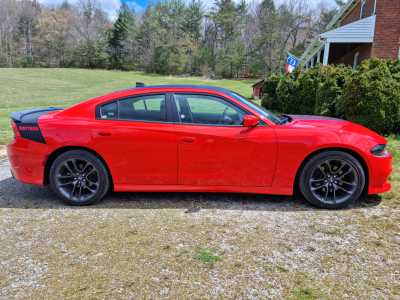 My Dodge Charger Daytona Hemi race car parked outside Margaret and Dick's house before I moved it away a bit so it did not block the driveway.
I mentioned in my first article from the trip, Delayed - again that when I got the car at night, it was not exactly the car I had booked from home. I had booked, as I always do, a so-called full-size, ie, typically something the size of a Chevrolet Malibu, Mazda 6 or Toyota Camry or something like that, and the car I had received was almost the right size. It was a little bit longer than a normal full-size, but besides that it was not much like a normal car in the samew group from the rental company. The car I had got was a bright red (with black staffing front, roof and rear) Dodge Charger Daytona Hemi (which was obvious from the staffings on the car) This is a so-called "muscle car", as Ford Mustang and Chevrolet Camaro are also named. In 2010, Tim and I drove such a Camaro, but on that occasion we paid for an upgrade. I did not do that this time, just got the other category with no extra charge. I have to perhaps add that the Daytona has a little more muscle than the other two mentioned - at least than the smaller versions of these. This "animal" was equipped with an engine of 6.4 liters and 397 horsepower, though I wonder how the made room under the hood for all these large animals. It turned out to be an excellent car, even if I did not use its potential powers at all. I simply have too much respect for the size of the American speeding fines that one has to pay on the spot as a foreigner, so I rarely got over 85 mph, where there were 70 (except for a single overtaking on a highway, where I hit 100 mph/160 km/h), and by and large I kept to the speed limits, so it was typically me who was overtaken on the freeway - even by large trucks In fact, the only flaw with the car was its appetite - or perhaps rather thirst. On average over the entire trip, I drove 23.5 miles per gallon or 10 km/l. In the mountains much less, and even though the gas only costs around DKK 7 a liter (less than half the price that we pay in Denmark - a little over $10 per gallon) with the dollar exchange rate that was going around Easter (Americans think it's a horrible price - and they don't even have to convert the currency), and even though I only drove one really long drive, my fuel consumption became a bigger expense than I have been used to on this type of vacation, where I live somewhere and am not on a road trip.

When I was ready to go, I left the hotel parking lot and headed east on I-85 toward I-77, which I then followed north to the first destination of the day, Statesville, a trip of about 60 miles. In Statesville, my first destination was the city's Walmart, where I partly had to withdraw some cash in an ATM, partly would shop groceries for the first few days. Normally I would have bought an ice cooler, but this time I didn't, as I did not have to go on a road trip, but would stay permanently in one place, and thus have a refrigerator nearby, but I bought bottled water, including a cold one, so I had for the first part of the day until the others could get in the fridge. I also bought some fruit and other stuff, and the only thing I did not think about was breakfast for the next day - but I did not discover this until next morning when I wanted to eat breakfast. However, I remembered to buy juice - so even though had no food, I still had something to drink. From Walmart, I drove around town a bit to revisit the familiar places before finding a parking space on a street called S. Meeting Street, behind the city's Civic Center. On the way, I passed another parking lot, where between May and October, a farmers market is held on Wednesday and Saturday. I have visited this market several times, and here you can get fresh fruit and vegetables, honey, jam, etc., but at this time it was unfortunately only April, and the market was not open yet. There were a few stands, but these did not sell fruit and vegetables, but instead various handicrafts in the form of wood carvings, quilted blankets and more. Once I had parked the car, I grabbed a cardboard box containing two mugs with the cover of my "Who killed Laura Foster?" book as a motif. With the cardboard box in hand, I headed to the "city section" of the Iredell Museums, located on the corner of S. Meeting Street and Court Street (which for peculiar reasons is cnamed so - maybe because it leads up to the city's old and now former courthouse, which is today a cultural center). On the opposite corner from the museum is a former prison, which is now used by the Iredell Arts Council for concerts, exhibitions and more. Here I was in 2017 for a concert with Rob McHale and his band, and here I met him for the first time, something I have done several times since, and also was going on this trip - but that was only a few days later. But now it was neither retired courthouses nor prisons I had to visit, but rather the museum.
Iredell Museums is (of course) the workplace of the museum's director, Emily Baker (and another employee), and it was just Emily I had come to say "Hello" to. Emily is the model who appears as "ghostly Laura" on the cover of my book, and as a thank you for that, I would therefore give her the two mugs. Actually, I had them made already in 2020, right after I had published the book, which I had sent her, but as covid-19 came in the way, my trip was cancelled so I could not give her the mugs, so that gift was now two years late - probably the same delay, as if I had sent them by Post Nord (the Danish notoriously late postal service). When I entered the museum I first saw a lady I did not recognize (the assistant) and who did not know me, but Emily came out from the back. Emily is a trained historian specializing in medical history, and has previously been the head of the department in Old Salem Historic District in Winston-Salem that deals specifically with medicinal and medical history. Now I got to give her the two mugs, and then she had to explain to her assistant what it was all about. We chatted for about 45 minutes before I continued. Before I left, I asked for the address of their "outdoor area", Gregory Creek Homestead, as I would like to visit this place one of the days I was in the area.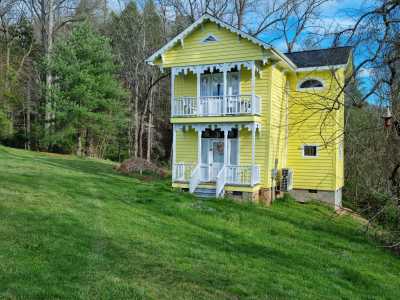 North Carolina's probably oldest dentist's office that Margaret had moved out on her own property 45 years ago, and which has since been renovated and is now rented out on Airbnb. In his time, the dentist, Dr. Spainhour lived in the room on the first floor and had his clinic on the ground floor. The side building on the right side of the house is not original, but is newly built. Here, Margaret and Dick are in the process of establishing af full bath upstairs and a kitchen downstairs. Pt. there is no kitchen but a microwave, a coffee maker and a refrigerator. There is also only a half bathroom
After visiting the museum, I took a walk around downtown and recorded a video that was posted on my YouTube channel, Glocal Explorer, on Saturday, May 7, 2022, so if you're interested in seeing how the city (or at least some of it) looks like, you can watch the video there. Incidentally, there will be new videos from the trip every Saturday until mid-July 2022, where there will be another topic, whatever it may be. Along the way, I passed the Statesville Historical Collection, where I wanted to see if my friend Steve Hill, who has collected everything on display and much more, and who runs the collection with volunteers, was present. He is usually not on the weekend, if you have not arranged a meeting in advance, and he was not this Saturday either.
From Statesville, the county seat of Iredell County, I continued west to Lenoir, the county seat of Caldwell County. Here too I would visit the local history museum, to present a copy of my book to the museum director there, Cindy Day, who was very helpful during my most recent visit in 2019. I have more about that story on the page from the summer trip in 2019. Unfortunately the museum was closed, which it usually isn't on Saturdays, but outside the flag was flying at half mast, and it was on other public buildings in the city - but not in other cities I visited, so something to mourn must have happened locally. Next stop was Wilkesboro, county seat of Wilkes County (county seat visit day this Saturday). By the time I got there, it was around 4.30 pm, so I decided to have an early dinner at Dooley's Tavern and Grill, a pub with excellent food, before heading out to the house. I had myself a Tom Dooley Club Sandwich with turkey and ham (and more). Not a regular club sandwich though. This version consisted of small square pieces of sandwich bread with meat and dressing in between, and then put on a skewer. About 10 pieces of bread with filling on each skewer, of which there were two. And the meal had been ample for two people. I simply could not eat my way through it all. For the food, I drank my favorite in the area, a hard cider and later a Pepsi, and it all came to less than $20, tips included. Then I was ready, and could now drive to the house without having to leave again until the next day. Should I get hungry later in the evening, I had my fruit and a bag of chips that I had bought at Walmart, but it proved not to be necessary - so much did I eat at the diner.

So I headed back towards Lenoir, this time on NC Route 268 to Ferguson, where I took Tom Dula Road out to Margaret and Dick's house. The dentist's office does not have its own driveway, so you park in their driveway, and here they had provided me a small cart that I could use to transport my things to the "office" behind their own house. Here, too, I once again brought only one of my suitcases into the house, but this time the largest, as it contained the gifts I brought as well as clothes. In addition, my backpack as well as my purchases from Walmart. When everything was inside, I pulled the cart back to where I found it, and moved the car so that it did not block the driveway, but was parked a little to the side. When I got inside, it was d..... cold, so the first thing I did was turn up the heat, but it took some time to warm up the house, so for the first and only time, I had to wear a sweatshirt inside. The bedroom is on the first floor and the stairs turned out to be strange. I can not explain how and why, but the steps somehow felt "wrong", so it gave rise to a little hassle to cary the large, 22.5 kg (limit in the plane was 23 kg) heavy suitcase upstairs, but I managed in the end. During the night, by the way, it got so hot in the bedroom that I had to turn down the heat again - even though it was still not too warm on the ground floor. At no point during the day had the outdoor temperature been above 12 degrees Celsius (53 F), so it was generally a cool day, and the next day Margaret told me they had had night frost each night for the past week. I stayed down in the living room and enjoyed the internet and a book until it was bedtime. Of course it was exactly that night (and the next) I woke up several times, and each time I had to fight my way down the stairs to the ground floor, where the toilet was, while I clung to the railing - yes a stupid staircase, but I got some sleep, and had no accidents with the stairs.

And that was my first day of the vacation.