A lunch, a podcast and a thunderstorm
It was now time for me to meet Charlotte and Bill Barnes and get on with what they had planned for me for the next three days They are some amazing people and I am grateful for all that they have done for me, both this year and last year. First on today's schedule was a lunch with other Tom Dooley nerds like myself. Lunch was to be held in the Dooley's Grill and Tavern restaurant in Wilkesboro, and what could be more appropriate? For the night Charlotte and Bill had also booked a room at The Irish Rose B&B so we would be together all day.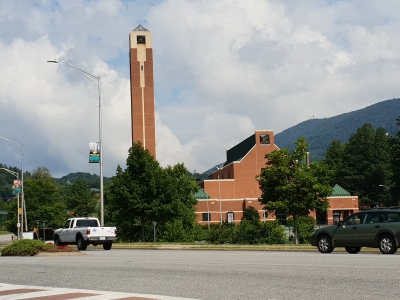 Buildings at Appalachian State University in Boone.
The lunch was not until 11 am, or rather we were to meet at the restaurant at 11 o'clock, so I had plenty of time. Thus while we were having breakfast I had time for a rather long chat with a couple, who also stayed with Rose. When I finally left, I did not head straight to Wilkesboro, but instead to Boone nearly 30 miles north of Lenoir; usually a trip of approx. 40 minutes on US Highway 321. However, the drive took a little longer due to road work along the way, but only about an hour. In Boone, I wanted to extend my "visit a university" campaign and visit yet another university, the largest in Western North Carolina, namely Appalachian State University, which has almost 20,000 students. I located the university without any problems and took some pictures, some of which proved to be good, others not so good. The latter was because it was difficult to find a place to park, so many pictures were just taken out of the car window while stopping at traffic lights and such. Boone is named after the pioneer Daniel Boone, and Boone is the only town in the eastern United States with more than 10,000 inhabitants (actually 19,000), more than 3,000 feet above sea level (3,333). When there was no more I wanted to see, I headed for Wilkesboro, which is the next town east on US Highway 421. The distance between Boone and Wilkesboro is a little longer than between Lenoir and Boone, but since there was no road work (and I might have exceeded the speed limit a bit from time to time like all the others on the road), it didn't take much more than half an hour, so when I had parked the car it was only 10.30. Walking from the car to the restaurant I enjoyed the look of the newly renovated town square in front of the old courthouse. During the last two visits in 2016 and 2017 it has been a building site, but now it looks very nice again.
When I entered the restaurant, I discovered that two of the people I was going to meet had already arrived, namely two ladies, Carolyn Keller and Faye Bell, whom I had also met in 2017. They are sisters and descendants of one of the families that lived close to Tom Dooley. Shortly thereafter John Hawkins, whom I had met the year before, arrived. I actually met John even before I met Charlotte and Bill, as they had mailed me his phone number. John has been leader of the Caldwell Historic Museum in Lenoir but is now retired. He and I have exchanged some emails over the course of the year, not least about one of the important key witness in the Dooley case, Pauline Foster, whom we have now been able to set straight (or rather out knowledge about her has been set straight). Shortly afterwards, Charlotte and Bill and the final lunch guests also arrived; Carl White, who produces a television series "Life in the Carolinas", and Kimberley Lewczyk and Melissa Walker from the play "Tom Dooley - A Wilkes County Legend", that Charlotte, Bill and I were going to see the next day. Kimberley was a member of the cast, while Melissa was responsible for the pyrotechnics. The three latter I had not met before.
The lunch was very nice and we talked a lot, both about Tom Dooley, but also about many other things and the whole thing lasted for a few hours or more. Eventually, however, we had to break up. John and the two sisters returned to Caldwell County, where they live (though in different towns), and the two ladies from the play had to return and practice for the next day's opening of the show. Before we said goodbye, however, I managed to give most of them a copy of the book I wrote about Western North Carolina. After lunch Bill had to talk to Carl in his studio in North Wilkesboro, as far as I understood something about publishing a book, and of course I tagged along. That is, I followed Charlotte and Bill in my car. When we got to the studio Bill and Carl talked about whatever thay had planned to talk about, and then Carl told us that he would start a series of podcasts that should be posted on the TV series' website, and he would like to make the first with the three of us, where we should talk about Tom Dooley and our common interest in this matter. This podcast can be heard directly on Carl's page. Just locate Season 1, Episode 1. The podcast lasted about half an hour and at the end Charlotte talks about a novel she is busy writing; I look forward to it. I have at the time of writing this just completed a novella about the case, which gives another theory of ​​what may have happened – just one of many theories. After saying goodbye to Carl, Charlotte, Bill and I headed west again. Initially to Ferguson and Whippoorwill Academy and Village, where Bill hoped to find Margaret Martine, for whom he was bringing something. However, the place was closed, and as I had been there the previous day, I offered to lead the way to her home.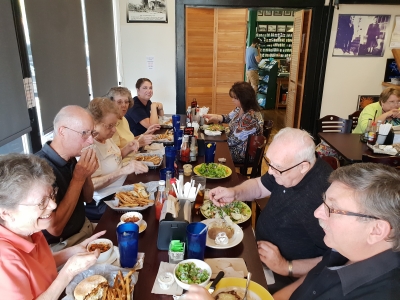 Lunch at Dooley's Grill and Tavern. From left: Charlotte Barnes, Bill Barnes, Carolyn Keller, Faye Bell, Kimberly Lewczyk, Melissa Walker, John Hawkins, Carl White.
And so I did, and of course we were welcomed as the prodigal son, and now Charlotte and Bill had the opportunity to hear the story of the house, the dental clinic and Tom Dooley's door and Charlotte of course also had to have her picture taken next to the door like I had the previous day. As we chatted with Margaret, her husband, Dick, returned home. Along the way, it was starting to rain, and when we were about to leave, it rained quite a lot and the wind was rising. Dick therefore went outside to fold their umbrellas and remove loose objects from the pool area, and we agreed to wait a bit before we left. However, in the end we stayed for two more hours, because the weather got worse and worse. In addition to rain and wind, which developed into a thunderstorm, the lightning struck somewhere and cut the power in the area. The wind got so strong that even the folded umbrellas blew in the pool and some of the garden furniture "left" the patio. After a few hours, however, it got so much better that we decided to head for Lenoir. The road that Margaret and Dick live on, Tom Dula Road, is in a dirt road in Caldwell County, and when it rains becomes a mud road, and at the same time there were some fallen branches on the road, so we had to take it nice and slow. And it was very fortunate that we did, because suddenly, two trucks from the local power company, came racing around a corner, and the road is not that wide, but because of our low speed, we managed to pull out to the side of the road. Well out on the paved road, however, everything went smoothly, even if it as still raining.
Charlotte and Bill had told Rose that they would be at The Irish Rose around 3 pm and Rose had asked me in the morning to say that if she was not there, she would be in very soon and as I had the key to the door, it wouldn't be a problem to get inside. And it definitely was not a problem when we got there, because at that time it was 6.15 pm. As soon as Charlotte and Bill were accommodated, we left again to get something to eat, and we chose the 1841 Café downtown, where I had eaten once before, and at that time it was quite good. It was also ok this time, but not much more than ok. After dinner we returned to Rose, where we arrived a little after eight. While we had been away, Rose's neighbor had come for a visit, and we all had a nice chat in the kitchen, the preferred room for that kind of thing. While we chatted, the couple that I had talked with in the morning, also returned, but they soon retired. The rest of us chatted until around 10.30, and then we also retired to our rooms. The next day, both Charlotte, Bill and I had to say goodbye to Rose; I was moving on to Statesville, while Charlotte and Bill were returning to their home in Matthews after the play we were going to watch – a drive of about 100 miles.

And thus another very enjoyable and rewarding day was at its end. The day began with sunshine from a clear blue sky, evolved into a powerful thunderstorm and finished thin a clear sky once more, but at that time the sun had set. Although I drove back and forth to Lenoir and even a detour via Boone in the morning, it only mounted to 103 miles in all.