How I got interested in the Tom Dooley case?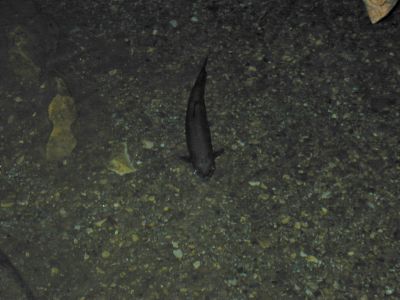 From Cherokee we took the Blue Ridge Parkway north, but since we had already seen the southernmost stretch, we chose to drive through Maggie Valley to Asheville, and take the Parkway from there. The road meanders across the mountains the first several miles, and we were told, that the view was magnificent. Unfortunately it was raining and when the rain stopped, it became foggy in stead so we never got any views.
At Craggy Gardens the hillside was covered with rhododendron, and we had to stop to take some pictures. We also made stops at many overlooks, for instance at Mt. Mitchell, the highest mountain in eastern North America. Later we left the parkway at "Little Switzerland" and again at some miles later to visit Linville Cavern. We had fixed our minds on visiting caves, and as we didn't succeed in Kentucky, we wanted to see some now.

The caves are at the foot of Humpback Mountain, and we easily found the spot and bought a ticket. As they didn't let too many people into the cavern at one time, we had to wait about an hour before it became our turn. The caves were discovered in 1822 by the observation of trout swimming in and out of the mountain. Along the way through the caves we saw some of the blind trout that live in total darkness and the guide demonstrated what total darkness is, by turning off the lights when we were quite far inside the cave. When the light was turned on again and we continued our tour, we saw one single sleepy bat. In winter, many bats hibernate in the caves. It also the home of Grand-daddy-long-legs (a kind of spider). The river also serves as home to some kind of crayfish of which we saw none though.

After visiting the caves we headed back to Blue Ridge Parkway and continued north, and passed Grandfather Mountain by Lin Cove Viaduct. As it was getting late, we left the parkway and headed towards the town of Boone, county seat of Watauga County, where we got a room in a nice hotel.
After a good night's sleep, we went back to Blue Ridge Parkway and continued north. We hadn't had enough of this beautiful road yet, and there still were several things we wanted to see. The first place was just somewhere Daniel Bone had passed in 1770 on his way west. Immediately after the road was closed and we were sent out on a 20 miles long detour. When we got back to the parkway, we discovered that the detour had only brought us 3-4 miles further north. At The Lump we finally found the Tom Dooley sign, that we had been looking for two years before.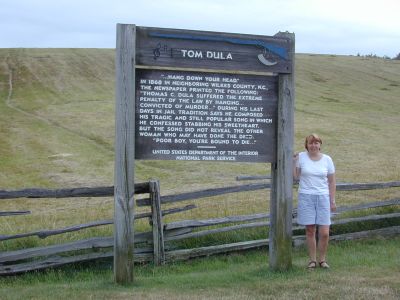 The sign gave a very brief account of Tom Dooley being hanged for murder. Up until then, I didn't know anything about Tom Dooley. Not even that the song referred to real event. In our diary from this trip, I wrote a story about the events. This story was unfortunately completely wrong and very misleading on many points, because I based it on different websites' versions of the story. Many of these have their knowledge from one another and from the legends and songs about Tom Dooley, but none of them has apparently chosen to investigate the story themselves. If they did, they would have known that Tom was not the lover of two sisters, and murdered one. Also they would have known that the victim did not have a worshiper named Bob Grayson. That Grayson was neither sheriff nor schoolteacher in the area. That Tom was not arrested by sheriff Ferguson and so on and so on. Since then I started investigate further into the matter and as a matter of fact I have written a lot about the case on my homepage. I might translate these pages too, some day.

When we had looked at the sign and all in turn had been photographed next to it, we continued our journey north to our next stop at the Northwest Trading Post, a general store and outlet for many of the artisans who lives in Blue Ridge Mountains. After visiting the store and buying a few necessary items, we took some pictures of the variants of wooden split-rail fences that are richly represented in the eastern South. The last stop we made before we left the parkway, was at the Brinegar Cabin. It is a small house made of wood with only two rooms that had been inhabited by the Brinegar family right up until 1933. While we were at the cottage, we noticed an eagle above, and that resulted in one of my father-in-law, Carls immortal gems: "Look, what a nice eagle." Since that day, the term "Look, what a nice eagle" has become a part of the family's standard vocabulary, although the eagle is sometimes replaced with other animals, such as "Look, what a nice seagull" - in Denmark eagles are not exactly growing on trees, if I you know what I mean. We left the parkway shortly after that and headed for the highway, and our last Welcome Center on this trip.

From the state border we took the Interstate north to Lexington, where we had also stayed two years earlier. After getting a room at a hotel, I no longer remember which, we went into town. Last time it was only Dorte and I, who went, but this time Carl went along, while Else stayed at the hotel. We saw almost all the same sights as two years earlier, including the Stonewall Jackson Memorial Cemetery. After our visit here, we concluded this part of our trip. Now we only had one leg left, back to DC.
By the way, our search for the Tom Dooley sign, and another of Carls sayings, are mentioned in the article Bridges, bullits, bats and a cavern on the 2000 page.