Tom Dooley, Stonewall Jackson, George Washington and some wine
After breakfast at Madelyn's in the Grove, we were heading north. We planned to drive to Charlottesville in Virginia (a 250 miles tour) and spend the night there. Before we went on I would like to revisit Wilkesboro, since Madelyn had explained to us how we would find the prison, and I also wanted to visit Ferguson, where the Tom Dooley drama took place during the months of March to May 1866, and where there should be an exhibition of paintings, etc. about Tom Dooley.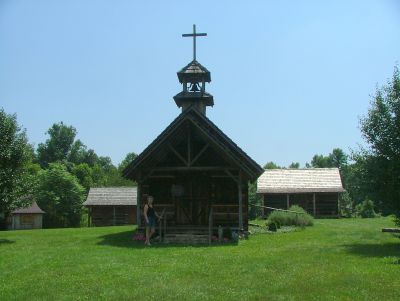 Madelyn had told us about a shortcut to Wilkesboro, which should be faster than the route we used the day before, but unfortunately I took a wrong turn, so instead of a shortcut it ended up being quite a detour. We wasted nearly an hour, so it was 11 am before we arrived in Wilkesboro, but we found the prison and took some pictures. The museum in the prison was closed, so we had to settle for looking at it from the outside. When we had seen enough, we drove the 20 miles to Ferguson. Here we found Whippoorwill Academy and Village, a small open-air museum of the kind we had visited several times before and after in the U.S., among others in Jackson's Mill, West Virginia in 2002. There were several small, old wooden houses, one of which housed the museum with Tom Dooley paintings etc., as I mentioned above. The buildings in the area did not open until 3PM, but right when we arrived, a woman came out of the small shop next to the entrance, and when she saw us, she told us that she had arrived early and therefore was ready to open. She asked if we were interested in Tom Dooley, and when I replied in the affirmative, she said the house was already opened.

On our way to the Dooley Museum we passed the Chapel of Peace, which is housed in a 200 year old building. At the Tom Dooley Museum is a series of pictures painted by Edith F. Carter. I later found out that it was this lady who had opened up for us, so the pictures are far from contemporary with the events, but is painted after the descriptions of the characters given in the stories. Besides the pictures, the museum also exhibits things like Tom Dooley's doorknob, Colonel Grayson's gun that was used at Tom's arrest, an old, yellowed photograph that may be Tom Dooley or one of his brothers, Tom Dooley's original tombstone, and some other stuff , which is connected with the legend. All in all a very interesting place, if you like the Dooley story. When we had seen enough of Tom Dooley, we went for a tour of the place and looked at the other buildings - though only from the outside, except the very last, where we just stuck our heads inside. The area includes among others the old jail from Yadkin, a replica of the hut where Daniel Boone, his wife and their eight children lived, when they lived in the area in the 1760s. The chimney is built of stones from the original chimney. In addition, we saw Whippoorwill Academy, which gave its name to the area. "The Academy" is an old one-room schoolhouse from 1880. We also saw a smoke house, which was originally used to smoke meat, a general store and a few other buildings, including a souvenir shop, which is also situated in an old smokehouse.

After the tour of the Whippoorwill Academy, we continued on North Carolina Road 268, to find Laura Foster's grave. The place is about 5 miles from the "academy", but it is not well marked, as we drove about 8 miles, and did not find it anyway. I later found out that it is well hidden in a field. Tom Dooley himself is also buried near the academy, but his grave is on private land, so we were not able to visit it. And the original tombstone, which is located at the museum, has been replaced by a concrete block, and even this has been damaged by tourists who have broken loose pieces of it to take them home as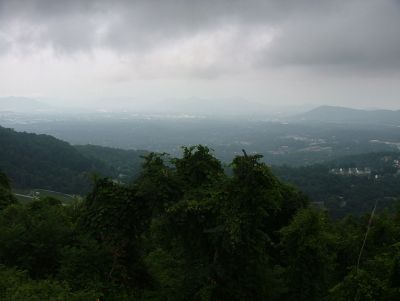 souvenirs. I would also have liked to visit the very places where the events took place and where a third person from the drama, Ann Melton is buried, but it was gnow 2 pm and we had only driven approx. 30 of the 250 miles, we had to drive that day, so we decided to continue north. The nearest road to the Interstate was back to Wilkesboro, then along a highway to the east. We found I-77 and headed north toward Virginia. At the border, we visited the last welcome center of this tour, and then we continued to the I-81, and into Virginia and the city of Roanoke.

Down in the southern part of Virginia, you find the wine region "South West" with the AVA "North Fork of The Roanoke". Only a single winery is located in this AVA, and it's called something as Nordic as Valhalla Winery. Our Turkish friend in Hillsboro (see Waterfalls, wine and a kissing bridge), had told us that this winery was owned by Swedes or Danes, but he was mistaken, it turned out. The winery has a terrific location some 1,800 feet up on a hillside above the city of Roanoke. When we got there it was, unfortunately, torrential rain, so the view was so-so, and although it eased off during the visit, we did not get to really enjoy the view. The wine proved to be OK, but not more than that and expensive we thought, the view was hampered by the weather, and people were not as friendly as on the wineries further north, or for that matter at the wineries we had visited in North Carolina. We ended up buying a single bottle though to take with us home, but unfortunately it didn't survive our second visit to Vienna.

When we got back to the Interstate, we heard on the radio that it was blocked due to flooding after rain. But fortunately it turned out that this was south of Roanoke, and as we werew heading go north, sit wouldn't affect us, although it still rained. We therefore continued further north up through the Shenandoah Valley, past Lexington. At Staunton we changed to I-64, and crossed the Blue Ridge Mountains to Charlottesville. After some troubles due to "no vacancies" we found a hotel, where could get a room. As it was rather late we went out to have some dinner and then straight to bed.
The story of an arm and a plantation
Today was the last day of our road trip as we were returning to the home of Annette and Jens in Vienna. We were considering visiting Richmond, but chose instead to drive to Chancellorsville and see yet another battleground, and later the Mount Vernon plantation, to see the place where George Washington lived.

We therefore started the day on I-64s toward Richmond. En route we passed a roadkilled deer. Around it sat 15-20 black vultures, so we almost felt transported to one of the old western movies where the hero or heroine is tied up in the desert, while the vultures flock around him or her. Here nobody came to the rescue and the vultures took no notice when cars drove by. When we reached Richmond, we took the beltway around the city and then went north towards Fredericsburg. Here we left the interstate and drove west towards Chancellorsville. We visited two theaters of war, The Wildernes and Chancellorsville, and finally we visited their visitor center. Here I bought some books on Stonewall Jackson, one of my all time heroes, and we talked about taking a walk in the area. Dorte thought that it would be too much for her to visit the Elmwood Family Cemetery, where the general's amputated left arm is buried. The mere idea that someone had buried and placed a tombstone over his arm, was actually too much for her. Therefore we didn't visit other interesting places in the area either, like for example the place where a monument shows that is was here, Jackson was hit by friendly fire, or the farm where Jackson died on April 9th 1863. But we passed a sign though that told us that here stood the tent where the regimental surgeon amputated his arm.

In the Wildernes we drove around a bit to see if it was as wild as its name suggests. It have perhaps been in the old days, and there is also still forest, but in the forest we found a major residential area, so it's not that wild anymore. We drove back to Fredericksburg, and continued north on I-95. Just southeast of Fredericksburg, out on the banks of Potomac River we passed both George Washington's and Robert E. Lee's birthplaces, but we chose to skip them this time around. Instead, we continued north to around Dale City, where we changed to U.S. Highway 1 and later on smaller roads to Mount Vernon, George Washington's plantation, which we wanted to see.

Mount Vernon is located somewhat south of Washington DC, and Washington lived here, both before and after he was president. As president, he lived at first in New York and later Philadelphia. Washington DC didn't became the capital until 1800, after Washington's death. We found the plantation easily enough, and also found a place to park our car.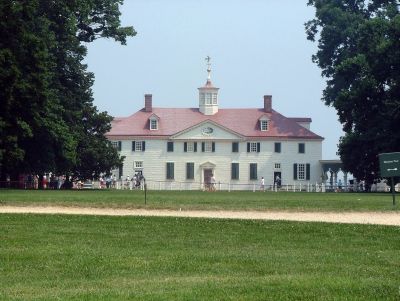 Mount Vernon was a fairly large plantation of approx. 3,200 acres and was divided into five farms, each with its own slaves and it's own manager. The individual farms also had their own homes, own cattle, fields, etc., so in practice they functioned as independent entities. The farm where Washington lived, was simply called The Mansion. It was about 200 acres, which was appropriate for a "gentleman". The area was organized, so it was surrounded by woods and meadows. There was a vegetable garden as well as an ornamental garden and a lot of trees. It is this part of the plantation (Mansion House Farm), that are open to the public today.
We did not enter the main building, as there was a long queue, which passed a sign that said that from this spot the waiting time would be one hour. Instead we saw the building front and back, and several other buildings on the plantation, like their carriage house, stables and smokehouse. We also went for a walk in the ornamental garden, and saw among others two trees, a fairly large ash tree - the largest I've seen, and an equally large maple. Both were planted when George Washington himself owned the plantation.

We also passed the Washington family's original grave. Here, both George and Martha Washington were buried, but Washington had before his death, wished that there was built a larger tomb, so other family members could also be interred there, and when it was completed, he and his wife and family members who was already buried in the old tomb, were moved into the new one. George and Martha lies in two marble sarcophagi, which can be seen from outside the tomb. We also visited a somewhat more modest cemetery, where the plantation slaves were buried. There were 150 unmarked graves at a fairly small area - which had subsequently been provided with a single comprehensive headstone and a memorial to those who died in slavery.

When we had seen enough, we walked down towards the entrance, where there was a restaurant. Here we bought an ice cream as it had gotten extremely hot. Our shirts were simply soaked with sweat. We returned to the car, which meanwhile had once again been heated up to boiling point. As the air conditioner was still out of service, we had to instead drive with the windows opened, which didn't not help much, as the outside temperature was more than 100 degrees.

From Mount Vernon, we decided to drive past Pentagon, but at one point we had to change roads and as we did not quite agree on what "straight ahead" meant, we only passed it a distance! In return we got a tour through the very pleasant suburb of Alexandria, with many beautiful old houses. From here we took I-66 to Tyson's Corner and Virginia Route 7 back to Annette's and Jens' place in Vienna. When we arrived, Annette and Jens, Britt and three of her friends from Denmark just returned from a weekend trip to Norfolk, so we should all unpack before we did anything further.