Swamping

and shopping

Back home we had booked two swamp tours, one in the morning and one in the evening. The first was to leave 9.30 am, and the second 7.30 pm. Both with a company called Cajun Encounters, who took their passengers to the Honey Island Swamp north west of Lake Pontchartrain right outside Slidell. We had no plans for the time in between, but figured that we would surely come up with something.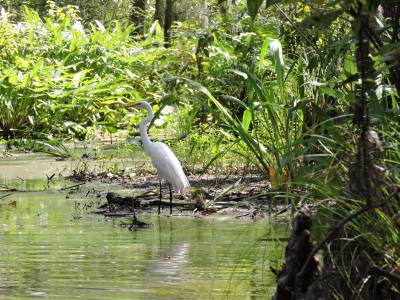 Great Egret on the lookout for food in the Honey Island Swamp.
For the morning tour we had to be at the ticket office at 9.15, and we were at the place at 9.00. This meant that we could spend some time in the airconditioned ticket office. Even if it was only 9 am, the temperature was already above 86, and the humidity was close to 100. We showed our bookings and got a rubber bracelet in return. The color of the bracelet would tells us which boat to go on, as four boats were leaving at the same time. Our bracelets were orange, and later we found out that we were going with Captain Jacob. When everybody was ready, the captain led us to the boat, which we, a group of 20, boarded, and then we took off in a northerly direction. The first interesting thing we saw was the vertical-lift bridge, that carries US 90 across Old Pearl River. It looked a bit rusty but were still in working order. If you want it opened though, you have to give notice 4 hours in advance, as there is no bridge keeper present, and he has to come from somewhere else.
Next we passed some houses on the bank of the river. Most were used as summer cottages, but one man lived there year round, making a living from fishing crawfish. There are no roads leading to these houses, so you have to go there by boat. All along the way captain Jacob was busy telling us abouth the things we passed, including a lot of small alligators, no more than 5 feet even though the largest alligator caught in the area according to the captain had been 16 feet. Also birds, especially herons end egrets, and he tried to locate some apple snails, but all we found was their eggs. When not acting as a tour boat captain, Captain Jacob fished for shrimps. He also tried to show us some wild pigs, but they wouldn't show up, where they were supposed to. Actually it wasn't actually wild pigs, but domesticated pigs gone wild. They were brought to the new world by the Spanish and left on islands along the coast, to become a sure food source for the conquistadores. Unfortunately for the Spaniards (and todays local population), pigs are great swimmers, so they left the islands and invaded the mainland. Pigs are also good breeders, so they multiplied, and today they are considered a nuisance and can be hunted all year round. The only enemies the pigs have, are alligators, panthers and occasional floodings. Jacob told us, that he had once seen a boar, three feet tall to it's back and weighing approximately 6-700 pounds. The largest boar shot in Honey Island Swamp had a weight of 880 pounds. A large animal. Finally we returned to the starting point, after a very nice tour.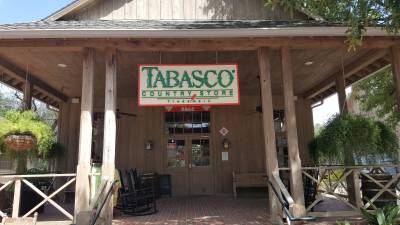 Tabasco Country Store on Avery Island.
Along the way Tim and I had talked about what to do in the span between the two tours. Back home, one of his colleagues had asked him to buy some Buffalo Tabasco, like he had done on his trip in March, but this time we didn't find any Buffallo Tabasco in any Walmart or other supermarket. So he suggested that we could spend the time between swamp tours, by going to the Tabasco Factory on Avery Island, southwest of New Orleans. As we underestimated the distance, we agreed on this plan. So we took off, heading for I-10, which we followed for about 170 miles to Lafayette. Along the way we crossed the Bonnet Carre Spillway Bridge once more, and also the fourth longest bridge in the United States, Atchafalaya Basin Bridge, 18 miles long, that we had also crossed in 2014. From Lafayette we turned south on US 90 to New Iberia, and then on to Avery Island Road, also know as State Route 329. When we got to the "island" we had the usual dollar ready to pay to cross the 30 feet bridge, but they had made it free to pass. At least on this specific day. I'm not sure is a a permanent condition. On this occasion we didn't visit Jungle Gardens, the factory or the museum but only the country store. Tim got his hot sauce for his colleague, and some for himself and so did I. As ususal when I'm there I spend to much money. So too this time. Almost $ 100 on hot sauces, pickles, marmelade and chocolate - all with some kind of Tabasco involved. After shopping we took the shortest route, using the I-10 to Baton Rouge and I-12 from there. Unfortunately we got to Baton Rouge around rush hour, so it took a while to get around town. We therefore decided to skip dinner and go directly to the swamp tour place, which we reached around 7.10 pm, 20 minutes before departure.
This time we were going with captain Rob. As it was still not dark he took us south along the river instead of going into the swamp. He wanted to show us some larger alligators, 10 -12 feet, but apparently their working day was over, as we saw none. So while the sun was setting, we returned north. Captain Rob was busy telling us stories, some to be believed, some not. Rob was a fisherman, a hunter and a Cajun (with capital C). It's always with capital C in English, but anyway... In 2002 when I visited New Orleans with Dorte, a tour bus driver, who went by the name Ron, told us, that you could recognize a true Cajun from their food. He was married to one, he told us, and continued: "They are good cooks" he said, "but beware. They'll eat anything that doesn't eat them first". This was confirmed by Rob, when he told us that at that time of year he ate a lot of the big apple snails and big frogs. At other times of the year the menu consisted of raccoon, opossum and squirrel along with an occasional pig. His favorite seemed to be squirrel. He ate alligators as well from time to time, but he had to buy the meat as he didn't have a permit for alligator hunting, so it was a rare treat. Like in the morning we saw a lot of small alligators, including one swimming around with a marshmallow on it's head. For some reason beyond me, alligators are fond of marshmallows, and this animal wanted to make sure he had one, when he felt like it. Birds were still out in numbers. More great egrets, some great blue herons and one little blue heron, which is actually far more blue than its bigger cousin. We also saw a smaller bird, on it's nest, busy feeding her young ones, but I have forgotten what kind of bird it was. Of course there were also a lot of small birds flying around between the trees, and few ducks on the water.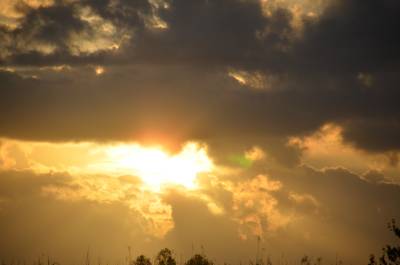 Sun is setting in Honey Island Swamp.
Along the way we entered the very narrow and shallow bayou, where Jacob had tried to show us pigs in the morning. Along the way we saw a few fishing spiders on tree trunks (spiders that actually kill and eat small fish), and Tim got to hold a crawfish in his hand. A snake fell from a branch and landed in the water next to the boat, which scared some of the passengers. Rob could calm them down by telling that most snakes in the swamp were not poisonous, and if it had been, it fell in the water anyway, not in the boat. Finally we reached the end of the bayou, and Rob asked us if we wanted to know, how he could call pigs with his voice alone. Of course everyone did, so he stood up, and shouted "Come here piggie, piggie, piggie; come here piggie, piggie, piggie" but not with any visisble effect. So he turned to marshmallows and soon a rather large sow appeared. He told us it was called mama and had piglets at the time. We didn't see those though, but we heard them squeal in the thicket. At this time, we had to turn back, and along the way Rob told us more stories, like when we passed some tupelo trees. He told about the bees that live in hollow trees and make honey from the tupelo flowers' nectar. According to Rob this should be the best honey in the world, and what had given the swamp it's name. He also told us, how they tried to protect their local alligators during hunting season. When hunters were about, the guides tried to shoot pigs, and feed them to the alligators. That would make them lay on the bottom to digest, and then hopefully not eat the bait of the hunters. It was very clear that they wanted to keep alligators in the area.
One thing we did not see though, was the Honey Island Swamp Monster. Local legends will know that some kind of monster lives in the swamp. It's a kind of a bigfoot, yeti or whatever those creatures are called. It's supposed to walk on two legs, be around 7 feet tall, with gray hair and red or yellow eyes. It was supposedly filmed in 1963, and remains of wild pigs with their necks torn, has been found along with footprints. Unfortunately we didn't see anything like it. Too bad! When we got back to the exit point it was around 9.45, so maybe it was too early to see monsters. They may be sleeping until later on? Anyway we were getting a bit hungry. Most restaurants closed at 10 though and the kitchens about an hour before that, but we found another Applebee's that stayed open to midnight, and had our dinner there. For once we didn't eat "2 for 20" but still had boneless chickenwings as a starter. After dinner we returned to the hotel to rest and make ready for next day's trip to Florida. From home we had calculated with only around 30 miles of driving, but our trip to Avery Island had made it somewhat longer. 405 miles it added up to. All in sunny weather with a few clouds and with high humidity but no rain. When we left the restaurant around 11 pm, it was still 90 F.
- Return to Long Bridge Trip page -
- Return to Travel page -