Meeting butterflies and colleagues
After our visit to Miami we headed south to Key West. Before leaving the hotel, I had to pay the bill, which was the most expensive on the whole vacation, which we knew ahead that it would be. It wasn't just the room but also parking the car, using the internet and such, that made it a bit more expensive than expected. After having paid our bill, we took the elevator down to ground level, and the valet already had our car ready, so we loaded our suitcases and bags, and took off.
A couple of days before our visit to Miami, I had seen on Facebook that one of my colleagues were goint to Miami too, so we had decided to meet. Only they would be in Key West some of the time, and as we were going there too, we decided to meet there. But first we were going to get there. We therefore headed south on US Route 1, once again trying to avoid toll roads, and this time we actually managed. On the way out of town traffic was rather heavy but we had expected that. We decided to get som gas and some ice before we left the mainland, so we looked out for gas stations. There were a lot of those, but the gas was rather expensive compared to what we had previously paid. At one time we passed a gas station that charged $ 2.79 (a dollar more than the cheapest we paid!) As we got further from Miami the prices lowered a bit though, and when we finally decided to go for it, we "only" had to pay $ 2.29. In the end this proved to be the highest price we paid on this vacation.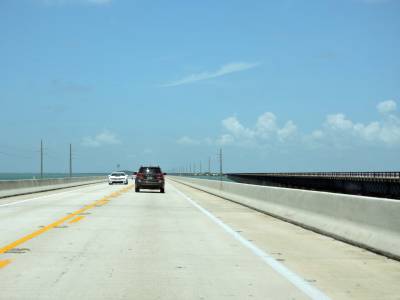 Crossing the Seven Mile Bridge. The old bridge is seen on the right.
As we passed Florida City we left the urban area and entered the countryside. US 1 is called South Dixie Highway on this stretch and it pass through swamps and marshes. Unfortunately it was difficult to see anything as somebody had had a "brilliant" idea and planted bushes along the roadside all the way, which prevented any views of the surroundings that you might have had. After 20 miles we reached the not that long bridge that connects the mainland to The Keys. Here US 1 changes name once more. From Key Largo (the first key you reach) to Key West (the last of the keys) the highway is called "Overseas Highway", probably because it crosses a lot of bridges between the keys. We made a stop at the Florida Keys Visitor Center, where I got a cup of coffee and we switched drivers. I would drive the car to Kwy West, and Tim would the photographer en route. We decided to change roles on the return trip though, but unfortunately it didn't work that well for me. More about that in a later article. Along the was we passed a zoo and more surprising a Turtle Hospital. Between Knight Key and Little Duck Key we crossed the last of the long bridges that has given this trip it's name. The Seven Miles Bridge is - ta dah - 7 miles long. (Yes I know that we passed it once more the return trip, but this was when it counted J. Along this and other bridges we could see what was left of older bridges. Some were in good shape while other were not.
When we reached Key West it was far to early to get a room at the hotel, that we had booked from home, so we decided to visit Key West Butterfly and Nature Conservatory, something we had planned to do later anyway. It was in the southern part of town and easy to find. What was not easy was to find a place to park the car. Finally we parked it in the neighboring lot and paid $ 20 to leave it there for 24 hours well aware that we would probably only be there for 2 or 3 hours. What don't you do to see a butterfly or two? We paid the entrance fee to the conservatory and passing though a souvenir shop, we entered a large room with a lot of tropical butterflies and some birds flying around. For some reason Tim survived the free runnning and flying birds, maybe because he concentrated on the butterflies. Butterflies and dragonflies are probably the most beautiful insects, at least in my opinion, and we admired them and also got some very good pictures. Among the butterflies were some big blue ones, or rather blue on the upper side and brown on the bottom side. Anyway they were very pretty but never sat still giving us time to take pictures, until a young girl entered the place dressed in a rather colorful, patterned blouse. Almost immediately one of them landed on her bosom and stayed there. She was completely willing to let both us, her family and other people take pictures of the bo... butterfly. Considering the amount of time the butterfly spent on it's landing pad, I suppose it must have been male J.
When we finally tired of looking at butterflies we left the place and walked to the buoy that marks the southernmost point in the USA. Only it's not! The actual southernmost point is about half a mile west, inside the naval air station. But anyway a lot of people were lined up in order to stand next to the buoy and either have their picture taken by friends and relatives, or taking selfies. We didn't want to stand in line so we just tok a picture of the buoy. We walked around a bit more and then returned to our car. As it was now late enough to get our room we drove to the hotel. Here we relaxed for a couple of hours before we were going to meet Henrik and Merete, my colleagues.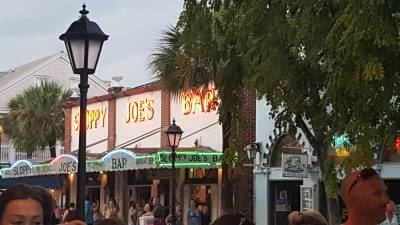 Sloppy Joe's Bar on Duval Street in Key West.
We had arranged to meet at their hotel at 6 pm, so when we had taken a bath and put on some clean clothes we drove away. Our hotel was on the south side of the island, while their's was on the north side. When we drove to the butterfly exhibit earlier, we had taken the northern route around town, and found out where the hotel was, We had also located some shops, and decided to leave so early, that we could do some shopping before meeting them. Normally we don't swim neither in swimmingpools or the ocean, when we are on vacation together, Tim and I, so usually we don't bring bathing clothes, and neither had we this time. The water on the next days trip looked so good in pictures though, that we decided to buy bathing trunks and towels, and that we did at the local Sears. We then drove to the hotel and met with Henrik and Merete and two of their daughters. From the hotel we took a small free trolley into town. Unfortunately it was a very hot and humid evening, and there was no airconditioning in the trolley, and a lot of people on board so along the way Tim became unwell from the heat and humidity. When we finally arrived he was ready to return at once, but decided to come along at least for a while. As I have mentioned in a previous article his doesn't pay roaming rates on his phone, not even for data transmission, so he used the phone's internet connection to locate restaurants, and we decided for a place called Smokin' Tuna Saloon. The waitess tried to seat us outside, but because of Tim not feeling well we asked to be seated inside, in the airconditioned rooms. After a while in the cooler roomTim felt much better, and before dinner was served he was all right again. I don't remeber what everyone had for dinner, but Merete, Henrik and I ordered fish of the day, which was mahi mahi. None of us had ever tasted it before, and I guess none of us ever will again. We are all pretty fond of fish, but we simply didn't like the taste of it. Not that it was bad in any way, we just didn't like the taste.
As we dined we chatted and Henrik ands I decided for fun that we had to present my manager back home with the travel expenses as we had had a business meeting in Key West. We did too, but for some reason she declined to pay our journey J.After dinner we walked back to the trolley through Duval Street and got a picture of Hemmingway's hang-out, Sloppy Joe's Bar even if it has been moved since Hemmingway was a patron. When we were back at 24 North Hotel, we said good bye to my colleagues and returned to our own hotel, and went to bed rather early as we had to get up rather early the next moring. as well The alarm clock was set at 5 am, so we could be ready for next day's excursion.
- Return to Long Bridge Trip page -
- Return to Travel page -