Finally, succes!
On previous trips to western North Carolina, I have tried to meet a lady! This may sound strange, but it's not that I have been on the lookout for women in general, even if I probably wouldn't have turned down such an offer had I been given one, me being single and all J. No, I had tried to meet a lady, that I have been exchanging mails with about a common interest in genealogical research. Those attempts unfortunately all had come to nothing for different reasons. You can read more about these attempts in my articles from previous years. But this time we had agreed to try again and a few days earlier we had made a final arrangement via Messenger that we would meet in Wilkesboro outside a candy store at 1 pm on this particular Thursday.

That meant I had plenty of time to go to Winston-Salem, a 55-mile (90 km) trip each way. On a good day without too much traffic, it was about a one hour drive each way. I had arranged with the staff at the inn where I had forgotten my toothbrush to be there around 10, so I left hotel and headed east on US Highway 421, which actually leads directly to Winston-Salem. There wasn't much traffic, and since the 421 is a four-lane highway with a speed limit of 65 miles in most places, I arrived in time. Almost exactly at 10 am I parked outside the inn. Here I was reunited with my toothbrush, which I would have hated to loose, mostly due to its purchase price of almost $ 300. Before leaving town I spent some time driving around in Winston-Salem and looking at the modern part of the city. During my previous stay, I had concentrated on the historical district of Salem.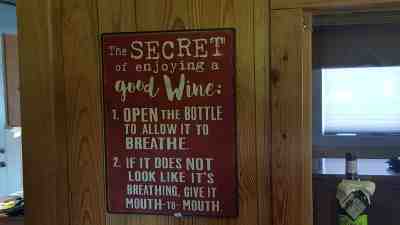 Interesting sign in the tasting room at Laurel Gray Vineyards.
On my way back to Wilkesboro on 421, I reached exit 267, and close to this exit is my favorite winery in USA, Laurel Gray Vineyards, and as it was Thursday and after 10 am and I still had plenty of time to spend before meeting with Charlotte, (the name of the lady I was meeting), I decided to visit the winery. The fact that it was Thursday and after 10 was important because the place is only open Wednesday to Sunday between 10 and 17. As usual, I was kindly received and got a good chat with a couple who were already busy tasting the different wines while I myself looked around the tasting room where some new souvenirs had arrived since my previous visit in July 2016. Of course, I had to taste the wines too and the lady who was repsonsible for the tasting thought she could remember me from an earlier visit. I also remembered her, but it was not from the previous visit a year before. Actually it must have been all the way back in 2014 that she served me, so very well remembered of her, who must see a lot of customers. In 2015 and 2016, I was served by a gentleman, who I would meet the next day even if I didn't know that then. After the tasting I bought a couple of bottles of their Viognier to bring home as gifts and also some bottles of their BBQ sauce, made from the place's own recipe, and Tim's favorite and I had promised to bring him some. Finally I bought some biscuits that were meant for presents as well. As usual when I visit the winery I spent too much money here, just over $ 100 this time, but I paid with no regrets. That is, my first attempt with my credit card was rejected, so I had to do it all over, but eventually the payment went through. And then I headed back to Wilkesboro.
Well back in Wilkesboro I returned to the hotel and left my toothbrush as well as my winery purchases there before driving back to the center of town and the designated candy store, which was just opposite the old court house, which now serves as Wilkes Heritage museum. Since my visit in 2016, the whole place had been dug up for renovation and the the same was the case with the parking lot I normaly use on my visits, but I found another parking lot behind the candy store. Outside the store was a bench and here I sat down and waited for Charlotte to arrive. She had told me which car she was driving, and about ten minutes past 1 pm such a car turned down the side street next to the candy store, and a few minutes later, Charlotte arrived. With her she had her three children, the youngest of whom was barely 2 and also her father. It turned out that inside the candy store there was a "play ground" of sorts, and her father and her children entered the store to entertain themselves in there, while Charlotte and I sat down on the bench outside. We chatted for a couple of hours, occasionally interrupted by one or more of the children who just had to talk to mom. It was really nice and we talked about our mutual interest in genealogy, but also about everything else, including her family and mine, especially her middle son, who suffers from some chronic illness. She had just returned from Dallas, where they had visited a specialist in that particular illness. Before I met Charlotte, I had the idea that she lived in Winston-Salem, but now it turned out I was wrong. She was raised in that city, but now lived with her husband and children outside Spruce Pine, which I had driven through the day before. Had I known that, it would probably have been easier for her to meet me there. Charlotte is a school teacher and teaches students in the fifth grade at a school in a small town not far from the Blue Ridge Parkway.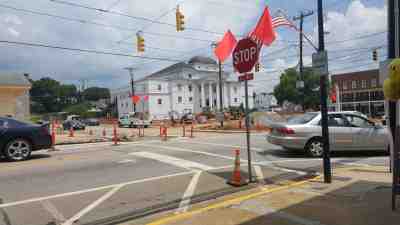 Road work on the central square in Wilkesboro. In the background the old courthouse, now Wilkes Heritage Museum
Gradually the children's patience began to get exhausted. The "playground" was not that big either and the visits outside became more and more frequent. Before she left, Charlotte gave me a book about the family we shared interest in, the Andersons, a family that also included the two sisters I had met the week before and, as I mentioned in the article Two days with lots of experiences and nice people. I was very pleased and I have already used information from it in my Tom Dooley research. I had brought a small gift to Charlotte, which I gave to her as well. She invited me to stay with her family if I ever got in the vicinity of Spruce Pine again, and as I'm actually planning to do so in 2018, I'll maybe take her up on her offer. Time will tell. We said goodbye and both left. She and her family had to go back to Spruce Pine and I would go to Dooley-land with my dashboard cam and film a trip around to the places that are known from the case.
When I reached Dooley Land, the weather was grey and dull, and I had not been recording for long before it started to rain, but I continued anyway. When I later watched the recording on my PC, it was not too good, but could be used. However, I decided that if the weather was better one of the next days, I would try again. Along the way, I also drove on some of the small roads in the area, which has nothing to do with the case, but which I has not tried before, so all in all it was not a completely wasted afternoon. Once again I had dinner on one of the chain restaurants on the other side of the highway from the hotel, this time Ruby Tuesday, before returning to the room and one of the books I had bought in Barnes and Noble a few days earlier and I also wrote a few mails to the people at home. I also checked my bank and found that the first payment on my visit to Laurel Gray had been accepted anyway so I had paid the bill twice. But there was time to fix that the very next day.
- Return to Summer in Western North Carolina -
- Return to Travel page -