Bumps and cracks -
and then it
was the end
When I woke up and had completed my morning ritual, I was ready to leave because I had packed everything the previous day, so I carried my suitcases and backpack to the car, returned the room key to the reception desk and already at 7.00, I was on my way. When I opened the back door to put my rucksack in the back seat, I discovered that there was a small bump in the left back door, apparently because someone had opened a car door and hit my car, but at that time there were no cars next to mine so it must have been someone who had left earlier in the morning. I looked a little at the damage, but agreed with myself that this had to be something for the insurance to cover.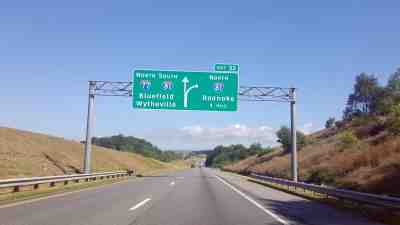 I-77 intersects with I-81, and I had to change highway. Notice that if I had not kept right, I would have been able to continue north on I-77, while at the same time heading south on I-81; an interesting phenomenon.
Getting to Washington Dulles from Wilkesboro is quite easy. First thirty something miles east on US Highway 421 to Interstate Highway 77. Then 65 miles north on the interstate until it meets I-81 in Virginia. Then 218 miles further northeast on this interstate until it meets I-66. 52 miles east east on I-66 and finally just about 10 miles along Virginia Road 28 and you are at the airport. All in all, a stretch of 375 miles (600 km). Without any stops, the trip will take about 5½ hours, but I had planned a few stops along the way, and I also made one unplanned stop. The first stop came while I was heading north on the I-77. At the intersection with I-74, I left the freeway for a while, partly to get gas, partly to get a cup of coffee and a sandwich for myself as I had not eaten breakfast in the hotel before I left. Then I took another break for biological reasons before I felt it had become time for lunch. I had my lunch at a Denny's (the first and only one on this trip) near Staunton, Virginia, and that break got a little longer than expected when I came to listen to a soccer match from Denmark on my phone and just had to wait for it to finish before I could continue. At one point my stomach started to "rumble" and it did not feel good, so when I approached Va 28, I left the highway to find a pharmacy. I would like some anti-diarrhoea pills, as 8 hours in a plane with diarrhoea , is not just my idea of ​​a comfortable flight. I found a pharmacy a few miles from the highway and bought some Imodium, as we have those in Denmark as well and therefore I know the effect. However, these were capsules and not pills as I'm used to and they were wrapped differently even if the wrapping was of the same style as in Denmark. Fortunately, the stomach problems didn't evolve, because I never managed to get as much as a single capsule out of the wrapping. It was obvious that the capsules - like at home - had to be pushed out of the "pocket" they were individually wrapped in. I just couldn't manage to do so. I would have had to use a hammer and chisel and even when I got home, I did not manage to get into the pills, neither by scissor nor knife, and at last I chose to discard them. I'm sure there must be a trick that Americans know, but unfortunately I did not.
The last stop was at a gas station near the airport, where the gasoline is, of course, a bit more expensive than elsewhere because they know that many people have to return their rental car with a full tank, as I should. When I arrived at the Avis car return, I explained to the lady who scanned the car's barcode upon arrival, about the bump, and asked if I should go to the office to clear the insurance thing but she thought that the bump was so small that nothing had to be done about it. Next, I told her about the tire problems I had experienced, see the article My stubbornness paid off, and she said that she was very sorry to hear that and promised to inform the workshop that prepares the cars between rental. Then I grabbed my luggage and took the Avis bus to the departure hall where I was around 4 pm. Since there were almost six hours to departure, I didn't expect anyone to be at tge British Airways Check-in, but it was already open and manned, and using fast track through security, it did not take long before I reached the lounge and just had to wait for departure. The flight was a so-called sleeper, where no food is served, except for a sandwich just before landing, so you have to eat at the airport if you want food. I did not want any as I was still a little worried about my stomach - so I was content with something to drink.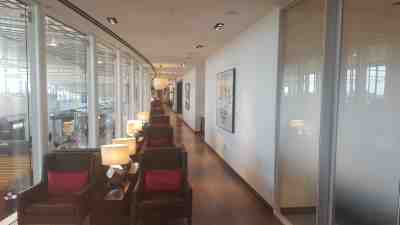 The British Airways lounge at Dulles International Airport is long and narrow. The dining area, which is open only during dining hours, is located behind the opening to the right approx. in the center of the picture.
When I returned the car, I had recorded how many miles I had driven that day and I had also noticed how many trucks (from the interesting companies) I had seen, and I would now enter it into the travel diary I had kept on my tablet. If you have read my travel descriptions from the previous years, you may remember that I typically tell you how far I've driven and how the weather has been, but I haven't done so this time. When I turned on my tablet I found out that the touch screen was no longer working. No matter what I did, I couldn't get the screen to work. When I examined it further, I discovered that there was a long, almost invisible crack in the screen. I therefore agreed with myself that the cleaning lady might have pushed the tablet to the floor while cleaning the previous day and had picked it up again without noticing that anything was wrong. The crack was very difficult to spot as it was visible only when the screen was held at a certain angle relative to the light. After returning home, I tried to get the tablet repaired, but none of the four workshops I contacted could help me and they all claimed that they couldn't get spare parts and that even though it was only 2 years after I had bought it. A little over two 2 years, of course, so the warranty had just expired, but fortunately I have an extended electronics insurance covering that kind of situations. I could therefore buy a new tablet, but the data was lost forever, which was due in part to the fact that I had used a program that stored everything internally in the program, not as single files that could have been uploaded to the "cloud" or rescued from the machine. So now I have learned the hard way, never to use a such program again. All the articles this year are therefore created from an old man's memory. So I have probably left out something, but there is nothing I can do about that.
There is nothing to tell about the flight. It was as boring as usual. I had to spent a couple of hours in London, where I had breakfast in the lounge before I continued to Copenhagen. Here I got both my suitcases for a change, so I could catch a taxi to my home, and that was the end of that vacation. This is where I usually bring the static information about how expensive the vacation has been, how far I've driven, how many trucks I've spotted, see the article Heat, sand and planes on the 2014 travel page, and so on, but since all this information have been lost, you must be without. However, I can say that the trip cost me as expected and that I added about 5,000 km to those I have already driven in the United States. Swift won the truck competition ahead of J. B. Hunt, but I can't say how much they won. Despite these problems, it was a wonderful trip once again, and I'm looking forward to this coming summer, where I will once more travel cross country with my son.