A quiet day with good food
On this particular day, I hadn't planned anything special. I wanted to take a walk in Salem's historical district, and that was pretty much it. The breakfast at Augustus T. Zevely Inn was good. Not like what I' had at Rose or Madelyn a few years earlier, but it was what you could expect from an inn. Coffee, tea, milk, juice, cereals, different kinds of bread and boiled eggs - and later the cook offered freshly cooked fried eggs and ham. When I got to the dining room on the first floor (from my room downstairs) there were already some people, and very soon we were busy exchanging information. Of the three couples, two were on vacation like me and a single couple were on business trip - or rather the husband was and the wife just tagged along. This couple, as well as one of the vacationing couples came from other states, while the last couple were from the eastern part of North Carolona, and despite that they had never been to neither Winston-Salem nor further west in the state, and they would now make up for that and go west, as I myself would do a few days later. After breakfast I went back to the room to pick up my camera, and then I went for a walk.
Winston-Salem, or just Salem, was founded in 1766 by Moravians or as we know them in Denmark and other parts of Europe, Herrnhutians. They were members of the same religious group who also founded the town of Christiansfeld in Denmark in 1773. The Brotherhood had been forced out of their original homeland Bohemia and Moravia by the Catholic Church. On land belonging to Count Nikolaus Ludwig, Graf von Zinzendorff in Saxony, a group obtained a place to stay, and here they formed a congregation in the town of Herrnhut, hence the European name, and from there they went out to preach and do missionary work over most of the world. The English name of course comes from the name of their original homeland. At one point, a group had come to Pennsylvania, and from here they sent an expedition to find a place where they could live in peace. The expedition led by bishop August Gottlieb Spangenberg came to North Carolina, where they explored the northwestern parts of the present state before returning east. They bought a piece of land (about half of present day Forsythe County) from ​​John Carteret, 2nd Earl Granville, who owned an eighth of all of Carolina (North and South), and here they founded a small town, Bethania in 1753, and in 1766 they founded Salem, not far from Bethania. I could tell a lot more about Moravians who I find extremely interesting, including their religious attitudes, but I have already gotten myself on a detour from the subject of this article, so I'd better quit now. However, I could add though that in 1892, a luxury hotel was built in Salem, or just outside the central area of town and named for the benefactor of the brotherhood it got the name Zinzendorfer Hotel. Unfortunately the hotel had a short life span. Less than a year after the construction, the hotel burned down to the ground and was not restored.
When I left the hotel, I first walked down to Old Salem Visitor Center, located in the next street in relation to the inn, a long walk of about 300 meter (900 feet)! Already here at 9 in the morning, the temperature was quite high, over 86 degrees F, so I was wearing baseball cap and sunscreen - and when I left the inn I was asked to put on some clothes as well in order not to get arrested - only kidding :-). At the visitor center I spoke with some of the staff, and I bought a one dollar map that showed he historical district and what you could see there. I was of course also looking at the exhibits that were at the center before leaving. Then, armed with map and camera I walked back to Main Street from where I had come, but in the southern end of that street. To get there I had to cross Old Salem Road which is a rather wide road, but not particular busy at that time of day. Anyway I could cross it via an impressive footbridge in the form of a covered bridge. However, I had to wait a few minutes to pass the bridge as somebody were busy making a photo shoot, and there were racks with cameras, lights and so on. But eventually I got across. On the other side of the bridge was a modern building, with an octagonal entrance hall. It turned out to be Frank L. Horton Museum Center or The Museum of Early Southern Decorative Arts. I did not visit the museum, not least because I'm not particularly interested in decorative art - even if it's early and southern! Later I discovered that the museum was housed in a (several times expanded) grocery store.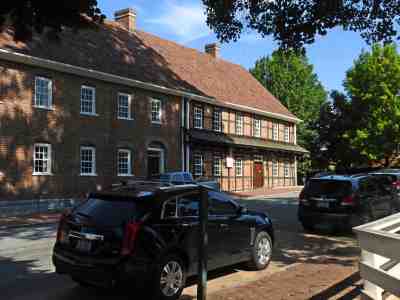 Single Brothers' House. The old part right and a newer addition left.
On my way north on Main Street, I made good use of the map - and the signs that were placed outside the historic buildings. The first of these I passed was a gunsmith shop but it wasn't open. Most places didn't open until 10, probably because no one thought that tourists would be stupid enough to visit this early. Many of the buildings are old and historic, but they are not all part of the museum that the district makes up, as many are private property and used as residential houses. I continued happily north on Main Street until I reached the inn where I lived. Along the way I took some pictures, which unfortunately later turned out to be quite unsuccessful, as I had changed a camera setting without noticing. A little manipulation in an image editing program helped somewhat, but not entirely, but that's how it goes. Almost across Main Street from Augustus T. Zevely Inn you find Tavern in Old Salem, and next to the tavern was also the old Tavern Meadow, which is still a green area. Next to the eatery, the Tavern Museum shows how travelers were taken care of in the old days - among these travelers was George Washington, when he visited Salem in his time. This wasn't open yet either, so I continued my "journey" to the north.
The next historic building was the Shultz Shoemaker's Shop, but as my shoes didn't need repair, it was of no use to me :-). John Vogler House (the home of a silversmith and watchmaker) was now open, but I did not visit. On the other side of the street, I visited a local grocery store. It was quite interesting and it's actually a shop where you can buy stuff, not only an exhibition building. Opposite, on the other side of Main Street was a large open space, Salem Square, with a small house, almost a shed where a fire engine was housed, and across the open area was the main building of Salem College, which is a university for women, founded in 1772. Thus, it is the oldest university in the southern US, which still caters to women only, although some higher education classes is now open to men over 23! And here the walking tour stopped for a while as my camera had no more power, even though the battery meter had been showing full a moment before. I have experienced that situation before, but I hadn't given it any thought this time. So I had to go back to the inn and my charger. Since I had only brought one camera to the United States on this trip (next time I will bring at least two), the camera in my phone had to make do for the rest of the day. So after leaving the camera in the charger, I returned to the square. Here you also find the "Single Brother's house". Here, the adult, but not yet married male members of the brotherhood lived. In the next street, Church Street, where the inn's parking lot was, you find the "Single Sisters' House", which I looked at on my way back to the inn. You can guess for yourself who lived there.
However, I initially continued further north to Winkler's Bakery from 1800. This is partly an exhibition, partly an active bakery and baker's shop. Here, bread and cakes are baked after old Moravian recipes in wood fired ovens from around 1818. In the shop I took the opportunity to buy some cookies to take home as gifts. They also have a famous cake, which is sold in slices, but I did not think such a slice would last as there were almost 10 days before I returned to Denmark. At the next street corner, Bank Street, I turned right and walked down to Church Street. I could have continued further north to see an archaeological excavation or God's Acre, the name the brethren call their cemeteries, but that will have to wait until my next visit to the city. Instead, I walked past the Doctor's House, Home Moravian Church, the University's main building, Single Sisters' House and several of the university's dormitories. When I got back to the inn, it was a little bit after 1 pm and despite the hat I had become hot and sweaty, but because of the sunscreen, I hadn't got burned. Back in my room I studied the camera's charging process, but as expected it was not nearly done. When using a 220 volt charger in a 115 volt power outlet, it takes a lot longer to charge anything, even though it's not twice as long as home. I sat on the patio and enjoyed a bottle of cold water from the ice box in the car, even though this was not too cold anymore, as almost all the ice in the box had melted.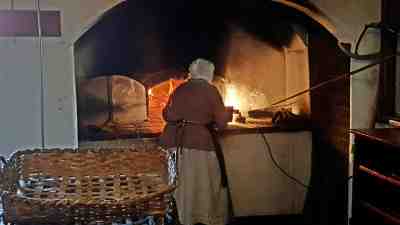 The old wood fires ovens from 1818 are still put to good use in Winkler's Bakery.
When I had been relaxing on the patio for about half an hour, I decided to drive to Statesville. Why I do not really know, but I did. From Winston-Salem there are approx. 45 miles (70 miles) to Statesville and it took about 1 hour, but then I got one more drive on our favorite motorway, I-40. In Statesville I parked the car behind the Civic Center. I walked around without a specific goal while I looked at things without actually realizing what I was looking for. Later, I agreed with myself to see if I could locate the local Visitor Center that was supposed to be in one of the public buildings on the corner of Front Street and South Center Street, but I never found it. On the other hand, I was able to relieve myself in a nice clean restroom in the Civic Center, and I took a picture of the Vance Historic Hotel, just across the street. Once upon a time it was a luxury hotel, but today is empty while the city is considering what is going to happen to the historic building. Since I could think of no more to see or do, I went back to the car and headed back to Winston-Salem. Although I knew the way, I still turned on the GPS so that it could lead me to a Barnes & Noble Bookstore where I spent an hour and bought a few books, although one of those I thought I would buy, wasn't released until a month later, so I never bought it, but got away with something to read anyway.
When I got back to the inn it was about six o'clock, so after refreshing, I walked across the street to the Tavern in Old Salem where I had planned to dine. It turned out that there was no available tables, but if I would wait 20 minutes? I did and waited on a chair right inside the entrance with some other waiting guest (not on the same chair), among these was one of the couples I had had breakfast at the inn earlier. 25 minutes later, I was shown to a table by the restaurant owner, who asked me, where I was staying, and when I told her, she told me that she had previously worked at the inn, but when the restaurant was put up for sale, she grabbed the chance! I chose a starter called Tavern Crawfish and Grits. Crawfish I like a lot while I do not really like grits, but here it was a fried grit cake, and I had not tried that before so I gave it a chance. Otherwise, the crayfish was served with andouille sausage (a spicy sausage) and Tasso ham, bell peppers and whole spinach - all in a great mix. It turned out to be excellent, even the grits. For the uninitiated, I cant tell you that grits in general are a strange, thick porridge cooked on corn flour. This excellent starter cost $ 16, which could almost have been the prize of a whole meal at a chain restaurant. As a main course I chose another fish dish, Chargrilled North Carolina Lemon Pepper Catfish served with roasted corn, grilled green asparagus, smoked peppers and lemon butter as well as crawfish purloo for $ 19. Also this tasted great, and for a change I had two glasses of white wine. The total price for the meal incl. tips was a little over $ 50, but it was worth every penny. When I had paid, I crawled home to the inn in my very drunken state. Here I set the alarm to 7 o'clock as I had to leave next day at 8 to get to my next appointment.
- Return to Summer in Western North Carolina -
- Return to Travel page -