Heading west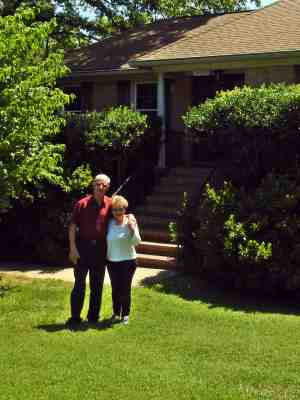 Charlotte and Bill Barnes in front of their house in Matthews just before I left.
The day had come when I would have to say goodbye to Charlotte and Bill for this time after a wonderful two days with them. But before we got that far, I once more enjoyed Charlotte's excellent breakfast. As good as Irish Rose, and no chance of ordering a German pancake by mistake :-). And also on this occasion we had a nice long chat about this and that. Bill told me about their garden and the things they grow there, but also of the animal life, like the snakes that sometimes enters the garden, including king snakes, which are quite harmless, but also copperheads, which are actually venomous, but not very aggressive. Bill said that when they discovered a copperhead, he picked it up with a stick, placed it in a cardboard box and drove it into the next county, where he sat it free. Also raccoons visited the garden and they had also had an opossum at one time. And then there were the crows that Bill was very fond of, and he fed them regularly. He was also very fond of vultures, and was writing a story about a turkey vulture, which was raised by turkeys. Charlotte was also busy writing a novel, of course a novel based on the Tom Dooley case. I am looking forward to reading both. All of this talking and of course more Dooley talking took its time so, even if we did not eat breakfast very late, the time was still past noon when I was ready to leave.
Before I left Charlotte and Bill, Bill gave me a CD with the pictures. he had taken while I was visiting, and 2 DVDs with Charlottes television broadcasts on the case, including the interviews she had made in connection with her research. These interviews included Edith Carter, her father Thomas Ferguson, John Foster West, Sam Mask and many others. A wonderful gift for which I am very grateful and which I can certainly use in the updates I am doing of my Tom Dooley pages, which I'm in the middle of doing right now, but it only progresses slowly, as I have much to do at work. All in all, it's hard to express the gratitude I feel for everything Charlotte and Bill did for me before, during and after my visit, the many people they introduced me, their kindness in letting me stay with them, and the many exciting places that they showed me. In fact, I simply cannot thank them enough. They made this vacation something very special, and I definitely hope I will meet them again next summer, when I hopefully will visit Western North Carolina again - at least for a few days. But in the end I had to leave, so after taking a couple of photos of Charlotte and Bill, I took off.
The directions I got from Charlotte before leaving meant that I had no troubles locating the nearest I-485 entrance. I-485 is a beltway around Charlotte. Just before I entered the interstate, I visited a gas station to refuel the car and buy more ice for the ice box. I followed the beltway east and north around the city until I reached I-85. I tuned west on I-85 and stayed on the interstate to Gastonia but soon that town after I left the interstate and switched to US Highway 74, which I thought would be more interesting. I would stay on US 74 until it met with I-26 in Columbus. Because of this switch I passed several of the cities I have mentioned in my "Guide til det vestlige North Carolina" (it will be "A Guide to Western North Carolina" in English, but the English translation is not yet available), such as Kings Mountain, Shelby, and Forest City. Around Forest City I switched road once more, this time to US 221. This change of plans was due to my excellent GPS telling me that there was a two hour delay on I-26 between Columbus and Asheville so I abandoned my original plan and instead, took US 221 until it met with I-40 near Marion. This took me through Rutherfordton, county seat of Rutherford Country, another town and county mentioned in the guide. I reached I-40 35 miles further east than originally planned. On the other hand, it took only a little more than an hour to get to Asheville from Forest City, where it would otherwise had taken me about three hours including the two-hour delay on the interstate. As usual on my way to Cherokee, I took I-40 to Lake Junaluska, where I switched to US 19, which I followed through Maggie Valley (a town) and Soco Valley (a valley) to Cherokee, my destination of the day. The whole trip had taken a a little over four hours with a couple of short breaks along the way.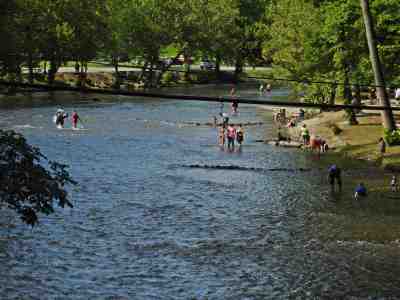 People enjoying a late summers afternoon in Oconaluftee Islands Park in Cherokee.
When I reached the town, or rather the census-designated place, because that is what Cherokee is, it was about half past four, and when I passed the Oconaluftee Islands Park, there were a lot of people in the river and along its banks enjoying themselves bathing or just relaxing. I therefore chose to make a short stop here to watch how people enjoyed themselves, before continuing to my hotel. That is, on my way to the hotel, I visited the town's welcome center to find out if I could buy tickets for "Unto These Hill", an open-air show, which I had decided to see this time. On neither of my six previous visits to Cherokee, had I managed to get to see the show, but this time I had decided to go. I thought I remembered from the internet research I had done back in Denmark that I could buy tickets at the welcome center - but unfortunately that was not the case! On the other hand, a nice Native American lady told me that I could buy them at the ticket office at Mountainside Theater, where the show is performed. The amphitheater is located on a mountainside (as the name suggests) a little west of town, so I drove there. I had decided that I was too tired to watch the show that night, and by the way the show is not played on Sundays anyway, so I asked if I could buy tickets for Tuesday and that I could. But I was lucky that someone was there as the ticket office normally is only open on play nights. I was asked if I wanted "reserved tickets", that is numbered seats and since they were only $ 3 more than the free seating tickets I chose those and got a seat right in the center and high enough for me to watch the whole stage. As the show are canceled in case of rain, I was offered a rain insurance for another three dollars. Not that it insured against rain, but if the show was canceled, you could get a ticket for another day instead. Unfortunately, I had only a limited time in town so I rejected that offer. I also rejected an offer of a VIP package, which included a small bag, a mug, a bottle of water and a box of hot popcorn in addition to a backstage tour after the show. These delights would have cost me an additional $ 12, but as I had lots of water in the ice box and figured that the popcorn would probably by made the American way, sprinkled with butter and not with salt, I didn't think I would need any of it.
Equipped with a ticket, a program and a nice receipt, I headed for the hotel where I arrived at 5.30. As I had planned to do my laundry during my stay in Cherokee, I had to bring both my suitcases and the rest of my luggage upstairs to the room, so I caught a luggage cart that could accommodate everything at once, including backpack, cameras etc. When I had checked in and brought the things to my room, I went looking for the hotel's guest laundry. Although it was my fifth stay at this hotel, I had not previously used the laundry, which turned out to be on the third floor (or the second floor in Danish terms, as we call the first floor the ground floor, and the second floor the first floor and so on – one of the many things that separates USA from Denmark, and I will probably make a video of some of those things one day). There was a washing machine and a tumble dryer and both were already in use. However, I could tell that although I usually had kept the quarters I had received whenever I has paid stuff with notes, I did not have enough for two washes and two dryings, so I took the elevator down to the front desk and exchanged some notes for quarters. I had already decided not to wash until the next morning, as I was convinced that there would be fewer people doing laundry early in the day, and it proved to be a correct assumption.
It had now become time for dinner, so I walked to Paul's Family Restaurant not far from the hotel where Tim and I also had dinner in 2016. On the sign outside the restaurant, it was established that this place was "indian owned" so no one could doubt that there were no white snouts that skimmed the cream from the milk (is this even understandable in English – it is a verbatim translation of a Danish proverb). I had never noticed that sign before, but it looked like it had been there for a long time. When I entered I got a table, but was warned that it may take some time before I would be served as the servers were very busy because one of the serving staff had called in sick at the last minute and they couldn't get a replacement in time. I wasn't busy so I accepted the waiting time, but I saw several other people who left the place without entering and even some people, who were seated at then table next to me long after my arrival, got up and left. On my last visit with Tim the drinks couldn't be served due to an error on the soda fountain and when that was fixed, the dishwasher couldn't keep up washing glasses, so we had to drink from to-go-cups, they were out of the starter, we ordered, and so on, but this time I got everything I had ordered and the server apologized several times for the long waiting time. After enjoying my food, I walked back to the hotel and relaxed for the rest of the evening. The next two days I was going to do some sightseeing in the southwestern part of the state.
- Return to Summer in Western North Carolina -
- Return to Travel page -