County seats and dams
After my trip from Matthews to Cherokee, I would spend the next couple of days exploring the southwestern counties of North Carolina. I have bee nin the area on other occasions, but but on those I spent most of my time in and around Cherokee with a couple of visits to Robbinsville. I also had a theater show on the program, which I was very pleased with finally having time for, but it was Tuesday and it was only Monday.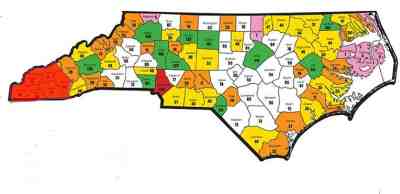 On today's menu was visits to six counties and their county seats. The counties I visited were those marked in red, furthest to the west, ie ín the left part of the map. In addition to Swain County, where my hotel was located, it was Jackson County, Macon County, Clay County, Cherokee County and Graham County.
As I figured I was in no hurry, the area is not that big after all, I had already decided to start the day doing my laundry, so I did. I sorted my clothes into two bundles. There were only one washing machine, so I had to divide the laundry. I carried one bag of clothes to the 3rd floor, where the guest laundry was, the second floor we would call it in Denmark and other parts of Europe. The machine was vacant as I expected it to be at that time of day, so I made ready to start it for the first time. In order to avoid having to buy detergent, I brought some detergent pads or whatever they are called- small soft plastic capsules filled with detergent. In fact, I had brought enough to wash four machines just in case, but never got to use two of these as I decided that this would be the only time I had to do laundry on this trip. Washing machines in American hotels are usually top-loaded and fast, and it also proved to be the case here. The medium program I used, lasted a little less than 30 minutes. It wears out the clothes faster than the more gentle washing machines we use in Denmark, but since it's not the way you do your laundry every time... While the laundry was washing, I took the elevator down to the ground floor and had some breakfast and a cup of coffee. When half an hour had passed, I picked up bag number 2 in my room and headed for the laundry room once again. Here I was still alone and the clothes were done so I put the wet clothes in the dryer, and the second bag in the washing machine. It takes a little longer to dry the clothes than to wash them, approx. 45 minutes or roughly the same as at home. While the first dried and the next washed, I went back to the breakfast room and got another cup of coffee while reading a Danish newspaper (on my tablet). Half an hour later I returned, emptied the tumbler, folded the clothes and moved than last batch from the washing machine to the dryer. The clean clothes I brought to my room also on the ground floor (1st Floor), so I went up and down the stairs few times that morning - good exercise. I put the clean clothes back in my suitcase, and while waiting for the dryer to finish, I studied a map and Google to make a plan for the day. When the last batch was done it was also picked up, folded and returned to the suitcase, and then I was ready to leave.
Cherokee is located in Swain County, and my first goal was Jackson County, just south of Swain. Here I was going to visit the town of Sylva, the county seat of Jackson County. I wanted to see the old courthouse, which is located on a hilltop. From Cherokee to Sylva, is just a 20 minutes drive, and as I took it easy and didn't hurry, it was almost 10 o'clock before I left the hotel in Cherokee. The drive to Sylva is on rather large roads so it didn't take that long to get there., Along the way, I passed the modern settlement Qualla. In the old days this was the site of a Cherokee village, known as Qualla Town (or Indian Town), which The Qualla Boundary, home of the Eastern Band of Cherokee Indians has been named for. There was absolutely nothing to see, so I didn't waste any time again. On my way to Sylva, I passed through Dillsboro, which is terminus of the only train in western North Carolina that carries passengers - and only tourists on the Tuscasegee line from Bryson City to Dillsboro and back. Bryson City was on the Tuesday's program. In Sylva I had no problems locating the courthouse on it's hilltop. And it did not make the experience any worse that the sun was shining from a clear blue sky. I went for a short walk in downtown Sylva, before continuing to my next goal, Franklin.
Franklin is the county seat of Macon County southwest of Jackson County. Well as the headline of this article suggest, I ended up visiting as lot of county seats on this particular day, actually I visited the county seats (or passed through them) of all the six counties that constitute the southwestern tip of North Carolina. See the map above. What I went to Franklin to see was a small hill or rather a mound. Where Franklin is today, was once the site of Nikwasi, one of the Cherokee tribe's most important villages in North Carolina. It was in this village that the Englishman Alexander Cumming, self-proclaimed envoy of the British King, in 1730 proclaimed chief Moytoy of Tellico to be "Emperor of the Cherokee". The rest of the tribe didn't take much notice of this appointment, but continued their lives as if nothing had happened. The mound that I wanted to see, was where the Nikwasi Council House once stood. From Sylva it took me about 30 minutes to reach Franklin, so it was around 12 noon when I got there. I drove a little around town, but never found the mound. Instead, I decided not to waste time driving around looking, and ask the way was definitely out the question. I am male after all. Instead I bought a cup of coffee and a sandwich at a gas station, and then proceeded to my next goal. So when I had eaten the sandwich and drunk some of the coffee I continued in direction of Murphy.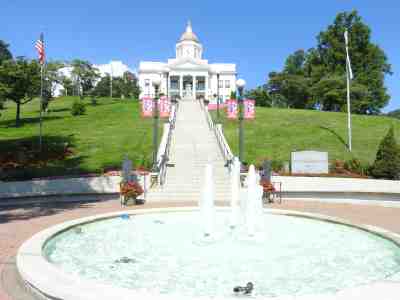 The courthouse in Sylva is located beautifully on a hilltop.
From Franklin there are about 50 miles (80 km) to Murphy in Cherokee County. When you are in Cherokee County you can't get any further west or south without leaving North Carolina. Along the way from Franklin to Murphy, I passed Clay County and its county seat, Hayesville. Here there is absolutely nothing to see at all, so I had not planned a longer stay in town. Hayesville isn't exactly a metropolis with its only 300 inhabitants, and the is perhaps the explanation why there are no attractions in the area. If you are familiar with Clay County and Hayesville, feel free to correct me if I'm wrong. I just continued straight through the county without stopping, not even to take a picture, but along the way I drove through through some nice landscapes, so I enjoyed those. With 1,600 inhabitants Murphy is a thriving city compared to Hayesville. A small isolated part of the Cherokee Reservation is located in this county, and the tribe in collaboration with Harrah's Casino, has just opened a new tribal casino, and I would like to see it - from the outside – to compare it with the one in Cherokee; and Murphy also has a beautiful old courthouse, and that was my second reason for visiting this particular town. Both courthouse and casino were photographed, even though I had a hard time finding the casino, which was so new, that the map in my satnav did not know it, but then using Google Maps on my phone (oh, all this modern technology) did the job. I found it and compared to the monstrous building in Cherokee it was OK, but still seemed out of place in the landscape.
After my visit to Murphy I headed north to Robbinsville, county seat in Graham County. Along the way I started my dashboard camera and recorded parts of the drive. On the first stretch, several US highways share the road, US 74, US 19 and US 129, but don't be fooled. Although the road has four lanes right after Murphy, it becomes a two-lane highway as soon as you start to go up into the mountains. Murphy and the other two towns in Cherokee County, Marble and Andrews are located in the Hiwasseee River Valley. From Murphy there are only 36 miles to Robbinsville - the distances are short in this part of the state, yet it may take time to get from place to place, as many roads are narrow and winding. There wasn't anything in Robbinsville that I particularly wanted so see. The most interesting attraction in town is, in my opinion, the Junaluska Museum, and I had already visited the museum twice before, and since the museum only contains three small rooms, I did not think that another visit was necessary. I therefore stayed on US 129 through town city and continued north to something I actually wanted to see, namely the Cheoah Dam; a dam from 1919. The dam is on the Little Tennessee River and it became famous through the Harrison Ford and Tommy Lee Jones movie "The Fugitive", as the "dam scenes" from this movie were filmed here. Along the way to the dam, I passed the rather nice lake, Lake Santeetlah. Due to road work, it was a little difficult to park anywhere, where it was possible to see the dam, but I managed to shove my car in a tight space between a truck and an excavator, and while I looked at the dam, a man of my own age parked his Harley, and we got to talk a bit. He had taken US 129 from Vonore in Tennessee "for fun". The last 12 miles in Tennessee up to the North Carolina state line are supposed to be an Eldorado for motorcyclists. The road is called "Tail of the Dragon" and on these 12 miles (19 km) the road has no less than 380 turns! It is said to be the most popular route for motorcyclists throughout the United States. If I had known better I'd continued a little further north to North Carolina Road 28, but I did not. Instead, I turned around and headed back to Robbinsville.
I hadn't had enough of dams and would also like to see Fontana Dam. I did not know at that time that NC 28 led directly between the two dams, but I later discovered that it did. Back in Robbinsville I followed US 143 northeast, and reached NC 28 (the satnav showed "told" me the way), which I then took north to the dam. Here it was easy to find a place to park, and I was the only one there, so I could enjoy the dam from several angles. The Fontana Dam, built in 1944, is he highest dam in the eastern United States with its 480 feet, and it actually was rather impressive. The 2,200 miles (3,500 km) long Appalachian Trail from Georgia to Maine passes over the top of the dam. Also this dam is on Little Tennessee River. The area near the dam is a somewhat popular tourist destination, and a "town" with the same name, Fontana Dam, is located there. Fontana Dam has only 33 permanent residents, but on the other hand, "the town" is the only place in Graham County where you can buy beer and wine (no strong liquor) – except from Fontana Dam, the whole Graham County is known as a "dry county", and the sale of beer and wine has only recently been made legal. Not that I wanted alcohol I think but that's quite interesting. After the visit, I headed back to Cherokee. Along the way, I passed another county seat, Bryson City, county seat in Swain County, but here I did not stop as Bryson City was on next day's program. Around 5.30 I was back in my hotel room, where I relaxed for an hour before I went out to get something to eat. I tried the Newfound Lodge Restaurant right next to the hotel, where I enjoyed the only burger one this vacation accompanied by a salad.
The previous evening I had discovered that I had forgotten my $ 250 electric toothbrush somewhere, and it was not at Charlotte & Bill's place, as I didn't bring it to my room, but left it in the suitcase, that I kept in the car - or at least I thought I did, and only used an ordinary toothbrush, so I was sure I had forgotten it at the inn in Winston-Salem. Unfortunately, I could not call to ask - or call anyone else for that matter because for all the time I spent in Cherokee I had absolutely no cell phone coverage, which surprised me a lot as I saw many others speaking on the cells. But maybe my phone company back home,"3" doesn't have a roaming agreement with an American company in that area. On the other hand, the wifi connection at the hotel was good.
- Return to Summer in Western North Carolina -
- Return to Travel page -