A pretty specimen
The next stage in the 2002 trip would take us down the Natchez Trace Parkway, a scenic route following the route of the old Natchez Trace. The road begins outside Nashville, Tennessee, but as already mentioned in another article, we preferred Welcome Centers to historic roads. But now it should be different. So after breakfast we left Tupelo, and went to one of the Visitor Centers, located by the road. Here we got a folder describing the route and a few brochures! So equipped we began our journey into ancient history and into the Deep South.

Natchez Trace is supposed to be America's oldest road. Traces of it or at least of those who lived in the area, dates back to 8000 BC. In historic time, it has been used by the Chickasaw and Choctaw tribes of Native Americans who lived in the area and later by both Spanish and French explorers. In 1733 the French mapped the area around Natchez and their map shows an Indian trail running northeast from Natchez only to disappear in the mists of ignorance. Around 1785 farmers from the Ohio River Valley and the Tennessee River Valley began to float their goods downriver to the Mississippi, and down this river to Natchez or New Orleans. Since they could not pole their barges up river, the only way to get back home was by foot or horse, and the trail from Natchez to Nashville was the most direct route. Around 1810 the trace had been improved, and it was the busiest road in what was then the southwestern United States. Along the way, approx. 15-20 miles apart (a long day's journey on foot) were established inns or "stands" as they were called. In 1820 there were more than 20 stands along the 430 miles of road. The stands were not B&B's as we know them today, but at least travelers could get shelter and maybe get a simple meal. See link below.

It wasn't exactly a pleasure trip travelling on the trace. Highwaymen were part of "the environment", which also included swamps and rivers to be crossed, disease-carrying insects, and hostile indians and many travellers did not survive the journey home. In 1809 Meriwether Lewis, famous explorer and later governor of Louisiana died at Grinder's Stand about 60 miles south of Nashville. A picture of a replica of Grinders Stand can be seen on this link.

W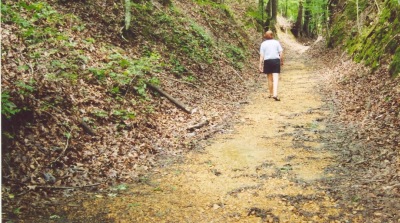 e did'nt came across highwaymen, Indians or other obstacles along the way as we drove south, looking at the brochures. Dorte was behind the wheel for the first part of the trip, while I was the guide. When I found something interesting in the brochures, we stopped and looked at them. The first stop we made were at some bronze-age mounds very similar to those we have in Denmark. A small hill covered with grass. Except from that we soon discovered that many of the places that were mentioned in the brochures, actually did not exist as such. A lot of times we stopped only find a sign telling us that "In this place once stood..." and thats not quite as interesting as watching something concrete.
When we had driven about 100 miles from Tupelo, it started to rain. At first just a bit, but soon it became more and more, and ended with a regular cloudburst, actually even more rain than when we lost Else and Carl in Tennessee to years earlier. Eventually it became so bad that we couldn't see the hood on our own car out the windscreen, so we had to pull over and make a stop. After a while the rain died down a bit, and I felt I probably could see enough to carry on. We made a series of acrobatic antics inside the car, behind the steamed up windows, which probably could have given a morally challenged park ranger one or two things to worry about, but actually we managed to switch seats without either of us having to leave the car.

As we continued the rain died down even more, and we could see our surroundings again. Along the road everything now seemed to be green, green and green. Green plants grew everywhere. In the trees, over fences, over bushes, covering the ground - everywhere. We remembered that we had seen these plants two years earlier when we were in South Carolina, where they also formed almost sculptural shapes. Another thing we noticed was a kind of web in some of the trees along the road, sometimes as a sort of balls, while in other cases it covered the trees almost completely. We never found out what the web was, but the plants later turned out to be kudzu, an invasive Japanese species, that were imported to USA for the 1904 World Fair. Since then the plant has spread over large parts of the south as it has no natural enemies, and has shown almost impossible to kill with pesticides or other means. Kudzu stems can grow to 6 or 7 inches in diameter, and the individual vines can grow to almost 100 feet in length. The vines covers the native vegetation and kills it by its weight alone. Today more than 10,000 square miles of the southern USA is covered in kudzu, and even if it is a pretty plant, a lot is done to stop it from spreading further.
As we didn't know of the troubles with kudzu at that time, we simply enjoyed the view as we continued south. Just north of Jackson, Mississippi's capital, we came across Ross Barnett Reservoir. It is a huge freshwater reservoir, created by damming of the Pearl River. The reservoir provides Jackson with fresh water. At that time the rain had stopped, and when we saw that there were a "Reservoir Overlook", we decided it was time to stretch our legs. At the parking lot there was only us and then a big pickup truck with a pretty large guy wearing a not too clean singlet. As we stood and admired the view, he stepped out of the car and came towards us and he was not looking any smaller standing up. But he proved to be quite friendly :-). He had heard us talking with each other and now he wanted to know where we came from and what on earth we were doing in Mississippi? We told him that we were from Denmark and that we celebrating out 25th anniversary vacation. This really shocked him. He looked at us as if we were out of our minds and asked with mistrust in his voice: "Here ????. In Mississippi????? Why on earth are doing that?" We could then reassure him that we were actually only passing through on our way to New Orleans. That calmed him down and he was quite happy to tell us that he and his wife had spent many vacations in New Orleans. And then he started to praise the city, not least something called Riverwalk, that Dorte would really appreciate. In return, we could tell him of our visit to Blue Ridge Parkway, where he planned to go with his wife that year. We chatted with the guy for a few more minutes and then we said goodbye and continued our trip south.

The last stretch to Natchez, we drove without further adventures. We found a hotel and got ourselves a room. After carrying our suitcases to the room, we went to the laundry room to wash some of our clothes. While the washing mashines and driers were doing their job we took a dip in the pool. When the clothes were washed, dried and put bacl in the suitcases, we drove down to the center of town.
Natchez is one of Mississippi's oldest cities, founded back in 1716, and the town contains a number of great antebellum mansions. Before the civil war 75 % of all U.S. millionaires had a home in Natchez.

We found a place to park our car, and then we walked down toward the center of town. On the way we passed a parked horse pulled carriage, and when we passed, an elderly man approached us and introduced himself as Ron, "Authorized tourist guide", which alsocould be read on a name tag on his jacket. He then asked us if we wanted a ride, and we accepted. Ron introduced us to the driver who was a young man named Caleb. He was, as Ron put it, on training to become a guide as well as being his grandson. With Caleb at the helm, or rather the reins, and Rodney the horse in front of the cart, then we took off. Rodney was a former trotting star, according to Caleb, but many, many years must have passed since he ran his last race, because there was not much "trot" in him. In stead of trotting he stopped several times to eat some leaves of the trees along the streets.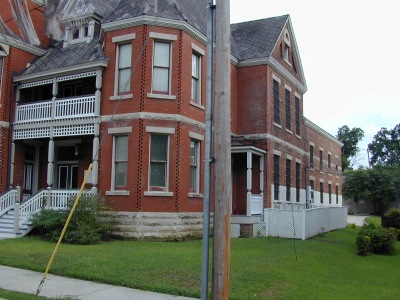 Among the things Caleb showed us was the old prison where condemned men were not executed in the courtyard as usual in the old west, but indoor. In return, the room was equipped with huge windows facing the street, so interested wouldn't miss anything. We also drove by Stanton Hall, one of America's largest antebellum mansions, from 1857. The house was build by an Irish planter and cotton merchant, and his family owned the house until 1894. Since it has been used as "Stanton College for Young Ladies" and now it is owned by an organization that makes sure historic buildings are maintained and kept in order.

Among other places we saw were a gentlemens club, where women were very welcome, but the members' wives were not! We saw "Aunt Polly's house" or rather the house which was used as Aunt Polly's house in the movie Huck Finn, and we saw the church where Huck and Tom hid on the balcony and watched their own funeral. Finally we saw the towns and the state's oldest brick house, built as an inn in 1792. Finally we passed the Eola Hotel. It has 7 floors, and city construction regulations say there should not build houses that are higher than the hotel.
When the trip was over and we got back to the startingplace, grandfather Ron would like to know where we came from, and we unveiled once again that we came from Denmark. Grandpa thought that we spoke very good English, which Caleb did not think was so odd, because in Denmark everybody spoke English every day. We then tried to explain to him that we did not come from Denmark, Mississippi, but from Denmark, Europe which he didn't seem to understand.

When we were done talking with Caleb and Ron, we walked down to the cliff above the Mississippi and stood and looked across the river and down to the district Natchez Under-The-Hill, which lies on the bank of river. Later we walked round for an hour or so before returning to our car. On the way we passed the place where Caleb and Ron stayed with their horse and carriage and we could see that Ron was makng big arm movements like doing an air painting, while he explained something, so we were convinced that he was explaining his grandchild, where Denmark was.

- Return to Anniversary tour -
- Return to Travel Stories -