And on we go
Saturday, June 28th arrived and we were off. Getting to the airport was easy and so was check-in and security. Our business class tickets gave us access to fast track lanes, so we had quite some time to spend, which we did in the lounge. The flight to London went smoothly and we arrived 20 minutes early, which is rather good for a one hour 40 minutes flight. But that was the last time we were early that day.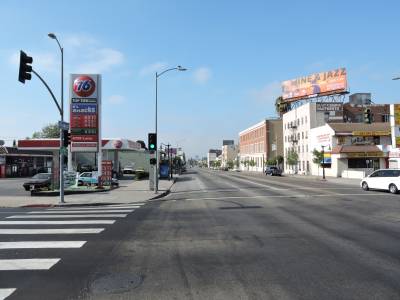 When we arrived in London the weather was rather bad. So bad actually, that planes could land, but not take off. That meant that all gates were occupied by leaving planes, so we had to wait on the apron for 45 minutes, before we could get to a gate and disembark the plane. Now Tim and I had only 25 minutes to catch the plane to Los Angeles so we had to run all the way to the next gate in another building, but we managed to get there in the last minute. Of course our plane could not take off either due to the weather, but we left the gate and taxied to the apron, where we had to wait for almost an hour, before we could finally take off. The plane was an Airbus 380-800 with double deck the whole lenght of the plane, and with lie-flat seats on business class , which meant that for once I got about 4 or 5 hours sleep on the 11 hour flight. When we arrived in LAX, our initial one hour delay had expanded to one and a quarter of an hour.
When we got to immigration only three people were ahead of us, so for once we could get through without delay. But no. When it became our turn, British Airways apparently had made some mistake with our registration, so the immigration officer could not grant us access to the United States. He had to call a supervisor, and we had to wait for her to arrive, which lasted about 30 minutes, so when we finally got through, our tgotal delay had expanded to 2 hours and thirty minutes, but we hand a nicve chat with the immigration officer, while we waited. Even this delay didn't mean, that our bags had arrived, when we got to baggage claim. The baggage carousel had only just started moving, and the baggage was coming on rather slow. We got three of our four bags, but the last one (one of mine) did not arrive. When all luggage had been delivered on the carousel, it was announced in the speakers, that some luggage was still in London, and a lot of passengernames including ours, were mentioned. We were told to contact a British Airways reprsentative, which we did. She then told us to contact the lost luggage counter, outside the arrival hall. When we got there, another line was waiting, but it went rather quick, and after havinbg filled out some forms, the guy at the counter could tell us, that the missing suitcase would arrive on 12.45 pm the next day and would be delivered to our hotel between 3 and 4 pm.
Finally we could take the shuttle to our rental car company, only to discover that 30 people were waiting in line before us. When we finally got our car, we drove directly to the hotel, where we arrived 10.45 pm, three hours later than expected. I contacted the concierge, and told him, that my suitcase would be arriving the next day, and then went to bed, as we had to get up early the next morning.
Murder and such
The next morning the alarm clock sounded at 6 am. We were going on a bustour through Los Angeles, and would be picked up at the hotel at 8. When we got down to the lobby, the driver was already waiting for us, and as soon as we were ready, we took off. We were the first to board the trolley, and had to go around to some other hotels to pick up more guests. One of these hotels, were the same hotel on Vermont Avenue, where Dorte and I had stayed in 2006. When we tried to turn right on Vermont from Santa Monica Boulevard, the road was blocked by traffic patrols and orange traffic cones, and no entry was allowed. The driver therefore continued straight ahead for a couple of blocks, then turned right for one block and the right again, returning to Vermont once more, this time on Lexington Avenue. The only problem with that was, that Vermont was also blocked in this end of the block, and we could see several police cars further down the street. The driver talked to one of the patrol officers and was allowed to park the car on the corner of Lexington, and then walk down to the hotel, to get the passengers from the hotel.
When he returned he brought with him to English girls. They told us, that this part of the street was blocked because a shooting had taken place earlier in the morning, right across from their hotel. Six people had been shot, and at least one was dead. Supposedly in a gang related shooting. When we returned in the afternoon, the street was still blocked and a lot of police still worked the area. Later I was told by the concierge at our hotel, that another person had died from his wounds.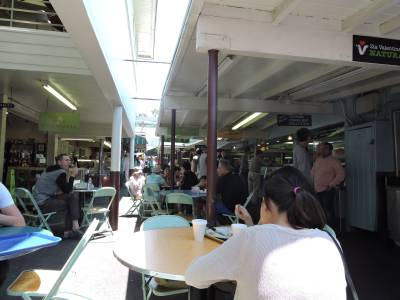 But at that time, we just continued our pick up tour and finally got to the starting place for the bus tours near Hollywood Boulevard. Here we exchanged our prepaid voucher to a ticket for the right bus, where we met with other passengers and our guide. Actually we were so many on "The Grand Tour", that we were divided in two groups, taking two different buses. The bus tour started on foot. When everybody was on the bus, we were told to get off once more, after having received some information. Then our guide took us directly to a souvenir shop. Maybe he got some kickbacks, I don't know. Anyway I bought a couple of bottles of water and a cap. The one I had brought from home, was in the bag, that had not yet arrived. After our visit here, we walked to Grauman's Chinese Theatre, were I found and photographed the imprints of Danish opera singer, Lauritz Melchior, put in the wet cement in 1947. Later we also visisted Dolby Theatre and Hollywood and Highland Shopping Mall, before returning to the bus, and beginning the Grand Tour.
The first stop was Hollywood Bowl, and on the way we passed Hollywood United Methodist Church, and our guide told us of how it had been in several movies, including Sister Act, Anger Management and Back to the Future. Actually we passed the church a few more times later, and each time he told us the story. And he did the same by all places, that we passed more than once. The next stop after Hollywood Bowl was Rodeo Drive. Tim and I are not the greatest shoppers of our time, but we agreed that had Tina been with us, it would have been rather hard, dragging her away from the place. Farmers Market was the stop for lunch, and Tim and I ate at Phil's Deli, where we got a light meal. We also had time to visit the shop "Light my fire", where we bought some hot sauces to bring home as gifts.
We made a few other stops, like Olvera Street, where a Mexican Fiesta was taking place, and we had a short walk down the street to the Avila Adobe from 1818. After our visit here, we returned to Hollywood Boulevard. Along the way on the tour, we had passed Dodger's Stadium, Staples Center, Chinatown, La Brea Tar Pits, Beverly Wilshire Hotel and several other interesting places like Hollywoood Boulevard, Sunset Boulevard and so on. When we returned to the starting point, we entered new buses, that would take us back to our hotels. We was back at 4.45 so I went to get my lost suitcase, but it hadn't arrived yet! Later we had dinner at a local Mexican restaurant, La Parilla, which served som good Mexican food. When we returned to the hotel at around 8.15 the bag had still not arrived. In the room I used the internet to track the bag, using a tracking number, that I had gotten the day before. According to British Airways tracking system, the bag was already delivered, which is was not. I tried to call them, but an answering machine told me, that the office closed at 11 pm, eastern time, and it was now around 8.30 pacific time. We decided to give it another try in the morning, before we had to leave the hotel.