The capital before the capital
This article is mainly about a short visit to Philadelphia, but first we had to get there. From Arlington, where we stayed to Philadelphia is around 140 miles by Interstate and it can be done in around 2 hours 30 minutes, but that would've been too easy, so we decided to go by another route.
Battlefield and slow traffiic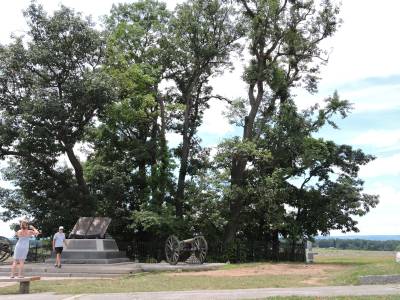 As it had been a while for both of us, we decided to to Getysburg once again if only for a short visit, so we took The Beltway around Washington for a short stretch and then turned north through towns like Gaitersburg and Frederic. In Gettysburg we entered town via Hanover Street. As we both have visited Getttysburg a couple of times before, and just wanted to see the Military Park, we continued straight through town on Lincoln Highway past General Lee's Headquarter, and then turned right on Reynolds Avenue. As we knew the layout of the park from previous visits, we felt we didn't need to go to the visitor center to get a map, and we were right. We made our first stop at the Eternal Light Peace Memorial on Cenfederate Avenue. Our plan was to make only a few stops, at places, that we wanted to see once more, and then skip the rest. At our first visit back in 2000 we took another route and had been driving around the park for around 20 minutes when we got to the peace memorial. At this point in time, Tina, my then 17 year old daughter, declared, that she could not stand another monument, and when we told her, that the park contains more than 1,400 of them, she insisted that we took her back to the hotel immediately, so she could spend the day at the pool, while Tim, Dorte and I looked at more monuments.
We continued to Oak Ridge and Barlow Knoll and took a few pictures there before going back to town. Here we wanted to take a shortcut and suddenly we were on the Gettysburg College Campus,where neither of us had been before. We also took a few piuctures here, before returning to the route through the park. We took Seminary Ridge Road past the old Lutheranian Thological Seminary which was already there at the time of the battle. It's actually from 1826. Along the way we made a few short stops to take pictures, like on McPhearson Ridge and Warfield Ridge, but our first real stop was at Little Round Top. Here I stayed in the car, playing with the GPS' trying to find out where to go next (when we were done in Gettysburg, that is) while Tim climbed the top to take pictures. We drove past other famous battle sites like The Wheatfield, The Peach Orchard and Plum Run and from there to our next stop at The High-Water Mark of the Confederacy, where the Conderate troops were badly badly on the third day of the battle, in what has later become known as Pickett's Charge. At the time the place was known as The Angle and after the battle, The Bloody Angle, and it got it's high-water mark name in 1892. Here we took some more pictures, and then we left the battlefield for this time.
From the battlefield we returned to town where we drove along Baltimore Road and took some pictures of Jennie Wade House. Jennie Wade was the only civilian killed during The battle of Gettysburg, and she was killed in the house, that actually belonged to her sister. The pictures I had taken on a previous visit was rather blurred, and I wanted to make up for that. At Lincoln Square we photographed the Historic Gettysburg Hotel, where we stayed in 2000, and The Majestic movie theater, where all five kids (our two and my brother-in-law's two plus a boyfriend) watched the movie X-Men, long before it was shown in Denmark.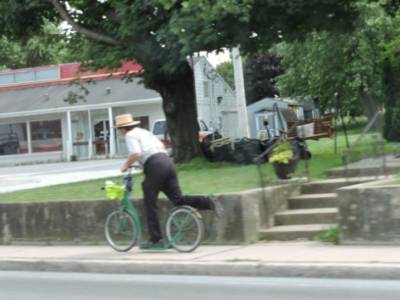 We followed U.S. 30 out of town, and stayed on it for about 65 miles, only making a short break for a cup of coffee and gas for the car. I used to love the old garlic pretzels from Snyder's of Hannover, so when we reached the road leading to that town, we were talking about going there, and make them take up production again, but decided not to :-), so we just continued on, crossed Susquehanna River, and drove through Lancaster to Bird-in-Hand.
In 2012 Tim and I, and in 2013 I alone visited the North Carolina Amish-country around Union Grove, but all we saw was a sign, warning us of buggies on the road. Now we wanted to see the real thing, and so we did. We passed quite a lot of Amish people in horsedrawn buggies, and also a couple of guys on a so-called Amish Kick Scooter, really a bike without pedals and saddle.We drove south to Paradise, just to be able to claim when we got home, that we had been there, continued on through villages with names like Vintage and Kinzers before we or rather I had another cupo of coffee in Gap. As Tim do not drink coffee, he almost always only had water and manybe something to eat on our coffee breaks. After this experience we returned to U.S. 30 which we reached in White Horse. Interesting town names in that part of Pennsylvania, and then I havent even mentioned Mount Joy and Blue Ball. And then I almost forgot all the towns named after German towns. We were in a Pennsylvania Dutch area after all.
We stayed on U.S. 30 all the way to Philadelphia where we found the hotel we had booked from home without too much trouble, except for a few one-way streets that we had to figure out. Tim, who was driving at the time, stayed in the car while I checked in, and asked for a place to park the car. It appeared that there was a parking garage right next to the hotel, and when you were staying in the hotel, you got a few dollars off. That meant that our two nights stay would only cost us $ 72. I have stayed in motels cheaper than that! When we had recovered from the shock, we carried out baggage to the room, which was nice by the way. At this time it was aound 7.30 pm, and when we discovered that thje hotel had a restaurant on the top floor, we decided to have dinner there. It was quite expensive, but really good.
Around town and a short visit out of state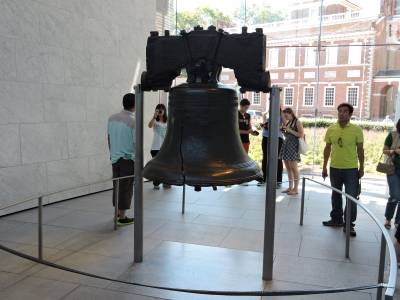 From home especially Tim had planned what he would like to see i Philadelphia. As everything was within walking distance from the hotel, we left the car in the garage to get something for the money, we paid to park there. We left the hotel quite early for a day on the town, just before 9. From the hotel we walked to Indenpendence Mall, a distance of about 0.6 mile. Around Independence Mall you find a lot of more or less official offices and buildings, like National Constitution Center (a museum of The Constitution), The Philadelphia Mint, National Museum of American Jewish History, Byrne Courthouse, Congress Hall and of course Independence Hall and a couple of other buildings.
Our first visit was to Liberty Bell Center, to see the famous Liberty Bell. You enter in one end of a long building, and then pass through the exhibition before you finally reach the bell. So we looked at the exhibition and moved forward to the bell with it's famous crack. At the time of the revolution the bell was placed in the steeple of Pennsylvania Statehouse (present days Independence Hall) and the bell is a symbol of American Independence but why it has become that is not really clear to me - except by a fictive story about it being rung on July 4th 1776, which it wasn't, even if at least one otherwise reliable Danish Guidebook says so. No bells were ringing that day. When the declaration was made public, four days after the signing, bells were rung, maybe including the Liberty Bell, but this is not known today, and many other bells were rung as well. After the revolutionary war, the bell was almost forgotten for some years, but in the 1830s the abolitionist movement adopted it as a symbol, and it were members of the abolitionist groups, that named it "The Liberty Bell". Sometime in the early 1800s the bell cracked. Maybe it was, as legend tells, when was it was ringing after the death of Chief Justice John Marshall in 1835. In any event, the bell became a national symbol, especially after the publishing of the above mentioned short story in 1847, telling the untrue but legendary story of the ringing of the bell on July 4th 1776. The bell had a somewhat tumultous fate in the years after. It was sent on tours to fairs, expositions and patriotic gatherings around the country, and only in 1915 it returned from it's last tour. To cut a long story short, in 1976 it was moved from Independence Hall to a building on the Independence Mall and since 2003 it has been kept in the Liberty Bell Center.
We both wanted to see the bell, and we enjoyed it of course even if we didn't enjoy all the people who had gotten the same idea, so even that early on a Thursday morning the place was crwded. Our next stop was planned to be Independence Hall, and on our way here we took a look at the Italian Consulate General, which we noticed because of the flag of The European Union, which flew outside the building. The next building we looked at, was Congress Hall, home of the US Congress from 1790 to 1800, when Philadelphia was the capital of The United States. In 1800 the capital was moved to Washington DC, thus the wording of the header of this article. By the way, New York served as the first capital of the new nation from 1789 to 1790. To enter Independence Hall you have to have a free time ticket, as the only let a few pepolen in at a time. Unfortunately wating for this would prevent us from seeing all the other sights that we had planned to see, so we only looked at the building from the outside, and in stead we continued to Delaware River. Along the way, we passed several other interesting buildings like The Second Federal Bank, the impressive US Customs Building and Carpenter's Hall, where the First Continental Congress were held in 1774. On the way to the river we made one more stop to look at the Irish Memorial or Leacht Quimhneachain Na Gael in Irish near Penn's Landing.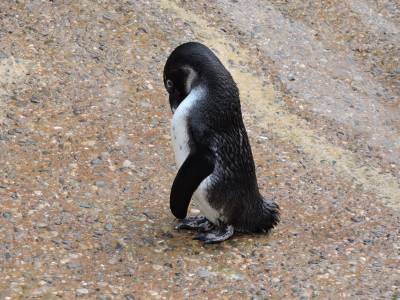 The reason for us walking to the river, was that Tim wanted to visit the local aquarium which is located on the other side of the Delaware River in Camden, New Jersey. When we got to the river, we had a little difficulty in locating the ferry, but with help from a nice parking attendant we managed. Unfortunately the ferry had just left, and it only left once an hour, so we had some waiting to do. We spent some of it in the lobby of Independence Seaport Museum looking at the exhibitions here, and the rest of the time outside, enjoying the sun and the river. When the ticket office opened, we bought a return ticket or rather two, and then we were ready to go. The trip across the river only takes about 15 minutes including a short trip up river and back, so that we could admire the Philadelphia skyline. Well on the other side we walked to the entrance and paid the exorbitant fee, they always demand in aquariums.
Inside we spent a couple of hours looking at fish like sharks and rays, sardines and other small fish. This particular aquarium also has hippos, crocodiles, jellyfish, turtles and other maritime creatures, and of course penguins. You can always find room for one more penguins, or as I say: "Never trust a man who doesn't like penguins!" What we saw besides that was children! Children of all ages, sexes and colors. Children dressed in identical caps or identical vests, identical T-shirts and more, and clearly belonging to different tour groups, that each was accompanied by a number of adults dressed like the kids. When most of the exhibitions were hidden behind children, we decided to return to Pennsylvania. Of course once more the ferry had just left, but this time we were prepared, so we spent the wating time eating a light lunch in the aquariums cafeteria. Then we walked back down to the ferry and crossed the river once more after spending around four hours out of state. This time the trip took us past USS New Jersey, a decommisioned battleship, now serving as a museum.
When we walked down to the river, we had passed Franklin Court, with the underground Franklin Museum, and this would be our next stop. Franklin Court is like Indepence Mall and Independece Hall and other buildings and places part of Independence National Park. The 'court' is where Benjamin Franklins old brick home used be, but it's long gone. Today a metal structure shows the outline of the house. The court also contains a working printshop like the one Franklin used to own, operated by park rangers, and a working post office, like Franklins old post office. We concentrated on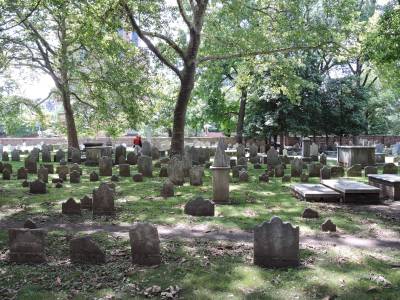 the museum though. After having paid the entrance fee, we walked down to the museum, which is below ground level. The museum exhibits some of Franklins belongings, papers, books, diaries and letters. We heard "him" read from his diaries, in an extract where he told about his visits with five European kings, and how he hand lunched with one, the Danish king, Christian VII. We walked around the museum for about an hour or so, taking a closer look at some things, while skipping other stuff. I was especially interested in the "Silence Dogood Letters", but they were not there, which I actually knew before I got there. The letters were some, that a very young Benjamin Franklin wrote to his brother's newspaper in Boston, when he himself was a printer's apprentice there. In the letters he pretended to be a 45 year old woman, and when his brother discovered who really wrote the letters, Franklin broke is apprenticeship and ran away to Philadelphia.
When we left the museum cemetery-withdrawal symptoms began to show, so it was time for another cemetery visit. We therefore continued to Christ Chuch Burial Grounds, which was on the way back to the hotel anyway. We paid a $ 2 entrance fee, and walked straigt to Franklin's grave, to offer the "mandatory" penny. And we were not the only ones that had done so. The grave is plain, and all that is on it is a plain text: ""Benjamin and Deborah Franklin: 1790". On the wall next to the grave though, was a plate with the epitaph that a young Benjamin Frankling once wrote:
"The body of
B. Franklin, Printer
(Like the Cover of an Old Book
Its Contents torn Out
And Stript of its Lettering and Gilding)
Lies Here, Food for Worms.
But the Work shall not be Lost;
For it will (as he Believ'd) Appear once More
In a New and More Elegant Edition
Revised and Corrected
By the Author."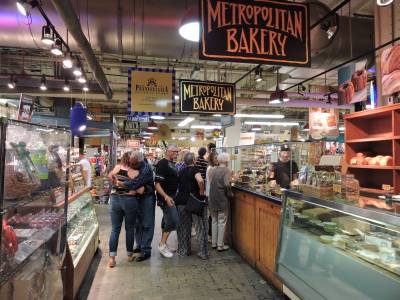 After our visit to Franklin's grave we walked around the cemetry and looked at all the other graves there. The cemetery was founded in 1719 and is still in use. Among the many famous people buried here, are Franklin and four other signers of The Declaration of Independence, Benjamin Rush, Francis Hopkinson, Joseph Hewes and George Ross, while two other signers, James Wilson and Robert Norris are buried in Christ Church itself, a few blocks away. Among the more recent graves was one of a man, described on the sone as "Sailor, Soldier, Safecracker".
We left the cemetery and headed for our hotel, which was on the outskirts of the local Chinatown, so when we passed that, we had to take a stroll through at least some of the streets. 10th Street is Chinatown's Main Street and like in so many other Chinatowns around the world you are welcomed by a gateway, called 'paifang' (Friendship Arch), so we walked down 10th Street and spent about 30 minutes walking around the area, looking a shops, restaurants and more.
Our hotel was situated next to Reading Teminal Market, an enclosed public market, so before going up to our room, we of course had to make a visit here. The market from 1892 was originally an open air farmer's market, and today a lot of food stalls are still present alongside delis, restaturants and such. We walked around the market, where also a few Pennsylvania Dutch merchants are doing business, without buying anything, just looking. When we were almost done, I bought some fruit gum worms from a nice Amish girl, and we both bought some berries, grapes and watermelon from a Hispanic looking lady.
Ladden with our goods we returned to the hotel and our room. It was now 7.45 pm, and we had been around town for almost ten hours even if we only walked for about 5 miles (8 km). When we had relaxed for a while we decided to go have some dinner, but as we were both a bit tired, we only had a sandwich at a Subway. Not great culinary excesses, but enough to prevent us from starving to death and more Subways were to follow.