Lost in the mountains
Friday. No ghosts or murders today, at least only indicrectly. The day was devoted to a couple of museums and another visit to the Tom Dooley area. But even so it ended more exciting than planned, and much more exciting than I wanted.
I had breakfast with a couple of other guests. Two ladies from Maryland, who had come to Lenoir because one of them had to negotiate the contruction of a house on a plot of land, she and her husband had bought on a previous occasion. The husband was busy at work, so she had brought her friend as support. This was her second stay at The Irish Rose, and she praised the place a lot, which wasn't really necessary as I already loved it myself :-).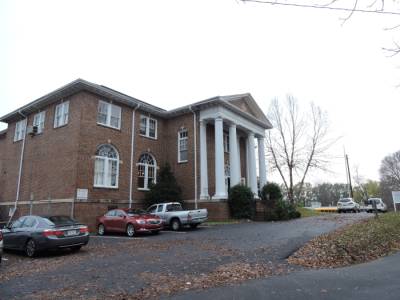 Caldwell County Heritage Museum
After breakfast my first goal was Caldwell County Heritage Museum in Lenoir. It's a local museum telling the story of town and county. I had some problems locating the place but after having asked for directions it was easy enough. The building housing the museum used to be part of a college, and next to it was an elementary school. When I entered at opening hours (10 am), I was greeted by some of the staff (all volunteers) that looked rather relieved. They told me that they had just said goodbye to 80 3rd grade children and their teachers who had been visiting before opening hours. The museum was really interesting with a lot of photos from around 1900, both from Lenoir and other parts of the county. Most interesting though was the reading room, with a lot of books on local history, biographies, clippings from newpapers, personal letters and so on. Here I was looking for one book in particular, but didn't find it, so I asked a kind lady, who thought that they had several copies of the book, only she couldn't find any either. She had the book at home, and so did I, but it didn't help much. What I was actually looking for was a picture in the book, as I wanted to know, if anyone in the museum knew the location where the picture was taken.
While the kind lady was looking and asking her colleagues I spent the time browsing through two binders with material on the Tom Dooley case, but I didn't learn anything new, except I got a reason why the late Mrs. Carter of Whippoorville Academy and Village didn't like the likewise late John Foster West, professor at the Appalachian State University in Boone and author of two books about the Dooley case. Apparently he had insulted her at some point along the way by claiming that her version of the Dooley Story was not historically correct, which she hadn't taken lightly. When the lady from the museum finally gave up on the book, I asked her about the many donkeys, and it was her that came up with the explanation, that I brought in the Just another day in western North Carolina article. Even without the picture, that shows the house where reverend Dr. Robert Isbell grew up we agreed on where I should go looking for it. Dr. Isbell was the son of Colonel James Isbell, Tom Dooleys tenacious pursuer. You can read more about this in the article James Isbell on the Tom Dooley page.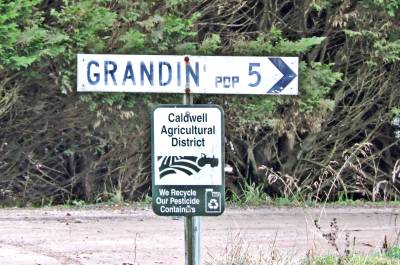 Grandin. Not an overly populated town. If you don't like other people, this is the place to live.
From the museum I headed east towards Elkville. On previous occasions I had either taken US 321 and NC 268 or NC 18 and county road 1509, Grandin Road from Kings Creek. This time though I would try another route, that I had seen on the map, county road 1511 also known as Zacks Ford Road. I had a little difficulty locating the western terminus of the road as it was in an industrial area, but in the end found it. The road parallels Zacks Ford Creek, a small creek that begins somewhere in Brushy Mountains and ends in Lower Creek within the Lenoir City limit. Lower Creek is a tributary of Catawba River. End of geography lesson! The road was running through an even in November very green valley, and as I had never been here before I found it rather interesting. Somewhere along this road once stood the home of Welborn German, owner of the tract of land called German Hill, where the murder victim of the Dooley-case, Laura Foster, once lived. The eastern terminus of Zacks Ford Road is at Grandin Road where I turned south to Grandin Baptist Church, that I had visited before. The church is on top of a small hill, and from there I should be able to see the place, where the old house was or at least once had been. I couldn't see it though, and even if I later drove to the small settlement I didn't, so maybe it is long gone. I discovered though that the population of Grandin was 5 (five). Not really a metropolis. When I didn't find the place, I took some pictures of the sign, and the few houses that do exists. I then continued back to NC 268 and headed west to German Hill Place. I had been told that there should be an old, abandoned cemetery up on the hill. I never managed to find it though, but I learned from experience about the donkeys. When I exited the car a donkey came galopping towards me, braying loudly. Fortunately there was a fence between us, but it kept braying until I returned to the car and got inside.
Main Street in Wilkesboro.
My next goal was Wilkesboro and Wilkes Heritage Museum. I would like to see if they could help me with the map and CD I had been looking for two days before, but as it appeared they could not. Instead I bough a ticket for the museum itself. When Tim and I visited in 2012, we were on a guided tour to Robert Cleveland House and the Old Wilkes Jail, but never saw the museum. I made up for that this time, by walking through the exhibits, which was really interesting, espcially the exhibits about moonshining, Nascar, and the first people to settle the place. When I was done and returned to the small gift shop to look for the CD, the lady there asked me if I wanted to take the guided tour as well. It takes place at 11 am, and 1 and 3 pm. As it was at that time only 1.30 pm I said I didn't want to wait for one and half hour. The lady told me, not to worry, and then she just found someone to take me there. The visit was as interesting as three years earlier, and I did learned a few new things. The guide was a woman, and her focus was on the role of the women in the old days, and that was at least partly new to me. We talked about a lot of different things along the way, and I learned that she had known Mrs. Edith Carter from Whipporwill Academy and Villlage as well as Madelyn Hill who owned the B&B where Dorte and I stayed in 2004.
When I left the museum I walked around a bit and looked at Wilkesboro, something that had never really done before. I took some photos before returning to my car. As the sun was still shining I decided to give Brown Mountain one more chance. I therefore headed back towards Lenoir. On my first visit to the Brown Mountain lookput, I had saved the coordinates in my gps, so back in Wilkesboro I set it to take me there. I had done that two years ealier, read the article Mysterious lights and more on the 2013 travel page. The gps guided me to state route 90, which I remembered from my earlier visit. At that time it was dark, so it should be rather easy this time. In the small village of Collettsville, I remembered that I should leave NC 90 and make a 90 degrees turn onto Adako Road. My gps agreed on that, and everything was still fine. After a while on Adako Road the name should change to Brown Mountain Beach Road, that should take me to NC 181.
What I wasn't aware of was that the GPS led me north on Brown Mountain Beach Road instead of east as it was supposed to. At one time it wanted me to turn right on a small dirt road, which name I don't remember anymore. From this road it led me along changing dirt roads, some with names some without, until I had no idea where I was. At one time the message from the gps was "Turn left at the gravel road in 300 feet". Unfortunately there was no road, neither left nor right, so I continued straight ahead. That made the gps order me to "Make a U-turn" even if I had blocked U-turns. Anyway I did, and going the other way, it said "Turn right at the gravel road in 200 feet", but for some reason no road had appeared since I passed the place one minut earlier. So now my gps had lost it's way as well, as it kept calculating new routes and each time asking me to make u-turns back and forth. As the satellite connection was fine, it must have been the map software, that had led both me and itself astray. I made a stop, shutting down the gps, and wandering what to do. At this time it was getting darker and darker, so I decied to continue in the direction I was heading, hoping it would take me to some numbered roead or otherwise back to civilization. Unfortunately it didn't and soon the car was announcing "Low on fuel". A press on a button told me, that I had enough fuel for 40 miles, which reassured me, as I could be no more than 15 miles from inhabited places, even if I didn't know how to find them. Half a mile later I got nervous though, because it now told me that I had fuel for 35 miles! At that time it was completely dark and there was absolutely no cell coverage, and no houses where I could ask for directions, so I was a little helpless, and started to worry, just a bit.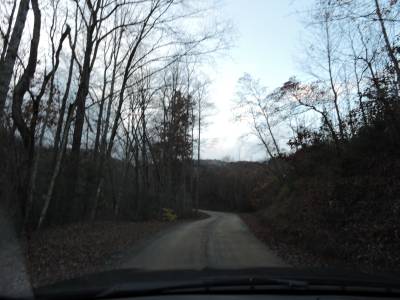 One of the small dirt roads I was on before it got completely dark. It was around 30 minutes later than this photo, that the gps gave up on me. At that time the sun was below the ridge, and it was really dark.
A couple of miles later I saw some lights in the distance belonging to a car heading towards me. As I was on a very narrow place in the road, I just stayed there. The road was so narrow that we had to pass at walking speed, so when the car was next to me, I rolled down my window, and so did the other driver who was a man in his seventies I think. He had long, white hair and an even longer, white beard and was wearing a wide-brimmed hat. He really wanted to help, but did not succeed much. I first asked him the way to NC 181, but that he didn't know. Asked for the way to Morganton or Lenoir, he wasn't more helpful. Finally I asked him if he knew the way to the nearest paved road. He thought about it for a while and after a while he told me that if I continued on the road I was on, and turned right on the second dirt road, from where we had met, he thought that this road might be paved later on, but he wasn't sure, as he hadn't been in that direction for a couple of years. Anyway he told me, that the road indicated would take me to US 221 somewhere near Grandfather Mountain. This astounded me some as it was in the exact opposite direction of where I thought I was heading.
Anyway I did as he had suggested. On the second dirt road I turned right, and even if it didn't become paved, it actually led me to US 221. I was not sure excatly where on 221 I was, so I turned on the gps once more and tried to locate a gas station. At that time I had fuel for 20 more miles. The nearest gas station was 4 miles away as the crow flows, but 16 miles by road making my margin a bit narrow. I headed that way though, crossed my fingers and hoped for the best. Suddenly I was in Linville and right in front of me I saw a gas station, but not the one I was heading for. I didn't care though and entered. When I stopped the engine, there was fuel left for only 7 more miles. The gasoline here was a bit more expensive, than I had previously paid. With a price of $2.13 it was the most I paid on the whole vacation, but at that time I didn't care. I would have paid even it it had been $ 5 per gallon. When I had refueled I bought myself a soothing cup of coffee, a fresh bottle of water and some candy, before heading home. Like the last time I was there it became more and more foggy as I approached Blowing Rock and on the first stretch of US 321, but at that time I couldn't care less as I just wanted to go home.
A little before 9 I reached the outskirts of Lenoir, still haven't seen the view from the Brown Mountain lookout in daylight, but now finally giving up on that. I had dinner before returning to Irish Rose, where I arrived around 10.30 pm.
By the way, the prize of gasolin haven't been cheaper since 2002. Only three times it exceeded $ 2 per gallon. This was one of them, another was somewhere along the way north, when I was going back towards DC, and finally when I had to fill up the car near the airport before returning it to Avis. The cheapest was 1.77 per gallon, and mostly I paid somewhere between 1.90 and 1.98. In 2014 the average prize was $3.15 and in 2013 it was around 3.80 with an absolute high in Shoshone, California, where the prize topped at $ 5.78.
- Return to Tour de Macabre -
- Return to Travel Stories -