Don't worry - no hurry
With not very far to go (around 350 miles on freeways and four-lane highways), not particularly much to see along the way, a quiet day was planned, and that proved to be true. We were in no hurry leaving the hotel, and it was 9 am before we got underway, and headed east from Wilkesboro on US 421. The same way as the day before, when we were visiting the Laurel Gray Winery, but this time we continued somewhat longer, ie all the way to Winston-Salem. This city has a very interesting story, but it will not be told this time, as we did not stop for a visit, but switched to Interstate 40. From then on we drove on freeways for the rest of the day. Along the way, only stopped to refuel; partly car, partly ourselves - and of course for an occasional change of driver.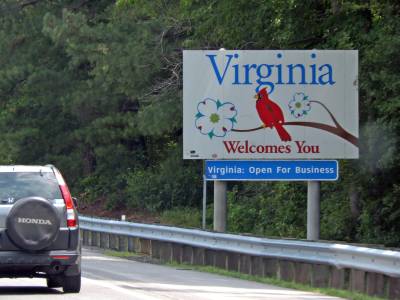 From Winston-Salem, we continued eastward, first on I-40, later on I-85 that turned northeast near Durham and so did we. Durham is incidentally also part of a twin-city, at least it is virtually fused with North Carolina's capital, Raleigh. Here (ie in Ralegh) we stayed on our very first trip to the US in 2000, on something we all agree (11 of us participated in that trip) is the most boring hotel we have ever stayed in. You can read more about it in the article Bridge, bullits, bats and a cavern on the 2000 travel page.
Well, this time we continued northeast on I-85. Just north of the town of Wise, we entered Virginia, almost without realizing it, and shortly after we crossed the Roanoke River. 60 miles later, south of Petersburg (which is south of Virginia's capital, Richmond), we switched to I-95 and subsequently 290 I-295, the bypass around Richmond. When we intersected with I-64 east of Richmond, we changes interstates once more, and continued east on I-64 to our goal in Williamsburg, Virginia. We had not booked a hotel from but easily found one, close to the "Colonial Williamsburg" open air museum, which was part of our program for the next day. We arrived at the hotel well before 3 pm, and took the opportunity to do some laundry. The hotel had two laundry rooms, each with a washer and a dryer, and none of them were in use, so we could wash in parallel. Already at 4.30 we were done washing and drying a total of 4 washers.
An hour later we left for the nearest Walmart, about 6 miles from the hotel to stock up on water, fruit etc. On the way to the Walmart out gps found us a Hooter's, where we went after shopping and had dinner before we returned to the hotel.
After we leaving the Appalachians, the temperature had gone up again. Most of the day it fluctuated between 82 and 95, but at one timereached as high as 104, and when we came back to the hotel after dinner, it was still 91. We felt almost transported back to Sonoran Desert, except for the humidity which was extremely high here and non existandt i the desert. It was very damp everytime we left airconditioned environments, and it should not be much better in the days to come.