Change of plans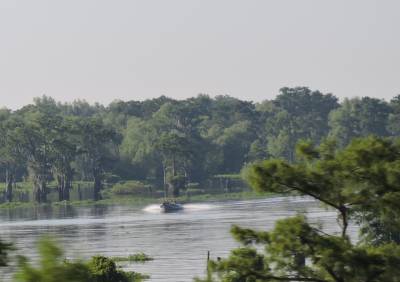 Up until now we had followed the plan made from home. We had driven the planned stages, and stayed in the planned towns. But that would change this Sunday, but we didn't know tht when we left the hotel in Lafayette. The plan was to to Pine Blufff in Arkansas, taking U.S. Route 65 most of the way. The next day we would only have to driv e a short trip from Pine Bluff to Memphis. The easiest way to get to Pine bluff was to take I-10 to Baton Route, change to U.S. 61 passing a corner of Mississippi, and then cross the Mississippi in Natchez, taking U.S.65 north through Lake Providence and into Arkansas.
I-10 is build on stilts through the Atchafalaya Swamp, and even it it were a freeway, we enjoyed the driveeast to Baton Rouge. In Baton Rouge we crossed the Mississippi Rivber for the first time, and turnes north on I-110, on which we stayed until we met with U.S.61, "the Blues Highway". 30 miles north of Baton Rouge we passed the stateline and entered Mississippi. It was on the way between Baton Rouge and Natchez, that we decided to skip Pine Bluff and head directly for Memphis. We would stay here until Tuesday, and have a whole day to spend things, that we wanted to see in town - and do our laundry. When we reach Natchez, we stayeed on the Mississippi side of the river, in stead of returning to Louisiana.
I could tell a long story about U.S. 61 but I won't. Only a brief summary: Bob Dylan was born in the town of Wyoming, Minnesota, the northern terminus of the highway. Buelssinger Bessie Smith was killed in a car accident on the road, in 1937, and according to legend, Robert Jonson sold his soul to the devil in the intersection of U.S. 61 and U.S. 49, to learn how to master the blues. The road runs through the so called Mississippi Delta in the northwestern part of the state, and the birth place of blues. If the road wasn't famous before, Bob Dylan added to the fame 1965 album, Highway 61 Revisited. By the way I prefer by far the cover version by Johnny Winter.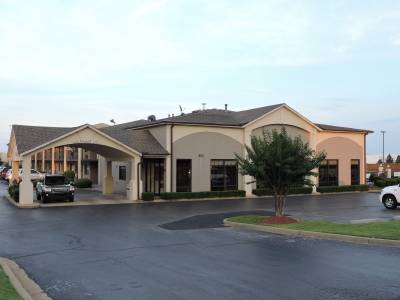 Outside Natchez we stopped at a gas station to get a cup of coffee and to call home to Denmark, to let everybody know that we were still doing allright. After the break we continued north towards Vicksburg, passing of fist sight of Kudzu growth on this tour. We decided not to visit the battlefield at Vicksburg, as we intended to visit Gettysburg later on, and at my first visit I had found it boring in comparison, the only interesting thing in my opinion being gunboat Cairo. Our plan was to stay on 61 all the way to Memphis, but just after Vicksburg I overlooked a sign, suddenly we were on I-10 heading for Jackson, Mississippi. When out gps told us, that this would be faster than returning to U.S.61 we decided to go for it. Outside Jackson we changed to I-55 and took that to Memphis.
Or rather to a small town 10 miles south of Memhpis called Southhaven, still in Mississippi. We thought that motels there would be cheaper than a hotel in the center of Memphis and we were right. The hotel we found was only 600 yards south of the stateline between Mississippi and Tennessee and 5 miles from Graceland, if we should decide to go there, which we probably wouldn't. I vissited the place in 2002, and Tim is not that fond of Elvis. For the first time a a few days the internet connection in the room was great, so we could get updated.
As we had arrive earlier than expected, we decided to do the laundry before going out for dinner, and that went smoothly.While in our room wainting for the laundry to get ready we checked the gps for nearby restaurants, and decided for a Shoney's. Unfortunately it had disappeared when we got there. Well the building was there, but it was not a restaurant anymore, and the closest other restaurant was yet another Applebee's so we chose to eat there once more. Besides from the Mexican restaurant in Los Angeles the restaurants we had visisted were Denny's and Applebee's so once more we decided, that the the next day we would definately eat somewhere else.