Revolutionary heroes and more
If Philadelphia were where the American Independancy was decided and stated, Boston was the hotbed, where it was forged. Many of the planners of the revolution came from Boston, and even if Benjamin Franklin had moved to Philadelphia, he too was originally a Bostonian.
Like in Philadelphia our hotel was within walking distance of most of the things that we wanted to see. A little bit further away from the center of town than in Philadelphia, but still an easy walk. We left the hotel around nine and walked to the information center in Boston Commons, the oldest public park in the United States. This was a 15 minutes walk, and along the way we admired some dressed up people in the park. I don't know why they were dressed up, as all they did were standing and talking to each other. When we returnes some hours later, there were a lot more of them, but they still just talked.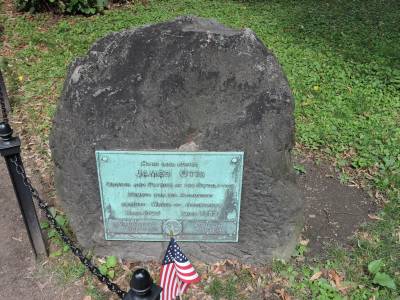 We visited the information center (to use a restroom and get some brochures) and then we continued to our first real goal, Park Street Church. Or rather the cemetery next to it. Where Park Street Church is today (build in 1809) used to be a granary, and the cemetery, which is much older than the church (actually the thirds oldest cemetery in Boston) is called Granary Burying Grounds. This is a rather modest cemetery (when it comes to size), only around 325 feet long and 260 feet wide. Even so it contains the graves of quite a number of celebrities from the revolutionary war and before. Like merchant and slave trader Peter Faneuil, the "sponsor" of Faneuil Hall. At the entrance to the cemetery we borrowed a map from a guy outside. He expected it back, preferably accompanied by a small tip. The first grave, that we took a closer look at, belonged to famous lawyer and orator James Otis, who though calling himself a loyalist, was one of most enthusiastic speakers against taxation and other British mistreatment of the colonies. Unfortnuately Otis went more or less mad in his older days, probably suffering from schizophrenia and paranoia. Otis once told his sister, that when God took him away, he hoped it would be like being stroked by lightning, and God granted his wish as he was literally killed by being hit by lightning, while standing in a doorway.
Besides Otis we visited the graves of John Hancock, Samuel Adams, and Paul Revere of midnight ride fame. Also the graves of Boston's "Mother Goose, Boston's first mayor, Benjamin's Franklin's family and the victims of the Boston Massacre. When we left the cemetery we returned the map with a little tip. At that time the guy at the entrance noticed my cap, which I had bought in Los Angeles earlier on in the trip. It sported a bear on the front, and apparently it amazed the guy so much, that he asked if could take a picture of the hat - which of course he was welcome to do. He wanted to show it to his wife. I was thinking about asking for a tip, but left it at that :-). Our next stop was only one block away, namely another cemetery, King's Chapel Burying Grounds, the oldest cemetery in Boston from 1630. This is even smaller then Granary Burying Ground, and hasn't got as many celebrities as the former, but some are buried here, like the original owner of the land, used for the burial ground as well as Dr. Comfort Starr, one of the founders of Harvard University, John Wintrhop, first governor of Massachusetts, William Emerson (father of poet Ralph Waldo Emerson), Mary Chilton, first European woman to set foot in New England, and not to forget, Williams Dawes. Dawes was one of a number of men, who warned the minutemen about the approach of British troops before the Battle of Lexington and Concord but for some reason he hasn't got as much fame as Paul Revere. Maybe because Henry Longfellow didn't write a poem about him, like he did with Revere.
After our visit to King's Chapel Burying Grounds, we could see, that walking around to all the places thnat we whished to visit, would take far too long, so we walked up Beacon Hill to The New Statehouse, where a lof of sightseeing busses have stops. Along the way we bought tickets to one of the companies, that stops here. As it appeared we had picked the wrong company, as two other bus companies each had three or four buses stopping, before one arrived from the company we had tickets to. That meant that even if it was a hop on-hop off bus, we decided to stay onboard for the whole trip, as we were afraid that we would have to spent a lot of time waiting, should we get off. The tour was as those are most. We saw and heard a lot about things we passed in downtown and historical Boston and Cambridge on the other side of the river. Among the things we saw (in the distance) were Old North Church were two lanterns were put up in connection with Paul Revere's midnight ride. In Cambriudge we passed The USS Constitution. Built in1797 it is the oldest ship still under command in the US Navy. It is used as a museum, but is still manned with ordinary naval personnel and officers and the captain is a Commander in the Navy We also drove past Massachusetts Institute of Technology (MIT) and other interesting places before returning to Boston once more.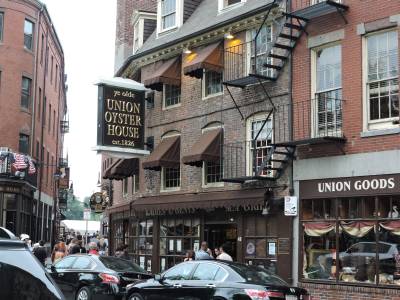 When we got back to Boston Commons we hopped off the bus on the other side of the park. From there we walked through the park and to continued to a few of the places we had missed, like the Old State House, the place of the Boston Massacre, Faneuil Hall, Quincy Market and more. At the square near Old south Meeting Hall, we bought ourself a sandwich and sat on a bench enjoying it, before we walked back to the hotel. We were back around 4 pm, and relaxed for a couple of hours, before heading out for dinner. From home we had booked a table at Union Oyster House, which is supposed to be be the oldest continuous restaurant in USA. Once more we walked from the hotel, past Boston Commons, Old South Meeting Hall, Faneuil Hall and so on to the restaurant. As we were a bit early we took a walk up the cozy little Marshall Street to a small street market. On our way back, we passed Green Dragon Tavern, which is a rather modern pub, but named after a famous tavern from before revolutionary times. The original Green Dragon Tavern was called "The headquarets of the revolution". It was the meeting place for groups like Boston Committee of Correspondance, Sons of Liberty and North End Caucus. The conspirators met on the first floor, while British officers were busy entertaining themselves on the ground floor. The Boston Tea Party was planned here, and it was from here that Paul Revere was sent on his famous ride on the night of April 7th, 1775.
Back at Union Oyser House, we got our table next to the booth were John F and Jacqueline Kenney had there reserved table. Oysters are of cause on the menu in several versions, but we picked something else. As a starter we had crabcakes and then Tim continiud with salmon while I ate lobster. The meal were excellent and turned out to be the most expensive meal on the whole trip, but still within reason. Around $ 150 for the both of us (around 825 Danish kroner) which is not so bad considering I just had a somewhat similiar meal in Brussels, Belgium for which I payed 90 euros ($ 100) for me alone. After dinner we walked back to the hotel, to relax and get ready for the final longer drive the next day. We needed to rest our legs after 6.5 miles of walking in almost 95 degrees.
- Return to Big City Tour -
- Return to travel stories -