A visit to the nations capital
There is only 150 miles from Williamsburg to Arlington, Virginia our next goal. Even if we left the hotel rather late and made a stop underway, we reached Arlington just a little after 12 noon. As our hotel room wasn't ready until 3 pm, we decided to make a short detour.
When we reached The Beltway (I-495) we turned west around DC until we got to Tysons Corner. Here we left the interstate and turned northwest on Virginia Route 7, also known as Leesburg Pike. Our goal was Jarrett Valley Drive in Vienna. We wanted to to take a look at the house, where my former brother and sister-in-law had lived, when he was stationed in Washington, and where we both had visited them, I in 12004 and Tim in 2005. Finding the road is easy enough, as it is a side road to Va 7, and right next to Dulles Toll Road. Unfortunately neither of us could remember if they lived in 8815 or 8817, and the two houses looks much the same from the road. Even a phonecall to Tim's grandmother didnt solve the mystery, so we didn't take any pictures. Tim didn't want to come home with and show his uncle a picture of the wrong house! We later discovered what the number was, but not until we returned to Denmark, and at the time it didn't matter.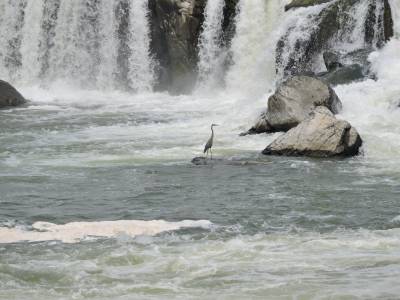 Instead we agreed on a visit to Great Falls Park, not far from Vienna. We drove northwest on Va 7 for around 1.2 miles or so, and then turned right. The rest of the way we drove on small and even smaller roads through Fairfax County to the park. Here we parked the car and walked to the falls. Well acutally it's not true waterfalls, but rather a collection of rapids and one larger fall. The total height of the falls are around 60 feet. The rapids are raftable but classified as between Class 5 and 6, the most difficult class and normally impassable even for experts. A few manages though, which is why the falls have benn downclassified from 6 (impassable) to between 5 and 6. A few don't manage and an average of 7 people drown every year. When we first visited the falls on the Maryland side in 2002, a large scale rescue operation with boats and helicopters was in progress, but I don't know if they managed to rescue anybody or not.
Tim and I took a slow walk (it was rather hot and humid) along the river to each of the three outlooks on the Virginia side of the river. We looked at the falls and the Great Blue Herons fishing from small rocks in the river. I also managed to get some good pictures of some of the many insects, that were flying around. We also saw parts of the old Patowmack Canal, that were build in the late seventeen hundreds, and was used until 1828. The purpose of the canal - or rather five short canals, was to make it possible for narow river boats, called sharpers (60 feet long and 7 feet wide and flatbottomed) to be drawn by mules through the canal, to circumvent the rapids of the Potomac River, where the boats normally travelled. At it's heyday around 1800 a lot of goods were transported on the canal. At Great Falls the town of Matildaville flowered, but as it was depending on canal traffic alone, it suffered a lot when the canal was closed and traffic moved to the new Chesapeake and Ohio Canal on the Maryland side of the river. Today a few ruins of Matildaville stille exsist in the park, but we didn't want to walk that far, so we returned to the car.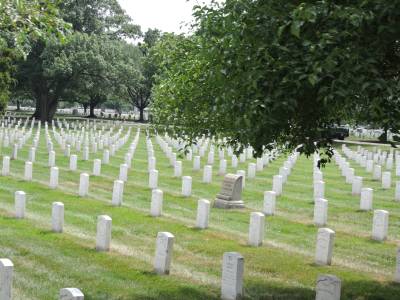 Our next stop was Arlington National Cemetery, and we took the road along the Potomac. When we had parked our car, and walked to the entrance, we decided that it was to hot and humid to walk around, so we took one of the small "buses" that drive around the cemetery. It was still hot and humid, but at least we didn't have to walk. At Arlington House we left the bus and walked around the outdoor premises. We looked at the garden and admired the view over Washington. A view that once confederate general Robert E. Lee, admired as well, as the house used to belong to him - or rather his wife. During the Civil War the house was taken over by the Union government and used as a cemetery for dead soldiers to prevent genereal Lee ever to return to his old home. The reason for the confiscation of the property was missing tax payments, as all taxes had to be paid personally, and Lee's wife was at that time behind confederate lines and to ill to travel. We didn't enter the building as a sign and a guard warned us that due to the lack of air conditioning, the temperature inside was so high, that the risk of a heat stroke was imminent.
Today more than 400,000 people are buried on Arlington, among these presidents William H. Taft and John F. Kennedy, and president Kennedy's wife, and two brothers, Robert and Edward. Also General of the Armies, John Pershing, and many others, known and unknown are buried here. On a visit you have to respect that Arlington is n active cemetery and that around 25 to 30 funerals takes place every day. The rules that regulates who can be buried on the cemeterey are to complicated to explain here but members of the armed forces, who has received different medals are some of them, as are presidents of the United States.
After our visit to Arlington House we took the next bus back to the entrance and walked to the car. As it was now around 4 pm, we drove to our hotel, Hyatt Arlington, and got our room. We carried our luggage to the room and relaxed for a couple of hours, before moving ourselves to the other side of the street to eat at a Ruby Tuesday. For only the second time on the trip, we started dinner with a couple of drinks, as we didn't have to drive back to the hotel.
Fossils, butterflies and a flag
The main reason that we were going to Washington in the first place, was a wish from Tim to visit The National Museum of Natural History and have to time to spend there. We had both visited the museum on previous occasions, but didn't have time to really see the place. This time we would spend as much time as necessary to see, what we wanted to see. It was here, in this museum, that Tina, then 17, got very angry on our visit in 2000. See the article Why can't Americans spell? on the First visit page. What made her angry was partly an information sign at a Viking exhibtion claiming that the Vikings came from Scandinavia and not from Denmark, and partly because 'Jutland' was spelled like that, and not 'Jylland', like we do. All our explanations were turned down as "not valid".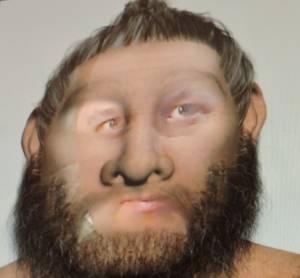 The hotel, where we stayed was right next to Rosslyn Metro station and when we got there we discovered that all three lines from there stopped at Smthsonian, where we had to get off. On previsous visits we had bought a day ticket, but this time we only bough an ordinary ticket, as we would only use the metro to go into town and back. Six stations later we left the train and walked to the museum, where we arrived a little after 10. On my first visit, we concentrated on dinosaurs, mammoths and that kind of animals but this year, this department was closed due to renovation. Instead we walked around all rooms of the museum but focused on human development and geology. On the first part of our tour through the museum we saw a lot of fossils, explanatory signs and of course models of different development steps. It was possible to have your picture taken and then morphed into yourself as a neanderthal look-alike, which we both tried. Tim managed to get the picture sent to his e-mail, while i failed the operation. And I actually glad I did. I didn't look too good, and neither did Tim by the way.
In the geologic department we spend most of our time looking at precious stones and metals like saphires, diamonds, platinum, gold and so on. Among other things we saw the Hope Diamond, a 45.5 carat blue diamon (45 carat is only 9 gram or 0.3 ounce). But it sure looked big. The blue color is due to traces of boron in the carbon structure of the diamond. Legend has that the diamond is cursed and brings misfortune or worse to its owner. It's therefore probably good, that it is at the museum, and not back home with my mother. When I posted a picture of the stone on Facebook, she promptly asked me to get her one of thise. Beside the diamond we saw many other precious stones and jewellery, like a 22,892 (4,578 grams or 161 ounces) topaz and the Mackay Emerald Diamond Necklace with a 168 carat emerald surrounded by diamonds inserted in a platinum pendant. Millionaire Clarence Mackay bought it as a wedding present for his second wife in 1931 and she donated it to the museum in 1984. We of course also saw other precious stones and metals, and some not so precious.
Around 12.30 we had gotten hungry, so we had a light lunch in the cafeteria before continuing our tour around the museum. After lunch we looked at insects! We would have visited the butterfly room, where live butterflies fly freely between the visitors, but the line was too long, and we didn't want to wait more than an hour to get in. Instead we watched to 3D films in one of the museum's two Imax theaters. One was a film about how the migration route of the eastern monarch butterfly was discovered, and the other was film about mammoths. Especially the butterfly film was impressive. It felt like walking between butterflies. When we had seen both films, it was around 3 pm and we decided to call it a day, at least at Natural History Museum.
When we got ouside it was even hotter and more humid than before we entered the museum. The temperature was 95 and the humididty around 90, så we decided for a short walk to the Museum of American History. This museum is a museum of American culture and we spent around 1 hour 30 minuters here. We focused on the exhibition telleing about American presidents and first ladies, and spent a while looking at the original "Stars and Stripes". It was first hoisted over Fort McHenry in Baltimore during The War of 1812. Originally it was a garrrison flag, ordered from a local flagmaker by commander of the garrison at Fort NcHenry, Major George Armistead, who by the way was an uncle of civil war brigadier Lewis A. Armistead. The flag, which was sewn by Mary Pickersgill and seven seamstresses, was to be "so large that the British would have no difficulty seeing it from a distance" And large it is; 42 feet by 30 feet with two feet wide stripes and stars 2 feet in diameter. It was this particular flag that inspired Francis Scott Key to write his poem "The Defense of Fort McHenry", the last part of which was set in music under the name of "The Star Spangled Banner" and later (1931) became the national anthem of The United States. The flag is rather tatty today, as people through time have cut of pieces of it as souvenirs, until it came to the museum in 1912.
When we left the museum, the humidity had turned into a light rain, so we hurried back to the metro station, before it got worse. When we left the metro station in Arlington, it had gotten worse, but fortunately we only had to cross the street go get to the hotel. We stayed in our hotel until dinner time, at which time it had stopped raining. Once more we had dinner at Ruby Tuesday across the street. While we were here it started raining once more, and not only raining, it simply poured down like a vitual flood. When we were done eating, we waited in the door opening until the traffic light turned green, then ran as fast as possible to the hotel. When we got across Tim discovered that he had forgotten his cap in the restaurant, so he had to go back and get it. Even if I had only crossed the street once, we both had to change our clothes when we got to the room. The rest of the evening we spent watching the MLB All-Star Game on television. I really watched a lot of baseball on this trip :-) and almost became a St. Louis Cardinals fan.