From Florida to a wild dog in South Carolina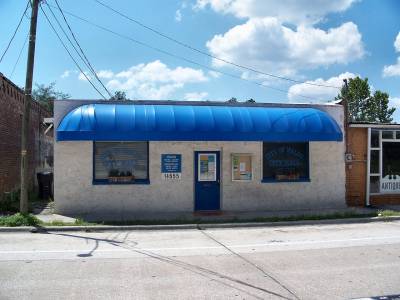 City Hall in Waldo.
This should prove to be the first day of this year's trip, where we made a really big change of plans. From home we had planned to drive from Tampa to Atlanta. But now we were already in Gainesville, 130 miles north of Tampa, and we had decided to skip Atlanta all together. Instead we would go to Columbia, South Carolina and spend the night there, before taking a short trip to Florence, SC the next day. We would pass through Georgia without making any stops and so we did.
We left Gainesville on Florida Highway 24 and after just 14 miles we reached Waldo, where we changed to US 301. Waldo were formerly known as a speed trap, but as we stuck to speed limits nothing happened to us. We saw the rather "ice cream store" looking city hall before continuing north. Along highway 301 we passed through towns like Starke with an nice old courthouse, Lawtey and at Baldwin we reached I-10. The rest of the day we stayed on different interstates. We took I-10 to Jacksonville and the beltway around town to I-95 North.
We stayed on I-95 all the way through Florida and Georgia. And even if we discussed making a detour to Savannah, we stuck to plan and just continued. This time I managed to get a picture of Savannah River as we passed from Georgia into South Carolina. A few miles south of Santee, where we stayed in 2000 and 2012, we changed to I-26 heading for Columbia. It was a little past 3 pm when we got to the state capital of South Carolina, a city none of us had visited before. We found a hotel northeast of the city as it was in that direction we should leave the next day. Once more we chose a Quality Inn, a hotel chain that we used a lot on the trip. Primarily because they are affordable and they proved to have a rather good wifi connection in the rooms. After having settled and relaxed for a bit, we left the hotel to see just a little bit of town.
At home I had seen some pictures on the internet of a park called Riverfront Park or rather Columbia Historic Canal and Riverfront Park. It looked interesting, so we wanted to visit this park. We found the park easily enough and also found a place to park the car. It was now around 4.30 so we decided for a short stroll in the park but in the end we stayed there for an hour and a half. We walked through the park next to a water treatment plant painted in cheerful colors while we looked at the statues in the park. Our goal was the canal, but before we got so far we got to a terrible place equipped wiith different implements of torture. Some would probably call it a fitness area, but it sure looked like torture to me. To my big surprise Tim climbed one of the instruments, maybe the first time ever he has been on such a thing. I simply had to take a picture of that, but before my camera was ready he had left it again. I therefore had to order him back on, in order to get the picture! That done, we continued down to the canal.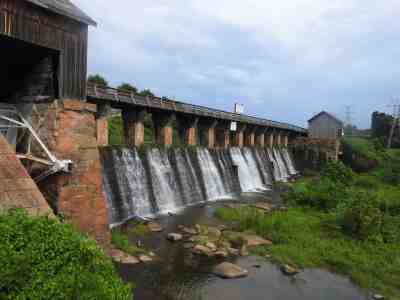 The spillway leading excess water from the Columbia Canal into The Broad River.
The canal has existed for many years. Originally it was constructed in 1824 to make it easier for ships to navigate the confluence of the Congaree and Broad Rivers. Later in the century it was redesigned to provide water for a hydroelectric powerstation, that provided power for a textile mill. The hydroelectric plant, the oldest such plant in South Carolina, is still providing power for Columbia. The textile mill is gone today, but the power plant and canal still exist. So does an old waterworks that we also looked at and a new water plant on the other side of the canal. But what we really had come to see, as it was what had spurred the interest in the first place when we saw pictures on the internet, was the spillway that let excess water from the canal spill into Broad River. On our way back we looked at the amphitheater and a statue of Christopher Columbus before returning to the car.
The next stop weas supposed to be at the state capitol, only we didn't stop as we couldn't find a place to park the car. Instead Tim drove slowly by, while I took som pictures. From there we returned to the hotel with a stop at a Hooters to have some dinner. On this occasion I learned to read the menu carefully before ordering. As usual we had boneless wings for starters, and when the waitress asked me what kind of sauce I wanted I spotted something with garlic and ordered that. It was not until later I discovered that it had six chilies and was "rather hot". But it was good and so was the rest. And as all is well that ends well we were quite satisfied. In Danish the saying "all is well that ends well" this is worded "Når enden er god er alting godt". The word "Enden"has another meaning in Danish as well, namely "a person's behind", so when we say it in Danish it is rather fitting considered the dress of the Hooter's waitresses. After dinner we continued back to hotel and relaxed for the remainder of the evening, watching baseball on tv.
A zoo, a wild dog and a Brazilian meal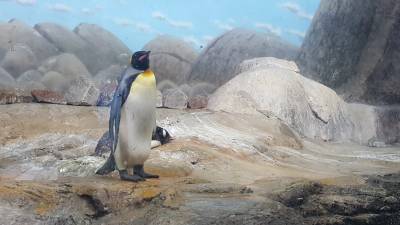 A King Penguin is a majestic sight.
Tim had agreed with his friends April and Brian in Florence, that we would be at their place sometime between 1 and 2 pm. The distance from Columbia to Florence is only about 75 miles, so we had some time to kill before we had to go, and we decided to do that with a visit to the local zoo. Riverbank Zoo and Botanical Gardens is on the opposite bank of Broad River from Riverfront Park, and it was quite easy to find. The internet told us that they opened at 9 am, so we left the hotel early enough to arrive just after that. We parked the car, walked to the ticket office and for only $ 32 we bought two tickets. The current prices in Copenhagen Zoo would have been around $ 42, but as I go there quite a lot with my daughter and granddaughter I have an annual pass. Well back to Columbia Zoo.
The line at the entrance was not too bad, so we got into the zoo rather quick, and started by studying the map we had got with the tickets. The zoo was not too big and very well structured, so we decided for a route that would take us all the way around it. We walked around the zoo for about 2½ hours looking at the animals. Lions, tigers, elephants and giraffes can be seen in any zoo, the same goes for sealions and penguins, but here they had three species of the latter, and we enjoyed them for some time. A visit to a zoo without looking at penguins are not a real zoo visit! Tim as well as myself loves penguins and in this particular case we really enjoyed the king penguins. Because of the South Carolina heat the penguins are not outside like in Denmark but in a cool room. In Copenhagen Zoo there are no gorillas, so I loved to watch them as well. I really like gorillas, much more than chimpanzees that everybody else loves. We also saw koalas. They looked exactly like the model koala my seafaring grandfather brought home from Australia around 1960 and which my parents still have. The model was not a stuffed koala though but a replica made of kangaroo skins. Also kangaroos were present ranging from small wallabies to big red kangaroos.
A small aquarium/terrarium had different kind of fish, small turtles and snakes, including a 20 feet anaconda. A bird house with exotic birds in cages was interesting, but the aviary with free flying parrots I had to visit on my own as that was to much for Tim's ornithophoebia, so he only looked at the parrots from outside the aviary. When I got out we saw some more turtles including some really big galapagos tortoises, and when I say big I mean big. I don't know the exact weight of the tortoises but normally a male galapagos tortoise weighs between 600 and 700 pounds. When we had been all round the zoo we headed for the exit, but made a short stop at the gift shop. Tin wanted to buy a present for his friends and we also bought a gift for my granddaughter.
We left the zoo and set the course for I-20 to Florence. An hour later we were there, and we started by finding a hotel. No rooms were ready but we booked one and then had to come back later to confirm. Then we visited a Barnes & Noble bookstore and actually bought some books, before heading for the home of April and Brian. We were received by April's son Justin and as he was letting us in, April and Brian returned from a shopping trip. Tim had agreed with April that we could have our clothes washed there, so while we were chatting our clothes was in the washing machine. While seated we were "attacked" by their wild dog! He was a small, three months old dachshund christened Tank. As most puppies he liked to try to eat anything, including feet, finges and noses (when carried). He was especially happy to eat my shoelaces, which must have a certain attraction to puppies as both of my daughter, Tina's Dogue de Bordeaux's simply ruined two pairs of my shoes, by eating away at the shoelaces, when they were puppies. The dogs, not the shoelaces :-).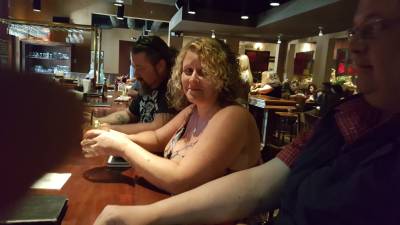 At the bar at Rioz. Tim in the foreground and April and Brian in the center of the picture.
Tim had promised to buy everyone dinner at a local restaurant. I have forgotten the name, and it doesn't matter much as we didn't get to eat there. A couple of days earlier he and April had decided that they would rather eat at Rioz Brazilian Steakhose. Unfortunately this restaurant was not in Florence but 70 miles away in Myrtle Beach. Around 5 pm we took of. Justin, April and Brian drove directly while Tim and I drove back to the hotel and confirmed our reservation. When we got to the restaurant a little past 6, we met with the others and entered. We were told that we would have to wait 45 minutes to get a table, so we seated ourselves at the bar and had a drink. It actually lasted 90 minutes before a table was ready for us, but it was well worth the wait. For those who hasn't tried anything like it, just a short brief. You pay a price for dinner (what you drink is extra). For dinner there is a large buffet with salads, potatoes, rice, black beans and other hot dishes. Then waiters walk around the restaurant with different kinds of grilled meat on skewers and cut of pieces if you so want. You can choose from chicken, lamb, pork and several kind of beef. Eat as much as you can, but be aware that your belly is filled long before your eyes grow tired of looking at food. Small coasters with a green and a red side is on the tables. When the green side is up it indicates to the waiters that you want more, red that you rest for a while. On his first visit to the place in March 2016, Tim forgot to turn his coaster around when he left the table, and when he returned his plate was covered in pounds of meat.
After dinner we returned to Florence. Tim drove me to our hotel while he returned to April and Brians home, partly to pick up out laundry and partly to chat some more with his friends, while I relaxed in the room. At one am he returned and I could finally get some cold water. I had forgotten to get a bottle from the cooler before he took off, and the water in the tap was lukewarm at best.
- Return to Long Bridge Trip page -
- Return to Travel page -