No more cinnamon rolls
This was the day when we had to head north in direction of Dulles International Airport in order to return to Denmark. We were going to spend a night somewhere between Wilkesboro and the airport so we would have time to do a bit of sightseeing along the way. On previous occasions I have done the trip in one stretch, but this time we took it a bit slow. When we left Wilkesboro we took US 421 east to I-77, and took this north to I-81. We made a couple of stops on the interstate, but only to switch driver, and the first real stop was in Lexington, Virginia. In 2012 we just drove through town, but this time there were a few things Tim wanted to see, as he hadn't actually seen town on his first visit in 2000. We left the interstate and continued to the center of town.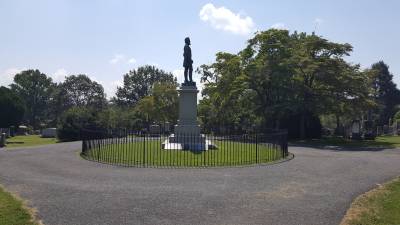 General Jackson statue on Stonewall Jackson Memorial Cemetery.
The first stop was Stonewall Jackson Memorial Cemetery. We parked the car outside the cemetery and went in to take a look at General Jackson's grave. Most of the general is buried here! When it's not all of him, it's because that when his arm was amputated near Chancellorsville, it was buried close by, and it actually has it's own memorial!
On the site of Jackson's grave is a statue of the general. His two wives (the first died during childbirth), his son with the first wife, his two daughters with the second wife (one died a few months old, while the other lived untill she was 27), his son-in-law, two grandchildren and one great grandchild. We took some pictures and looked around the rest of the cemetery, also taking pictures of civil war brigadier, William Pendleton's grave. Pendleton was commander of the Confedererate Artillery, and before becoming an officer he was a priest.
When we were done at the cemetery we walked back to the car and continued to a parking lot close to the two eestablisments of higher education in Lexington; Virginia Military Institute and Washington and Lee University. The latter is named after President George Washington who once saved the school from bankruptcy by donating a large amount of money in bonds. After the civil war, General Robert E. Lee became president of the university, and later his name was added to that of Washington. On the university grounds is Lee Chapel, where Lee and many members of his family are buried. We visited the chapel and had a nice chat with some of the volunteers, that look after the place. Besides being a chapel, the building also houses a small Lee museum. Outside the chapel a stone in the grass indicates the burial place of Traveller, General Lee's horse. Staying on the subject of horse burials, General Jackson's horse, Little Sorrel is buried at VMI, where Jackson as a major taught before the war. We looked around the university and VMI grounds a bit before we returned to the car.
Our original plan had been to spend the night in Lexington, but as it was still quite early, we decied to continue north. The next stop would be Staunton, but when we got there, we still found it too early and continued 30 more miles north to Harrisonburg. We found a room at a Best Western (they only had one room vacant). As we had to return to Denmark, we had to bring everything in from the car and repack, and so we did. It was then we discovered that the airconditioning in the room was out of order, but we decided to live with it. After all it was only for one night. We put all our water bottles in the fridge and said goodbye to our faithful cooler. Everything was emptied out of the suitcases, and then we repacked. Next morning before leaving we checked that we everything was packed in suitcases og bags, and that the room was empty, what we thought it to be, except for a Hard Rock Cafe glass that Tim left on purpose. When I got home I discovered to my big surprise that even if the room had seemed empty, I had forgotten a box with four small bottles of water from The Fountain of Youth in Florida, so if I get old too soon I know why :-). When everything was ready, we went out to get something to eat. Outside the hotel a signpost announced that a Shoney's was on the premises. We found out though, that the sign was all that was left, so instead we drove to the local Applebee's, the restaurant chain of our choice on this trip. And the last supper of the tour proved once more to be 2 for 20! After dinner we returned to the hotel, and relaxed before next days flight.
The End
The trip from Harrisonburg to Dulles would take no more than 2 hours at the most, and take-off was not until 6.30 PM, meaning that we had to check in around 4.30. We therefore had to do something with the rest of the day. We talked about it a bit, and decided to go to Harper's Ferry, where neither of us had been for some years. We carried our suitcases to the car, and before we took off, Tim went to the reception desk to tell them about the broken airconditioning. The lady there was very happy that we hadn't reported it the night before, as there were no spare rooms, and no technicians on duty. Just as he was returning to the car, and I made ready to go, the cleaning lady came running out of our room, waving the Hard Rock glass, asking if we had forgotten it. Tim explained that we had left it on purpose, and that se could keep it if she wanted to. She seemed to be more happy about that than about the few dollars we had left in the room as a tip.
Finally we left and headed back to I-81, starting on the 100 miles to Harpers Ferry. Passing Luray, we considered a visit to the caverns but agreed that we had seen enough caves for one trip. In Winchester we left the interstate and went on Virginia Highway 7, a road, that we had used quite a few times in the past. In 2004, when Dorte and I visited her brother and sister-in-law in Vienna, Virginia, they lived on a Va 7 side road, less than 300 yards from the highway. In Berryville we turned north on US 340 to Charles Town, the town where famous or infamous John Brown was hanged in 1859 for rebellion. He had attacked and tried to plunder the armory and attached arsenal in Harpers Ferry in order to arm his Provisional Army of The United States, as he called it. He imagined that a lot of people would join forces with him and kill all slave owners. Unfortunately (for Mr. Brown) the army only totalled 21 men including his own sons, so he was arrested and put to trial.
We continued east to Harpers Ferry and parked the car at the visitor center outside town. From here we took the free bus down to the historical part of town. We were offered to get off the bus at Bolivar Heights. For some reason we never discovered, that part of the park closed early on that particular day, and the driver told us, that if we wanted to see that particular area it was now or never. Everyone stayed on the bus though so with no further ado she took us "downtown". As always the bus parked close to a very nice threstle bridge, of which we of course took some pictures, even if I already had a lot of them at home.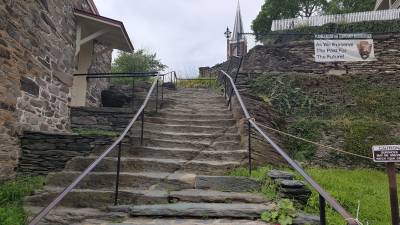 The staircase from High Street to Church Street was under repair and therefore not available.
From the bus stop we took a walk through town. We met a lot of people dressed in old fashioned clothing,so we figured that some kind of enactment were to take place, and that was why Bolivar Heigts closed early, but we never really found out. We made our first stop at the old "Fire Engine House", known as "John Brown's Fort", because he and his men had fortified the place and retired there with some hostages, when their attack was repulsed by angry citizens. Unfortunately for Brown the fort was attacked by a force of US Marines under command of two later very famous officers, Brevet Colonel Robert E. Lee, and lieutenant J. E. B. Stuart. After the short visit here, I walked out to the pedestrian bridge, crossing the Potomac next to a railway bridge. I took some pictures of the town (the whole old town in one picture) and of the confluence of Potomac and Shenandoah Rivers, before returning to Tim who had stayed ashore. We walked back to town and continued out sightseeing. The original Harpers Ferry only had four streets, Shenandoah Street and Potomac Steet along the rivers, High Street and Church Street on the hill between the rivers. We walked up High Street, where most shops and restaurants are. Most of the shops sell souvenirs, but we were looking for a small bakery, where we on previous visits had bought freshly baked cinnamon rolls, with the icing served in a small cup wth a wooden spoon to scoop it up with, as the rolls simply were to hot for the icing to stick on top. We couldn't find the shop though, but found a souvenir shop where Tim would buy a present for his mother. I asked the young girl if she knew about the cinamon rolls. but she looked completely puzzled, as if she knew absolutely nothing of what I was talking about. A somewhat older (than the girl) woman came out from the back office. She had overheard the conversation, and she could tell us, that the bakery had burned down a few years earlier, and that Sally, the owner, didn't want to reopen so now the building had been torn down. So no more of probably the best cinnamon rolls I have had, except for my grandmom's of course!!
We returned to the bus and to the car taking a few pictures along the way. Then we headed for the airport. We passed the small village of Hillsboro, where Dorte and I visited a winery in 2004, but this time we just passed town. As we had to return the car with a full tank, we sought out a gas station, before doing the last part of the trip to the airport. This time we had no troubles with the Dulles Toll Road. On earlier occasions the road seems to have been bewitched when it comes to paying the toll, but this time all went smoothly, probably because this time we could pay with cash. We returned the car, and took the bus to the departure hall. As we were still quite early we had to wait an hour or so until the Britsh Airways check-in counters opened. When they opened we checked in, went through security with no delay, and walked to the British Airways lounge, where we found a couple of comfortable chairs where we could relax, read, charge our cell phones and get online.
Our plane was what BA call a "sleeper". This means that dinner is not served onboard, and the first meal you get is breakfast, so when the restaurant at the lounge opened we dined there. Contrary to the lounge in JFK two years earlier, there was a lot to choose from and everything was great. The flight itself was as boring as they come. We managed to get a few hours sleep before landing in London Heathrow. Here we had to spend almost three hours so once more we used the BA lounge (many good things can be said about flying business class, except from the price). We ate a real breakfast and relaxed until out plane was to leave. Once in Copenhagen we had to wait a while for our baggage, because a lot of planes had landed at the same time. From the air
port we took a taxe back home, and that was the end of that vacation.
- Return to Long Bridge Trip page -
- Return to Travel page -