And that was that!
And now it's time to sum up the vacation of 2016 with a few statistics. Leaving Denmark on July 2nd, and returning on July 23rd, gave us 21 days in United states.About half a day in each end was spend getting there and returning. In the remaining 20 days we drove around, mostly in the the south eastern part of the country, we visited or passed through 14 states, some of which we visited twice, among the latter Mississippi, Alabama and West Virginia. The longest, continuous stay was in Florida where we spent 8 days, the longest period in any state on our road trips. Tim has spent longer time in South Carolina, during his visits to Florence, and I have spent longer time in Western North Carolina, but at those times it weren't road trips.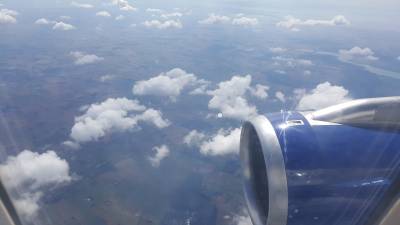 Flying over Danish island, Sjślland (Zealand), on our return flight from London
All together we drove 5,795 miles (9,326 kilometers), which is a bit less than our 2012 trip, but longer than the cross country trip in 2014. All in all this was the third longest trip to the USA so far.
The longest drive on a single day was 518 miles (826 km) which is not that much compared to earlier trips. This time it was the trip from Key West to Gainesville in Florida. Seven times we drove more than 600 km (375 miles) on a single day, including our 385 mile shopping trip to Avery Island from Slidell. The shortest drive where we did not return to the starting point was 136 miles from Harrisonburg via Harpers Ferry to Dulles International Airport. Only one day (in Miami) we didn't use the car at all, and the shortest distance of all was the day we visited Dry Tortugas NP with only 15 miles (24 km). The distance this year meant, that I just passed the 100,000 km (62,500 miles) line on American Roads. Large and small.
The trip added one more state to that account, namely Ohio. Unfortunately the bad weather meant that we didn't see as much of the state as we had hoped. Now Delaware is the only state I'm missing in eastern USA, but it will probably come sooner or later.
In spite of us having the most expensive tourist experience ever, the flight to Dry Tortugas, and in spite of us once more flying business class, and upgrading the car, it was much cheaper than our 2014 tour. In 2014 the whole trip cost us about DKK 96,000 (USD 15,000 at the exchange rate of that time). This time it was only DKK 78,000 (USD 11,000). The plane tickets were much cheaper, the hotels were cheaper, the car was cheaper and the gasoline was cheaper and so on.
This is a comparison between 2016 and 2014 expenses, all prices in DKK.
| | | |
| --- | --- | --- |
| | 2016 | 2014 |
| Plane tickets | 23,178 | 38,664 |
| Car rental | 9,010 | 9,949 |
| Gasoline | 2,792 | 3,786 |
| Hotels | 17,105 | 25,215 |
| Food, including tips | 8,078 | 8,283 |
| Tourist activities, entrances | 7,233 | 4,244 |
| Bought to bring home | 3,736 | 1,849 |
| Clothes | | 613 |
| Gifts | | 451 |
| Miscellaneous | 6,940 | 3,191 |
| | | |
| I alt | 78,072 | 96,245 |
And finally our truck spotting game. It was won with a clear margin by Swift Transportation with 183 trucks, ahead of Schneider National with 149. But these are two of the largest trucking companies in USA. In the next spots were Werner Enterprises with 113 and J. B. Hunt Transport Services with 101. A little further back were Knight Transportation with 67, while C. R. England Trucking Company finished last with mere 26. Two new LTL companies are under consideration for our next trip, Saia and Estes, but now we 'll see...
- Return to Long Bridge Trip page -
- Return to Travel page -
.