Let it rain, rain, rain
Ohio, the only state on this trip that we had never visited before. We left the hotel early in order to see at least one town, Cincinnati. Before leaving Cambridge, we visited a Walmart to get our usual cooler and some water, but as the only coolers they got, were far too big, we bought neither cooler nor water. I know you can keep small things in a big box, but these coolers was simply too big to fit in the trunk. Our plan was to stay on I-70 to Columbus and then turn southwest on I-71 to Cincinnati, and so we did. Everything went fine, and we enjoyed the landscape from the car, but as we turned on to I-71, it started to rain.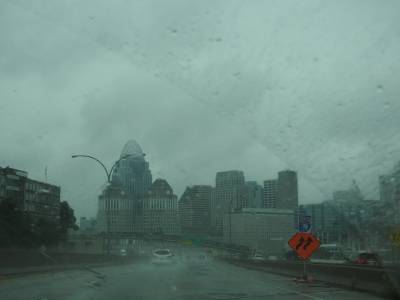 Cincinnati skyline in the rain
The header of this article is borrowed from an old song, Raindance by Melanie (Safka) from her 1976 album, Photograph. In the song Melanie asks for rain, but we didn't have to. It just came all by itself, without us asking or dancing. In the beginning only a few drops on the windshield, but soon it got worse, and when we reached Cincinnati it was simply pouring down. We therefore gave up on the walking tour around town, mostly because neither of us had brought any waterproof clothing along. Instead we just drove around town in the car, rolled down the windows from time to time and took a few pictures.When that wasn't fun anymore we crossed the Ohio River and entered Kentucky in Covington, who allthough being in Kentucky, is a Cincinnati suburb. The rain wasn't so heavy at the time, but still... We continued on I-71 towards Louisville.
In 2014 we visited Worldport, UPS' main airhub in USA, and now he wanted to see it again. If this sounds strange, it's because I may not have told, that Tim actually works for UPS. On that occasion road work on the interstate forced us to cross through town (for more on this story, read Long day's journey into Tennessee on the 2014 travel page). This time there was no road work, but it had stated to rain heavily once more, so we decided to just stay on the interstate. In this case I-65, that we had just changed to. I-65 passes the airport, so Tim managed to get a few pictures from the car, showing the many UPS freight planes parked at the airport.
We continued south towards Bowling Green, the goal of the day. The rain continued as we passed towns like Shepherdsville and Elizabethtown. In Denmark the latter is mostly known from the film Elizabethtown with Kirsten Dunst and Orlando Bloom. I know though, that after the Civil War, the 7th Cavalry under command of George Armstrong Custer was stationed here from 1871 to 1873. He and his wife, Elizabeth, called Libbie, stayed in town, living in a small cabin. Some distance south of Elizabethhtown, the interstate changes direction from almost due south to southwest. At this time the rain stopped, and when we reached Bowling Green, the sun was actually shining a bit! We found a hotel, and got a room, Because of the bad weather we were far ahead of schedule, so we decided to spend some time in a Barnes & Noble bookstore. For about an hour and half we walked around looking at books, and even if we didn't find anything really exciting, we did buy a couple of books each.
After the visit to the bookstore, we visited another Walmart, and this time we got a cooler in a suitable size. We also bought some bottled water, which is very cheap in USA compared to Denmark. We got 32 half liter bottles for $ 3.98. In a supermarket in Denmark, you will have to be lucky to get 3 bottles for that prize! We didn't buy ice on this occasion, but decided to wait until we were leaving Bowling Green again. In stead we put some bottles in the refrigerator at the hotel, so we had cold water for next day's excursion. When we left Walmart, all clouds has disappeared and the sun was shining brightly. We returned to the hotel, and brought in all our luggage from the car to repack. We packed all the clean clothes we needed in one bag, and dirty laundry and other stuff in another bag. This way we could leave one bag each in the car, when we found a place to stay in the following days.
We had discovered that Bowling Green featured a Ryan's Bakery and Grill restaurant, and we decided to eat our dinner there. As usual it was good (and cheap - the two of us had dinner, beverages and tips included, for less than $ 30). As usual I overestimated my appetite, and ate my fill at the salad bar. I managed to squeeze down some mashed potatoes and a slice of ham too. In contrast to previous Ryan's we have visited, this one didn't have a carvery, but that didn't matter much as they had a lot of other stuff. After dinner we returned to the hotel, and relaxed while watching baseball on television. It must have been a wrong channel though as they didn't show out favorite team, St. Louis Cardinals, but focused on some minor and unimportant teams like Cincinnati Reds, Chicago White Sox, New York Yankees, Los Angeles Dodgers and Milwaukee Brewers.
The weather was bad most of the day as I have already mentioned. Temperature was between 68 and 72 F most of the day, but when the sun came through it rose to 91. The driving distance of the day was 401 miles. By the way, on this day we started our truck counting contest, which by the end of the vacation resulted in a great victory for Swift. You can learn more of this contest in the article Heat, sand and planes on the 2014 travel page. More will follow in later articles from 2016.
- Return to Long Bridge Trip page -
- Return to Travel page -