Two days and 58 miles of bridge
From Bowling Green, Kentucky our plan was to head down south to Slidell, Louisiana, with an overnight stop in Meridian, Mississippi. Except for the overnight stop, we followed our plan. Tuesday, when we were leaving Bowling Green the weather was beautiful and sunny. No it was not! Once again it was cloudy and rainy as the previous days. Our plan was to head down south on I-65 and then make a stop in Nashville, and take a tour on a sightseeing bus. Unfortunately it was raining quite heavily when we reached Nashville, so we could choose between sitting on top of an open bus in the rain, getting wet before our trip continued, or sit below, keep dry but without seeing anything. In the end we did neither, but drove around in the car as we had done a couple of days earlier in Cincinnati. Along the way we did get some pictures of Country Music Hall of Fame, Ryman Auditorium, Nissan Stadium and a couple of other buildings, plus a few sculptures.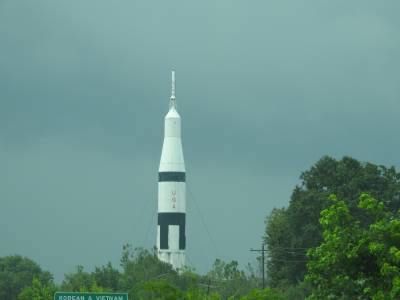 Saturn V Rocket at the Alabama Welcome Center
When we were about to leave town, the rain stopped, but it remained cloudy and gray.We continued south towards Alabama still on I-65. When we had just passed the stateline, we saw someting that looked like a rocket above some trees, and when we got closer we could see that it WAS a rocket. Actually it was a Saturn V rocket, like the ones that sent people to the moon. It was next to the parking lot of the Alabama Welcome Center, so we just had to pull in and take a few pictures. After our short visit here, we continued south to Birmingham. We didn't make a stop there, but we changed to I-59, heading for Mississippi. When we got to Meridian, our satnav couldn't locate neither a Walmart nor a Barnes & Noble, so we decided to go on to Laurel. 60 miles further.
We settled in Laurel and found a Walmart but no bookstore. We found a hotel and had our second dinner in a row at an Applebee's. This time we expanded the meal to an "2 for 25" instead of the usual "2 for 20". Returning to the hotel, we decided to fill up the car, so we were ready for next day's trip, and had to pay only $ 1.80 per gallon, the lowest price so far.The most expensive had been $ 2.17. Most Americans we talked to still think it's expensive, while we found it cheap. In 2014 we paid more than $ 3.00 most places up up $ 4.00 at one time and in 2013 even higher. In Denmark the price is around $ 6.15 per gallon and has previously been as high as $ 7.55. Also the cars we have rented in USA has become much more economical over the years. The first time (2000) our Impala ran around 23 miles/gallon, while this years Nissan Maxima ran between 33 and 40. So we have saved a lot on gas compared to previous vacations. Even if my own car back home will do between 50 and 60 on diesel, which in Denmark is cheaper than gasoline.
Three bridges
Finally summer had come. And this time I mean it. For the first time on the trip we experienced a day without any rain, and the sun even shined in the afternoon. Temperatures varied between 86 and 97 F as we got further south and reached 104 in New Orleans. Our goal of the day was Slidell in Louisiana, and we could have stayed on I-59, but in Hattiesburg we chose to leave the interstate and continue on US Route 49. It was a bit longer, but there was more to see along the way. In the small town of Wiggins, we visited a Walmart, which we actually did almost every day to get fruit and water (or some clothes). This time the purpose was different though. As it had been raining almost all the time, and we were going on a swamp tour in an open boat the very next day, we wantes to get something rain proof. We had been looking before, but all we could find had been complete oilskin pants and jackets with sou'westers and all. That would have made us look like we were going not on a swamp tour, but on Pequod with Captain Ahab, hunting for Moby Dick. I know the book (The Whale) is famous, and I have once owned it myself, but I have to admit I found it extremely boring, more of an Instruction Book for Whalers than a novel! Anyway, we settled for a couple of rain proof ponchos. And they worked. They even prevented rain, for even though we got more rain along the way, it was never when we were outside the car or a hotel room.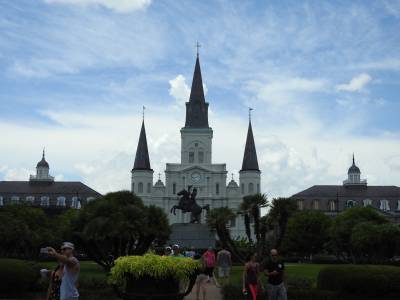 St. Louis Cathedral on Jackson Square.
We continued south on US 49 to Gulfport at the coast and took I-10 west to Slidell. It was still early so we decided to do something touristy, and visited New Orleans once again, as Tim wanted to take a ride in a carriage pulled by a mule. The easiest way to get there would have been to take I-10 into town, but why do things the easy way, when there is another, more troublesome? So we headed west on I-12, also known as The West Florida Highway in commemoration of the time, when this area was part of The Republic of West Florida in 1810. The interstate runs north of Lake Pontchartrain, but we took it even if New Orleans is situated south of the lake. Around 50 miles west of Slidell I-12 intersects with I-55, so we changed to that, heading south between the lakes Pontchartrain and Maurepas - named after respectively a 17th and a 18th century French statesman. Along the way we drove through the Manchac Swamp and crossed the first long bridge of the day, 22.8 miles long Manchac Swamp Bridge. It's the third longest bridge in USA, and locals claim, that it is the longest toll-free bridge in the world. When we got down south of the lake, we intersected with I-10 once more, and turned east. Only a few miles later we passed another long bridge, the 11.1 mile long I-10 Bonnet Carre Spillway Bridge. This bridge is "only" the fifth longest in USA, but anyway!
We continued to New Orleans and The French Quarter, where we found a parking lot near the river, that we had used several times before. We parked the car and walked to Jackson Square, where the mule rides start. Three carriages were present, but all mules were on a break. By law, they have to rest 30 minutes between tours when it is so hot as it was then, namley 100 degrees F. So we waited 25 minutes in the shade, and then boarded a carriage together with some other people. The tour was a little different from the one I had been on before, but still very interesting. This time we didn't go through Bourbon Street but ventured all the way down to Esplanade Avenue and in the opposite direction to Canal Street. All in all a very nice trip, even though we didn't learn much new about New Orleans. We did learn something though, namely that the appartments in the Pontalba Buldings are rather expensive but even so there are long waiting lists to get an appartment. When we got back to Jackson Square, we walked to the cathedral, which neither of us had ever visited before, so we went in and spent some time looking at the inside. Most interesting were the statues of Joan of Arc and King Louis IX of France (St. Louis, namesake of the cathedral).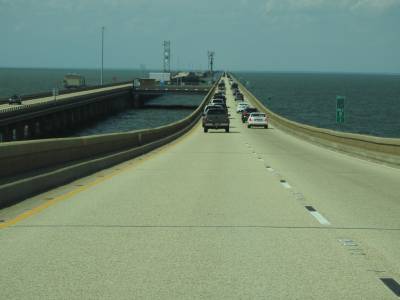 Crossing the Lake Pontchartrain Causeway
When we got outside, temperature had reached 104, and the humidity was high, and we therefore walked rather slowly back to the car, the cooler and some nice cold water. We headed north through town to Veterans Boulevard, and then west - the opposite direction as we were actually going. When we reached Lake Pontchartrain Causeway Boulevard we headed north. Our goal was to cross Lake Pontchartrain on the Lake Pontchartrain Causeway, the longest bridge in USA with it's almost 24 miles. The bridge is probably the longest bridge in the world, that only crosses water without hitting land along the way. We could have taken it south instead but then we would have had to pay toll. Not that we mind paying though, but we didn't have the electronic device used to pay at the bridge. And you only pay toll when driving north to south, not in the opposite direction, so that is why.
This detour doubled the distance back to Slidell, but it was more interesting. The bridge leads from the New Orleans suburb Metairie to Lewisburg on the north shore of the lake. Once here we took I-12 again, this time east. Back in Slidell we found a hotel and got a room. Later, after having relaxed a bit we headed out for dinner. Back in Denmark I had found a restaurant, Nola, that looked nice on the internet, and they served alligator bites, which we had never tried before. The restaurant was good even if a little cafeterialike. The waitres was nice and so was the food (our main course was fish), but gator bites will never be one of my favorite dishes. The texture of the meat was something between chicken and calamares, and the taste a bit fishlike. It was OK but not more that that, and now at least I have tried it. After dinner we returned to the hotel to relax, and get ready for next day's swamp tours.
- Return to Long Bridge Trip page -
- Return to Travel page -