Panning for gems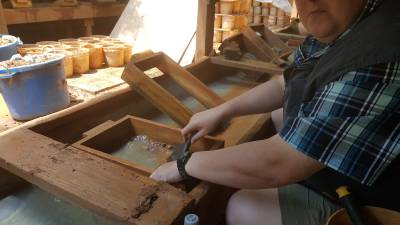 Sluicing at Emerald Hollow mine
It had become the last Sunday of this years vacation. We still had a few more days, but no Sundays. We were heading north from Florence and the goal of the day was Cherokee in North Carolina. We were going there, because Tim wanted to re-visit the Oconaluftee Indian Village, that he hadn't seen since 2000. During our visit in 2012 he stayed at the hotel, while I visited the museum, and now he wanted to make a visit. As it is less than 300 miles from Florence to Cherokee, we had decided to visit the village that same afternoon. We discarded that decision though when we looked up the place on the internet, and discovered that it was closed on Sundays. Instead we would visit the place Monday morning before continuing north. In the neighborhood of Statesville, North Carolina, there were a few other places that we had planned to visit later, but now we decided to visit those on the way to Cherokee instead.
Already in 2015, when I visited western North Carolina, I had discovered that in Hiddenite, close to Statesville, you can visit Emerald Hollow Mine, a gem mine, open to tourists. Unfortunately I discovered it so late that I didn't have time for a visit but now I would make up for that. Before leaving Denmark, I had also discovered that two covered bridges still exists in North Carolina, and as I have a thing for covered bridges, and one of them was not too far from the mine, we decided to do both on the way to Cherokee.
We set the satnav to Hiddenite and for the first time it lead us along rather small roads instead of large highways. We took South Carolina Road 151 from Florence. This small road took us through towns and villages like Darlington and McBee but around Hartsville. We also passed through Jefferson before we reached Pageland. Outside these towns and villages we passed through typical eastern farmland with fields, farms, silos and cows. From Pageland there are only 3 miles to the stateline which we passed almost without noticing. After having passed the stateline the road got a new assignment and was now US Route 601. We followed the road through Monroe with more than 30.000 inhabitants - and a lot of auto dealerships along the highway. Around Matthews we reached Interstate 485, a beltway around Charlotte. Charlotte is the largest city in North Carolina with more than 800.000 inhabitants and more than 2 million in the metroarea. But is does not have a zoo! Actually it is the largest metroarea in the United States with no zoo. The closest zoo is 90 miles away! Well, while talking about zoos we had gotten north of town and changed to I-77, and followed that to Statesville. From here the satnav took us by smaller roads to Hiddenite where we found the mine easily enough.
Hiddenite and the mine is in the low foothils of the Appalachian Mountains just before it turns into the piedmont area of North Carolina. Here was many years ago discovered a rare mineral called Hiddenite. No, the mineral is not named after the village, it's the other way around. The village was originally called White Plains but after discovery of the mineral it changed it's name. Hiddenite, a greenish mineral that looks like emerald, is also found in very small quantities in Brazil, China and on Madagascar. By the way it's rare in North Carolina as well. At Emerald Hollow mine you can do different things. Digging, creeking and sluicing. Digging means what it says, you are actually digging in the mine. Creeking means that you go down to the creek with a shovel, shovels up gravel from the creek into a sieve, wash it out and see what you find. Sluicing means that you get a sieve and bucket of gravel, place yourself on a bench and washes out the gravel in a flume, and that was we did. The price is dependant on which acitivity you choose so we paid $ 10 each and got our buckets of gravel. In 2003 the largest emerald ever found in the USA, weighing over 1,800 carats was found here, but we didn't even come close. A bit of amethyst, some tourmalin, some peridot and a lot of jasper was what we found. I also found an emerald though, but it was so small that you almost have to have a looking glass and a pair of tweezers to pick it up, and if you try to cut it, it will completely disappear. When the bucket was empty, we could have bought another one, but we had to continue, so we gathered our findings and returned to the car.
Our next goal was Bunker Hill Covered Bridge in Claremont 25 miles east of Statesville. We found it easy enough and parked the car. From the parking lot we had to walk a couple of hundred yards into to a small forest to get to the bridge. It was a rather small but nice bridge. It was constructed by the haupt principle, named after Hermann Haupt, engineer, bridge builder, railway constructor and union general during the civil war. When we were done looking at the bridge and walking across it and back, we returned to our car. We continued to our favorite interstate, the I-40, and headed west. We passed Asheville and shortly after, in Lake Junaluska we left the interstate and changed to US 19. It took us through Maggie Valley, a small valley with a skiing area and infamous to Danes as the place where quadruple murderer Peter Lundin committed his first crime by murdering his mother before returning to Denmark where he murdered his girlfriend and her two children.
From Maggie Valley we continued to Cherokee. Cherokee is the main town of the Qualla Boundary, an area owned by the Cherokee tribe and managed by the Bureau of Indian Affairs, not a reservation in the traditional understanding of the word, even if the sign when you enter the area actually says Cherokee Reservation. As we approached Cherokee we passed the big, ugly and unsightly, but for the tribe profitable Harrah's Cherokee Casino. We followed main street to our hotel and got our room.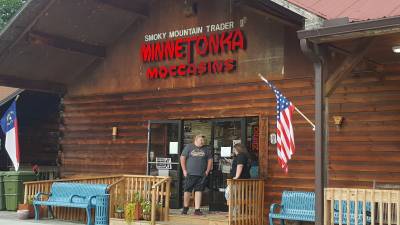 Gift shop in Cherokee
After having relaxed in the room for an hour or so, we went out for dinner. We chose a place close to the hotel, where we ate four years earlier. The food was ok, but a lot of things went wrong for the poor waitress, without any of it being her fault. But she was left with the problems. Lucky for her, it was us she was dealing with, not some of the people that spend their time dealing out perfidious criticism on different internet sites like TripAdvisor, whenever something is not exactly as they expect it to be. But we were on vacation, so we look at things in a positive way. We ordered a coke and a Sprite but she brought us two large glasses of water as the soda fountain had broken down. When it was working again she brought us our sodas but in to-go cups as they were out of glasses, but it didn't influence much on the taste. The dishwasher couldn't keep up with the demand. I ordered a salad with no cheese, but when it arrived it had cheese on it. Normally I don't complain about things like that, but I simply don't eat salad with cheese. I like salad and I like cheese, but not put together. So she had to bring the salad back to the kitchen and bring me a new one which she did. Then came our starters. Unfortunately not what we ordered, but the kitchen were out of that kind of meat, so the cook had created something similar but not quite as tasty. Every time something went wrong, she apologized and was very sorry. Finally our entree arrived and it was not just the right thing, but it was very good as well. When we about to pay, the poor waitress looked like she didn't expect any tips at all, but we tipped her just the same and excessively at that. The smile on her face made it all worth it. They look so pretty when they smile those Cherokee girls. I'm sorry I'm not 40 years younger- and Cherokee. And yes, we will definitely eat there again, when we come back to Cherokee.
After dinner we walked down to the center of town and visited a few gift shops to buy some souvenirs to bring home as gifts. After that we returned to the hotel and surfed the internet for the rest of the evening.
- Return to Long Bridge Trip page -
- Return to Travel page -