Back to the past
As mentioned in the previous article, Oconaluftee Indian Village is closed on Sundays, so we had postponed our visit to Monday morning. The village doesn't open until 10, so for once we could sleep a little late. Even so we were in good time when we left the hotel, so we took the opportunity to visit Qualla Arts and Crafts, at store where they sell the works of local artisans. Everything from weaved baskets, over pearl embroidery to wood carvings and more. Unfortunately everything is rather expensive. A small basket, about 5 inches tall and 5 inches in diameter and mostly useless, but I liked it until I discovered the price. It could be had for only $ 160, and a elk, carved in wood, around 8 inches tall, that I also liked was just $ 500, so I abandoned the thought of buying anything, so we left the store and headed for the village.
We arrived early enough to get on the first guided tour after having bought our tickets. The village shows Cherokee life around 1750. The guide took us round to several stops where old crafts were shown. First stop was finger weaving and I was impressed how tight the fabric could get, the women using only their fingers. Three women were busy weaving while our guide explained. Next stop was pearl embroidery. Tim was very impressed and found that one of the busy women must be autistic to some degree, as all her pearls were sorted out per color in small piles, and not a single pearl was out of order. I was more impressed by the traditional I-Phone on the table in front of her. The tribe must have been far ahead of it's time in 1750. The guide explained that today the "pearls" were plastic and imported from China and Korea, but in the old days, the women made them themself from glass or clay, which they colored with plant colors.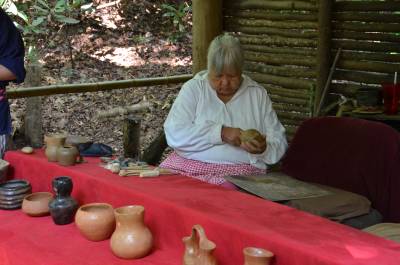 How to make clay pots.
Pottery was next. Only one woman worked here, and when someone asked her how much time she spend on a pot, she replied that it depended on the size. The small one she was busy with could be made in 30 minutes, while larger ones could take almost a whole day. The pots were made purely by hand with no use of a turntable. From pottery to wood carving. Three guys were busy carving ceremonial masks. They were very talkative and loved to tell us all about their work. We then continued to basket weaving. In the old days it was a woman's job to weave the baskets, but in this modern day and time, the job was taken over by a man. The guide told us that they could make baskets so tight, that they could contain water. The guy tolds us, that an 8 inch tall, 10 inch in diameter basket would take him about a week to make. Two weeks if it should be watertight. That gave me a better understanding of the prices in the Arts and Crafts store.
The final stop on the guided part of the tour was the weapon maker. He was busy making arrowheads out of flint, using only two small stones and a piece of elk antler. He surprised most of us by telling that the making of an arrowhead only took about 15 minutes. We had thought that it would take far longer. He also told us about the two types of arrowheads he made. Some with rounded shoulders to be used for hunting, as the rounded shoulders made it easy to withdraw the arrow, and some with edged shoulders, to be used for war, as the edges prevented the arrow from being retracted. The arrowhead had to be cut out, or the arrow pushed all the way through whatever bodypart it had hit. Before we carried on, he demonstrated his skills with the blow gun.
Before saying goodbye to the guide I asked her about the Cherokee language. She told me, what I aldready knew, that nowadays they taught to children in school, but that she herself only knew 4 or 5 words, which she demonstrated by telling me, that the word "yona" mean bear. That sounded right as the first ever principal chief of the Eastern Band of Cherokee Indians was called Yonaguska - Drowning Bear.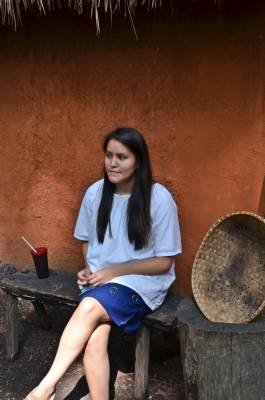 A young Cherokee girl outside a traditional 1600s cabin on a traditional bench dressed in traditional clothes next to a traditional woven basket. Notice also the traditional Coke in the traditional 1600s plastic cup next to her. That must have surprised the whites when they got to the area around 1650.
We continued through the rest of the village on our own. At the canoe making stop a guy was actually working on a canoe. He told us that it would take around 9 months to make a good canoe from a tree, if the tree had been down for a year or more, when he started. So making a canoe and making a child take about the same time, but going fishing you will have more use of the canoe :-). Going on we visited the dance square where a sullen-looking young man told us that the Cherokees were very cheerful people that not only danced ceremonial dances but also more mundane dances - just for fun. He also told us of the seven clans and what their task were in the tribe. All in all this cheerful young man from the cheerful tribe entertained us for about 35 minutes without smiling one single time. A winter cabin and a visit to the council house, where we were told about Cherokee family life, completed the visit. Along the way to the exit we passed a replica of a 1800 cabin outside which was a lady that looked so angry that we didn't dare ask anything. Instead we taled a bit with a young girl who sat on a bench outside a replica of a 1600 cabin. We talked more of her than of the tribe though.
The exit was through a traditional gift shop, and I bought a few books and a T-shirt before going to the car. After our visit to the village we left Cherokee and headed back towards Lake Junaluska and I-40. We followed I-40 around Asheville and to Morgantown. Here we changed to US 64 and continued north to Lenoir. From Lenoir we took NC 268 to Wilkesboro. Along the way we made a short stop at The Chapel of Rest to give Tim a chance to see the blood spot that can't be washed off the floor. We also made a short visit to the cemetery to look at the grave of Brigadier Collett Leventhorp, a British author and physician who became an officer in the Confederate Army during the civil war.
We continued to our goal in Wilkesboro, where we once more visited a Walmart to get water, fruit some roasted rye bread chips, spiced with salt and garlic, that I had come to like along the way. We once again had dinner at an Applebee's. The weather had been nice all day with a sunny sky, calm winds and temperatures between 85 and 90. The previous day we had driven 666 km (413 miles) from Florence to Cherokee, and today we drove exactly half that distance, 333 km (207 miles).
- Return to Long Bridge Trip page -
- Return to Travel page -