Against stupidity.

..
It was time for me to say goodbye to Rose and continue my trip. As soon as I left, and Rose had done my room, she would be off to vacation herself. Her car was packed and she figured that half an hour after I had left she would be on her way to Florida where she would stay with her sister until the next day before going to Europe on a trip that ao. included Venice. I had ordered breakfast at 7.30 and when I came down to eat it was to a big surprise. On the table were the usual fresh fruits, orange juice, etc., as well as a serving of fried eggs and toast. On the other hand, there was no coffee! Shortly afterwards Rose entered from the kitchen with a smoking hot German "pancake" with apples, cinnamon and sugar, which I didn't remember ordering. Rose told me that when she got home the day before, she had doubts as to whether I meant it, but as I had gone to bed, she would not disturb me to ask, and then she'd just made it. She showed me my order form, and I could see that for unknown reasons I had marked pancake instead of coffee! I told Rose that I was sorry for the trouble, but I would have to leave the pancake, which, in addition to its impressive size, is too sweet for my taste. "It doesn't matter" was Roses' answer. "Then the dog gets it, He will love it." The dog, Finegan, went with her to Florida, but not to Europe. In Florida, it would be looked after by her sister's children. The coffee came lightning fast and then I started my breakfast and, as expected, I did not eat even one small bite of pancake. I had already put my suitcases in the car before I ate so I picked up my backpack in the room, said goodbye to Rose with hugs and everything, and then I left the Irish Rose, if not Lenoir, for the last time on this vacation.
Today's goal was Winston-Salem east of Lenoir. It was only a short 80 miles (130km) drive by the shortest route, so there was plenty of time to see things along the way. From home, I had planned three attractions that I would like to see. I managed two of them while the latter was postponed to a later date. On the other hand, I saw something that wasn't planned until the next day. My first goal was the little village of Hiddenite, not least the Emerald Hollow Mine, where I would again try to wash gems out of gravel. However, this was the one I chose to postpone, and instead I headed for Pilot Mountain State Park, a 100 miles (160 km) drive. Pilot Mountain State Park is located approximately 20 miles (32 km) north of Winston-Salem, so I was going in the right direction. I took the shortest route, which means NC 18 from Lenoir to Wilkesboro, then US 421 until it met I-77. Then north on I-77 to I-74, and then southeast for a short distance before driving south towards the park on smaller roads. Later, I regretted that I had been on the interstate, so I missed Dobson, county seat in Surry County and other towns with exciting names like Black Water, Ararat and others. On my way to the park, I made a detour to the town or village called Pilot Mountain - oh yes, Pilot Mountain is a town as well as a mountain. From Pilot Mountain I headed for another small town, Pinnacle. Shortly before I reached this town, there was a side road leading right and my GPS directed me to take that, so I obeyed unconditionally. Soon I could see Pilot Mountain in the distance. Along the way I made a single stop, so I could photograph the very distinctive mountain from afar. When I reached the park, I made a short stop at the park's Visitor Center. I had previously tried to call home but with no luck, as there was no cell coverage. But here, a good way up the mountain, there was. I called Tina, after which I continued to the parking lot. This is located on the mountain Little Pinnacle, not on Pilot Mountan, but on the top of Little Pinnacle, there is an outlook, with view of Pilot Mountain, but also of the Yadkin River Valley.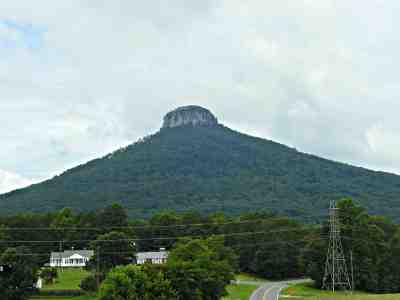 Pilot Mountain seen from Pilot Knob Road.
I found a place to park the car, and then just walked to the edge of the parking lot to admire the view of the Yadkin Valley. Then I "climbed" the mountain to the overlook. It is not as remarkable as it sounds as an uneven but easily accessible path leads to the top. On the other hand, the heat meant that I was somewhat cooked when I got to the top after walking the approximately 1,000 feet (300 m) of the path. Along the way, I spoke with two elderly black ladies (they were probably my own age) and they also thought it was both hot and strenuous, but now they would go up and up and see that f...... mountain! And they got up there - and so did I. Once up there I took a selfie (one of the few I've ever taken), with me in the foreground and the mountain behind me, which shortly after, when I once again had cell coverage, was put on Facebook as a profile picture - so everyone could see what I had gained from my efforts. I walked back to the car and sat there and enjoyed the view and tried to get online before leaving the place. That didn't work at the time though. Although there was a lot of phone coverage and data roaming was turned on, it continued to tell me that I was offline. Ah yes, that technology.
As my next goal, I chose the town of Danbury, county seat in Stokes County, as I had gotten into my head, that I wanted to see a county seat in Western North Carolina on that particular day and had missed Dobson. Danbury, with its fewer than 200 inhabitants, is by far the smallest county seat in the entire state of North Carolina. From the state park there were only 21 miles (33 km) to Danbury, and although it was by small roads, it did not take a very long time. Before I was going to see the town, I needed petrol, but the only gas station in town had only one pump and a long line of waiting cars. Another gas station sold only diesel, so I asked my GPS for advice. It argued that there should be another gas station a bit out of town in the direction of Hartman (another small village). It was also true, but it seemed that this station had been closed for several years. Then I turned around and drove back to Danbury, and continued, northwest and after 5 or 6 miles I actually found a large and well-equipped gas station, so besides filling up with gasoline I also used the opportunity to buy a sandwich and a cup of coffee. Then I set the course back to Danbury, where I parked the car and saw all that was to see in town. It was limited to the courthouse (which also housed several other public offices) and the town hall, a fire station and an older interesting building whose original purpose I never figured out - but it had a smaller tower. It may have been a school or other public building, or maybe a former church, as the road it was on was called Old Church Road, and there were no other buildings with an ecclesiastical look nearby. However, I did not doubt that it was at least a former public building, but that it might now be used for offices, as the traditional American flag wasn't flown outside. It and the other interesting buildings were photographed as documentation because I had been there and then I drove on.
The next goal was another state park, Hanging Rock State Park, and it was only 5 miles from Danbury, so I was there almost in a blink of an eye. I found a car park at the visitor center, which I visited. Here I was "attacked" by an immensely friendly and accommodating female park ranger who told me what to see in the area and how to find it. The park is named after a special looking rock on a mountain, and it was a 3.4 miles (6 km) hike back and forth, so at a temperature of almost 40 degrees Celsius (104 F), I refrained from it. Instead, I could enjoy the view of the mountain from a viewing platform just opposite the visitor center, so I decided to do just that. In addition, she explained to me how I, when I left the park again, could find a very beautiful waterfall close to the road. And finally I got a map that showed some of the things I could see and the paths I could hike. After taking pictures of the mountain with the rock (the rock itself was not visible from the outlook), I studied the map to see if there were other options. And of course there were! On the map I was able to see, a path led from the parking lot to a waterfall, Hidden Falls. This trail should be about half a mile (800 m) each way, and was categorized as "easy", so I decided to take this short hike.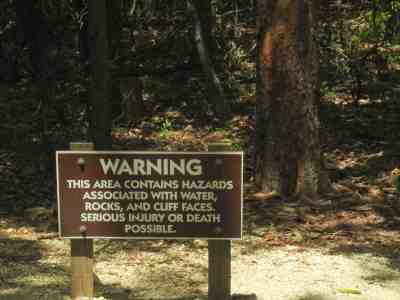 Sign at the beginning of the Indian Creek Trail or in my case the trail to Hidden Falls.
The trail started from one end of the parking lot, so I walked there. At the beginning of the trail was a sign that warned you, that you were about to die. Or in any case, should look out as there were many hazards in the area that could cause serious damage or death, such as water, rocks and cliffs. So I prepared for the worst, wrote my will and started down the path. As promised on the map, the trail was quite easy as it went downhill. It gradually became steeper, and I had to slow down to avoid falls and injuries - even with my will in order, I wanted to live a bit longer. When I got approximately a quarter of the way down I passed a roofed picnic area with a faucet, and it was after that, that the trail was getting steeper. I met only a few people who walked in the same direction as myself and a single person or two who were heading in the opposite direction. After approximately 15 minutes I reached a platform above the waterfall, which was definitely hidden because it could only be seen between the dense growth of bushes, even though you could hear it clearly. The trail continued towards another area, Indian Creek approx. 3 miles further on, and I might have had a better view had I continued, but I did not. So when I had been staring at the leaves for 10 minutes or so, I started going up again, heading back to my car.
The temperature was still close to 40, and here in the valley between the trees the humidity was high and stupid as I was, of course I did not bring water, which was stupidity number 2! It said on the map that the trail was easy, so it would not be necessary, or so I thought - even though I have warned other people in several articles to always bring water when they go out for a hike, especially in summer! The trail had been easy on the way down, but definitely not as easy when I had to go up again. The first piece of the path were easy (about 25 m or 80 feet), but then it started to go upwards, and in several places it was so steep that a stairway had been dug. At regular intervals I had to sit down to to catch my breath, because I definitely was not in the best shape, unless "a little or a lot too round" is a good shape. The stupidity number one was that I did not immediately turn back when the trail started going downhill, not least because I had made exactly the same stunt in 2015 at Linville Falls. At that time it was 700 m (2,300 feet) downhill and 700 m up again, and although it was November and not nearly as hot as in July, I was about to die on that occasion - or at least it felt like it. Against stupidity the very gods themselves contend in vain, as Schiller wrote - and in hindsight you are always wiser. During one of my breath catching breaks, a young lady in her twenties stumbled up the hill, and when she saw me, she sat down next to me on the stairs and we started talking. She was with some friends, but had gone ahead and soon the friends showed up on the trail. Three young men and two more young women. One of the ladies was wearing a backpack, and she was kind enough to offer me a bottle of water before the group went on, which I thankfully received. She will probably never read this, but I want to thank her anyway. I think she saved my life, or at least ensured that I did not dehydrate too much. Although the water was lukewarm, it was water!
After a brief rest and a drink of water I continued the ascend. I did not take any more breaks but slowed down occasionally to catch my breath. When I reached the picnic area and the faucet, I could replace the now not only lukewarm but hot water in the bottle with something that was if not cold, then at least colder. While I was busy with this activity, two hard breathing women in their 40s caught up to me and sat down on a bench at the picnic area, and so did I. Of course we started talking as you often do, if you are sharing discomfort. The heat and humidity was a good starter. Eventually we talked about other things, and as true Americans they asked me where I came from, and when I told them, they would of course know what I was doing here in the wilderness of North Carolina? I told them and they told me that they were sisters and originally from New York state, where one them still lived while the other had moved to central North Carolina. Now, the sister from New York was visiting, and as it was the first time for several years that the two sisters were alone together without men or children, the sister, who had moved, wanted to show the visitor who had never visited North Carolina, the attractions of the area. It is incredible what kind of information you can exchange even in an exhausted condition on a bench in the summer afternoon heat. After 15 minutes, we continued ascent together, which were now considerably easier on this last stretch, as the trail was not flat but at least not as steep which I knew from the way down. If this was an "easy" hike, I dare not think how a "moderate" or even worse a "strenous" would be.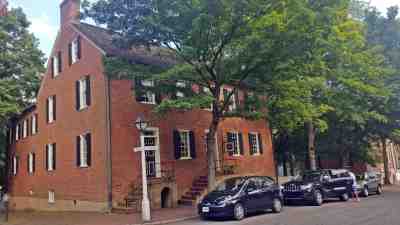 Augustus T. Zevely Inn. The entrance to my room was in the garden behind the building a little down the side street.
When I finally reached the parking lot, my T-shirt and my underpants were soaked and I was sweating like a pig. Since I had left the picnic area 10 minutes earlier, the water in the bottle again became unbearably lukewarm, so when I reached the car I got two bottles of water from the ice box. One I drank while pouring the other over my sweaty head. When I felt reasonably ready again, I got another bottle of water for use in the car, and then I was ready to set the course for today's final goal. I was considering a visit to the waterfall on the outskirts of the park, which the helpful ranger had told me about, but didn't think it was necessary, and I also I feared another uphill stroll. Well out of the park, I headed north following the recommendation from the GPS, even though I thought it was a detour, but on the other hand, the lady in the box probably knew better. Via North Carolina Highway 68, I got to US Highway 52, which is called Pilot Mountain Parkway on this stretch. I followed this route through the old Moravian town of Bethania to Winston-Salem (which is also an old city founded by the Moravian Brotherhood in 1766 under the name Salem. Winston was founded later, and in 1913 the two cities became united to one.
I quickly found my hotel, or rather my inn, Augustus T. Zevely Inn, located within Old Salem Historic District in a 1844 building, which has housed an inn since 1845. Here I rang the bell and was let in by an elderly lady who told me about the place and gave me an electronic key card for the main and back doors and a plain old-fashioned key with brass plate attached to it, that would open the door to my room door. The reason everything was locked up, she told me, was because many tourists thought that the house like so many others in the historic district featured an exhibition that you could visit and therefore just entered the building. I was also told where breakfast was served and that it was served between 8 and 10. Unlike at Rose's there was no menu you could choose from, but it proved to be fine just the same. Eventually she showed me the way to my room, which had a separate entrance from the garden. The room was an old powder magazine. At least it was called the "Gun Powder Magazine Room", but I thought it was strange to place a powder magazine in a room under the residence! But the room was fine, so I moved the car from the street to a parking lot that was reserved for guests at the inn behind the building with the parking entrance on the next street. Then I carried one of my suitcases inside. This I had prepared before I left Rose in the morning, so all I needed for two days was ready in the smallest suitcase. The other I left in the trunk of the car. Then I rested my sore thighs on the bed for an hour. At seven o'clock, I had become a bit hungry, not having anything for lunch, so I used the internet to locate the closest Applebee's.
Before I left, however, I went straight across the road to the Tavern in Old Salem, where I had been recommended to eat by my good acquaintance, Charlotte Frye, who was born in town, even though she had moved away from there. My purpose was to look at the menu and the prices, as I had heard that the place was not the cheapest, and it wasn't, but not too bad either, so I decided to have dinner there the next day. Then I could finally have a glass of wine as I figured I could either walk or, at worst, crawl back to the inn. When I picked up the car to leave, a lot of young girls left a building across the street from the parking lot sat down on benches or on the grass, which surprised me a lot. Later, I found out that they were students enrolled in some kind of summer school at Salem College, housed in one of the university's residential buildings.
Unfortunately, Applebee's "2 for 20" offers can not be split. The waitress laughed when I suggested that I could have "1 for 10" but it didn't work so I had to buy my usual hot buffalo boneless wings starter at full price and as there is plenty when you are not sharing, I didn't order an entree, but just a house salad - I often did on this tour. Back at the inn, satiated and satisfied, I just checked my mail and there was a new mail from Charlotte and Bill Barnes who suggested that we should meet at the entrance to Whippoorwill Academy and Village at Ferguson, which they knew I had visited several times, when we were getting together two days later. I wrote back that it was OK and we agreed to meet at 9.30, which was a bit early, but you are on holiday...
- Return to Summer in Western North Carolina -
- Return to Travel page -