Where is Ohio
Driving far is not a problem in the United States - as long as you have enough time. Finding a hotel is normally not a problem either, they are virtually at all interstate exits, and then there's the hotels in major cities and many elsewhere as well. Wilkesboro is not a major city. It has about 3,000 inhabitants and twin city North Wilkesboro has just over 4,000. The two cities lie on either bank of the Yadkin River. Although the cities together have almost 7,500 inhabitants, the two hotels in town, are still slightly below what we were used to, so we were glad that we had booked a room from home, not least because we had perhaps never found the hotel if we hadn't known that it was there. It should however get worse already later this interesting Thursday when we had to look far for a place to stay.

This should end up being the longest drive of the whole trip, meassured in both distance in time. We got up early (at 6.00), because we had to be at Wippoorwill Academy a little before nine. This visit I have told about in the article Three days in Dooley country.

After the visit and tour to various Dooley sites, it was a little after 11 am, so it was time to get north. Over the next two days our plan was to reach Jamaica near JFK, where we had booked a hotel for the night between Friday and Saturday before we had to fly home. We therefore agreed to take freeways as much as possible; drive so far we felt like, and then find a hotel. We returned to Wilkesboro NC and continued east on U.S. 421 until we met I-77, which we took north. We crossed the border to Virginia and continued northwest. When we met I-81 we took that northeast through the Shenandoah Valley. Tim would like to see Robert E. Lee's and Stonewall Jackson's graves in Lexington, and I-81 passes close by. When we got that far, we left the interstate and changed to U.S. 11 going over Virginia's Natural Bridge. Once in Lexington we found that there were no available parking lots near Stonewall Jackson's tomb, so we agreed to get back to the interstate and just continue north. We then started to talk about where to leave I-81. Out plan was to head east to I-95 and then north to New York City. We could take I-64 at Staunton and meet I-95 in Richmond, Virginia as Dorte and I did in 2004, or we could continue north to Strasburg and take I-66 to meet I-95 near Washington DC, as we did with the kids in 2000. In the end, however, we did neither, as we agreed to waive I-95 altogether. This would of course mean that we wouldn't come through Delaware, thus adding another state to our list. But we agreed, that as we would only pass through the state anyway, it didn't matter much. Instead we decided to stay on I-81 to Harrisburg, Pennsylvania, and then turn east. This route would take us through a small corner of West Virginia and a correspondingly small corner of Maryland.

The only stops we had made since Wilkesboro, was for biological reasons, like lunch and such and to change the driver, and we continued with just those kind of stops for the rest of the day. At Harrisburg we turned east towards Allentown on the border between Pennsylvania and New Jersey. We decided that when we had passed the border we would find a hotel. There was just no hotels when we got that far! Normally there are signs at the interstate exits announcing gasoline, food and lodgings, but here there were only signs for food and gasoline, no hotels. Our GPS had at this time almost stopped working, so it was of little help. When we were well into the New Jersey we decided that if we had not found any hotels when we got to exit 19 (19 miles from the border), we would turn around and drive back to Pennsylvania where we had seen several. As it happened, Tim, who was navigator at this time, made another attempt with GPS and got it working for a short while and this time it knew a hotel a little farther to the south and roughly in the right direction. On the other hand the GPS led us away from the interstate and along tiny roads, not out in the wilderness of New Jersey, for such does not exist - at least not here, but through small settlements and industrial areas, where one town turns into the next. We were in the gigantic megalopolis that extends at least from Washington DC and up to Boston on the eastern seabord of USA. We eventually found the hotel however, and not far from there we passed a TGI Friday restaurant where we could have dinner later.

It turned out that the motel had only one room vacant and it was a smoking room. On the other hand, it was on the ground floor with parking right outside the door, and as we had no energy to go on, we chose to stay there. It turned out that the smell was not that bad. We dragged everything from the car trunk, icebox, bags, waste and so on, since it was our plan to pack all our stuff when we had eaten, so everything was ready for the return of the car Saturday.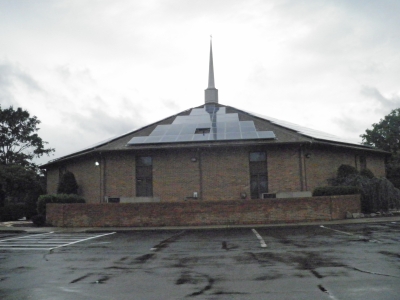 When we had carried everything inside, it was around 9.15 pm and we had gotten quite hungry, so we drove to the TGI Friday we had seen. When we got there, we asked the waitress where we were (we did not actually know what the town was called), and she could tell that we were in Bridgewater, New Jersey. When she told it, I looked at her and asked with some panic in my voice: "Are you sure that it is New Jersey? Are we not in Ohio?" That made her look rather strange at me, and it didn't get any better when I looked at Tim and said (in English): "So we should have turned left at that traffic light after all". At this time, I think it dawned on her that it was a joke, because when we both laughed, she smiled a little cautious. After dinner we drove back to the hotel, where we decided to postpone repackaging to the next morning, as it was actually almost 11 pm.
I later learned that Bridgewater was the place where the first American flag was hoisted on June 14th 1777. Therefore the town celebrates the flag every year on 4th July, when the city's flag is replaced and Declaration of Independence is read. A flag with 13 stars (the number that was originally in the flag) is always flying above Washington Campground, located where the first US flag was ever hoisted.

The sun had been shining in the morning, when we were in Dooley country and it stayed like that as we drove through Shenandoah Valley. When we reached Pennsylvania there were a some clouds and we got a few raindrops, but not many. The temperature was about 88 degrees when we visited Mrs. Carter, but increased over the day to 98, before going down again as we got further north. When we reached Bridgewater by around 9 pm it was as low as 73. The locals were probably happy about that, as in the weeks before they had had heat wave on the East Coast with up to 106 degrees in Washington DC and 109 in some places in New York. We heard in TV that 46 people, of which some had been children under 12 years old, had died as a result of the heatwave.

Despite the fact that we didn't leave Wilkesboro until around noon, we managed a good distance today. There is something about Elkville and getting out of there; Dorte and I didn't leave until 2 pm in 2004, although we had planned to leave several hours earlier but we were only going to Charlottesville, Virginia. Actually Tim and I set two records on this day. We managed to visit six states, although some of them were only pass through. The earlier record was 4. We drove 605 miles; also a new record as the previous was 542 miles.
- Return to Cross Country Tour -
- Return to Travel stories -