Finally - A visit at Tom Dooley's grave
Today was the last day before I had to head north and fly home to Denmark. After the busy and late night, I slept somewhat longer than i usually do. It was therefore 9.30 am before I left the hotel. Once again the first goal was the Blue Ridge Parkway, and once again I took U.S. 421 to Boone From there, I drove south on the parkway. The weather was not as good as the day before, overcast and drizzly, and later the drizzle turned to fog when I got up into the mountains. I did, however, make some stops on the way south, and acutally got some very good pictures of autumn colors.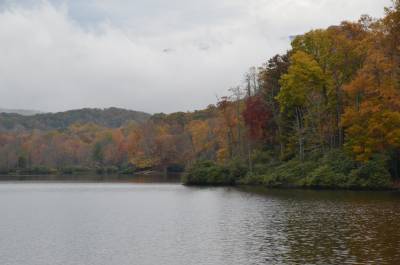 One of the places where I stopped and went for a walk, was at Price Lake not far from Blowing Rock, and here there were some nice colors and the lake was also nice. I continued south past Grandfather Moutain and Linville Viaduct, but this time the latter was hidden in haze, so there was not so much to see. I continued further south past Linville Falls and the NC 181 exit, still with various stops along the way. When I reached the town of Black Mountain, I left the parkway and thr smaller roads, and switched to I-40. As it was a Saturday my plan was to visit Whippoorwill Academy and Village in Ferguson, which is only open on Saturdays and Sundays between 3 and 5 pm. However, it was at this time only around 12.30 so I had to spend a few more hours before heading back.

I decided to take the interstate to Statesville and then go north to Union Grove, located in North Carolina's small Amish area. Maybe I could spot an Amish! It took me just over 1 hour to drive the approx. 100 miles. Unfortunately, I didn't see any Amish. They probably stayed at home on a Saturday. So I had to settle for taking pictures of a sign that warned against horse carriages on the road. I also spotted a couple of turkey vultures in the middle of the road delicating themselva with the remains of some roadkill. When the time was around 2.30 I headed for Ferguson .

I came to "the village" just after opening time, and discovered that there going to be a wedding ceremony at 16 pm. The place has a small chapel, "Chapel of Peace", and it is a popular wedding venue. I parked the car outside the gate and went in anyway. Here I met a lady who was assisting the owner of the place, Mrs. Carter, and she said it was okay for me to take a walk around the buildings prior to the event. Before I left, Mrs. Carter returned in her little electrical golf cart and asked if I would please move my car to the other side of the gate? The bride had planned everything carefully including where each of her guests should park their cars, and now she was very nervous, as she was afraid that the sight of my car would scare the guests and ruin her plans - or something. I therefore moved the car as directed, and so not to make further disturbance, I took a walk around the perimeter of the buildings which are placed in a semi-circle with the chapel is in the center. As usual, I spent most of my time in the Tom Dooley Art Museum, where I once again was looking at the pictures, leafing through books and clippings from papers, and I also admired a new diorama picturingg the hanging of Tom Dooley. Then I went back to Mrs.Carter's small store where I found some brochures about the Dooley case and a DVD with Mrs. Carter's paintings and her version of the legend as well as a book on the history of the western part of the Yadkin Valley and it's population in the late 1800s, which I had long been searching for, but since it is published in 1955, it is not just one that is found in normal bookstores but here it was.
While I was paying for the goods, I had what would turn out to be to be my last ever chat with Edith Carter as she died on May 13th, 2014, and I do not return until this summer. During our conversation I told her that I had not yet found Tom Dooleys grave, despite the fact that she had drawn a map on my last visit. She told me that she had just been out to change the small flag on Tom Dula Road that shows you are now so close to the grave that you can get by road road. I had found that place several times before, but my problem had been how to continue. When I previously had been walking up the dirt road that you must follow, I had been stopped by signs that announced that I was on private property and that trespassers would be shot - or at least reported to the police, and therefore I was certain, that I had been on the wrong track. "Here I was wrong", Mrs. Carter told me. It was the right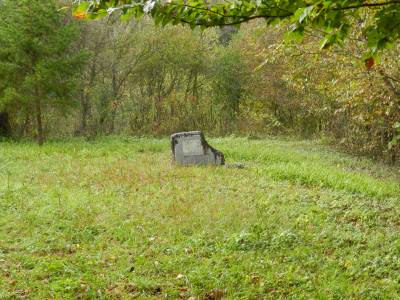 place, and I should just ignore all the warnings as it is illegeal to prevent access to a cemetery and a such it was. While we were talking it began to rain, and before I left Mrs. Carter, it had become a veritable cloudburst - not so great for the nervous bride and her outdoor wedding, only with shelter from a tent pavilion, and the small chapel itself.

Of course I headed back to Tom Dula Road, found the right spot and parked the car. I walked up the muddy dirt road with all the warning signs, and it turned out that when I came to the closed gate, where I had stopped the previous day, I had to turn down a narrow path. In 2012 Tim and I tried the same, but at that time the path was so overgrown that we gave up after 100 yards, but now in October it was much more accessible, and it was also the right path. Tim and I should just have continued another 100 yards and we would have found the grave. This Time - fourth time around - I did. The place is actually a small family cemetery from the mid 1800s, and like many of these, there are no stones or other markers on the graves, except for the grave of Tom Dooleys which has both a headstone and a footstone Both are raised more than 80 years after his burial. In spite of the rain, I took some photos of the grave, whille getting more and more wet.
After visiting the grave I visited a few more Tom Dooley-related sites like the church where members of the Isbell family are buried, and also several other sites, some of which I plan to explore some more when we pass the area in July 2014. It had now stopped raining and the sun was shining, but at this time I didn't care. I was back at the hotel around 5.30 and immediately headed out for dinner. After dinner I drove back to the hotel and packed my suitcase and bag, so I was ready to leave early the next day.