Heading for Florida by pirate ship
We had been to Florida before, but this was the first time, that we were going to spend 7 consecutive days in any state. We would stay overnight in 5 different places. This visit gave me the largest number of pictures I ever took in one state on one holiday (600+). Some, but not all of these will be shown in my Florida album at usa.kronsell.net along the way.
Up until now, we had always taken the same way from Louisiana to Florida. The I-10 to the Lousiana-Mississippi state line, US Route 90 through Mississippi, and then I-10 through Alabama, with a little detour in 2012. This time would be a little different though, as we would simply stay on I-10 until we reached Florida. Our original plan had been to spend the night in Pensacola, but already before leaving Denmark, we had agreed on continuing on to Tallahassee as we were using the freeway.
From Slidell, where we had spent the last two nights, to the state line are only about 6 miles.The state line follows Pearl River, which is the eastern border of Honey Island Swamp, the location of the swamp tours the day before. Absolutely nothing exiting happened on the way through Mississippi, as the freeway led us around the larger towns like Gulfport, Biloxi and Pascagoula. The distance across Mississippi is about 75 miles, and with no traffic it took us only a little over an hour. We therefore decided to carry on, and postpone our first break until we had passed Mobile. As we approached Mobile, I got a single, not too good picture of the skyline. I succeeded in getting a rather ok picture of Battleship Alabama though, without us stopping. Today USS Alabama is part of an exhibition in the port of Mobile. As most will have guessed, Tim was driving the car on this first stint. When you pass the Alabama (the battleship) you are already on another of the long bridges, that we crossed on this trip. Jubilee Parkway that crosses Mobile Bay is only 8 miles long, but still number 6 on the list of longest bridges in USA.
Well across the bridge and the bay, we continued east. Somewhere around the small town, Robertsville, our car was needing some fluid, and we needed to get rid of some. We therefore decided to make a stop at the next exit with a gas station. Also we needed to switch driver. At the next exit, Exit 53 (thats is 53 miles after the state line), we left the interstate. Very often there are several gas stations to choose from, but here we only had a large truck stop. The prize of gas was a reasonable $ 1.91/gallon. Tim parked the car next to a pump, and entered the building, while I filled up the car. This proved to be one of the places, where I could actually pay at the pump. Most gas stations have this opportunity if you are living in USA, but not all can be used by foreigners, as you have to key in a zip code, and not just any zip code, but one that matches your credit card, which we haven't got. At times you can "cheat" by typing '00000' og '12345' but not everywhere. Then you have to go inside and pay in advance. But here no zip code were requested, so I just paid at the pump. Actually on this trip I did most of the "filling up", as Tims credit card for some reason normally don't work at gas stations, but gives no problems in restaurants, ticket offices, shops or using ATM's. Anyway, when I had completed my task, I entered the building as well.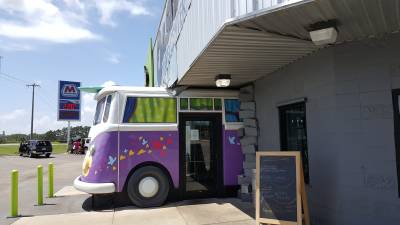 The entrance to Oasis Travel Center through half a bus or mini bus.
This was when I got my first surprise. To enter the place, you had to walk in through a bus - or at least part of a bus. Strange but fun. Inside the room was large, with among other things two restaurants, and the usual general store. I used the rest room and then bought something to drink and a sandwich. When I got to the cashiers desk, I got my second surprise. The area was made out like a pirate ship, hence the header of this article - we didn't actually sail on one. The name of the place was Oasis Travel Center, and in 2010 we visited a truck stop in Idaho. That was called Travellers Oasis at Garden of Eden and was build up around a Garden of Eden theme, more in the article 1000 miles to the Pacific on the 2010 Father and Son: Wild West Adventures travel page. I wonder if the two truck stops are somehow connected, but have been to lazy to look it up. When we left the place we noticed that railway wagons was placed on other sides of the building! Anyway, when we were done, we continued east on I-10 to the Alabama-Florida state line and Pensacola. In Pensacola we left the interstate and turned south on US Route 98 through town. We were heading for the northern coast of Florida, only in a southern direction, or how to put it. That is the coast of northern Florida to the Mexican Gulf. Anyway it's the coast of the Florida panhandle, if you know what I mean?
Once again we had to cross a bridge, but this time an undersized one, only 3 miles long. The Philip Dane Beall Sr. Memorial Bridge crosses Pensacola Bay and leads to the Fairpoint Peninsula. Up until this point the trip had been easy, but now we met heavy traffic, and the 162 miles to Apalachicola took us almost six hours and the first 130 miles to Panama City Beach took more than four! Because of the heavy traffic and the slow speed, we had enought time to enjoy the scenery and the view of the Barrier Islands along the coast. This is where the rich people live we were told. The less wealthy lives at the beach as well but on the mainland. I don't know if its true or not, but it's a good story. At least the appartment buildings on the islands looked like they would be rather expensive to live in. We were later told, that while wealthy people from the cold northern states move to southern Florida, like Fort Lauderdale, Miami Beach and other places, wealthy Floridians move to Barrier Islands, where it is not quite as hot in summer as in the southern part of the country, while the beaches are as good as further down south and the weather is normally as good year round.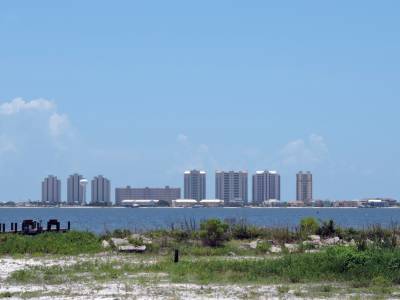 Apartement buildings on one of the Barrier Islands.
The whole way to Panama City Beach it was stop and go driving. This was due to the many traffic lights, and even if we were on the highway, the red lights often lasted six or seven minutes. But we enjoyed the view of the Santa Rosa Sound between the mainland and islands. A lot of people were enjoying themselves on the water, waterskiing, hanggliding, jetskiing and so on - and a lot of yachts and smaller boats were filling the waters as well. In Mary Esther (yes, it's the name of a town, named after the daughters of the first postmaster of the place) Route 98 leaves the mainland and continues on the islands until the row of islands stop near Destin, and you continue on a pensinsula for the next 23 miles until you reach the "real mainland" near Point Washington. Along the way we passed small towns like Destin and Miramar Beach, and everything reminded me of The Hamptons on Long Island, see the article Heading for the big city on the 2014 Big City Tour.
When we reached Panama City Beach four hours after leaving Pensacola the traffic got less heavy but now speed limits was down to 35 miles so we didn't go much faster. 50 minutes later we made a stop in Mexico Beach to get a few pictures of a strange lighthouse, then we continued east or rather southeast, and later almost due south to Port St. Joe. After Apalachicola we were almost alone on the road but still the low speed limit. After having John Gorrie Memorial Bridge between Apalachicola and East Point (a rather short bridge, only about 4.6 miles) we continued to the small village of Medart north of Ochlockonee Bay. Here we changed to US 319 to Tallahassee, our goal of the day. Along the way we lost an hour crossing from central to eastern time, and it was 19.30 local time before we reached Tallahassee.
We found a hotel and headed out for dinner. With help from our satnav we located a Texas Road House, but when we got there, a lot of people were waiting outside and there would be between 30 and 45 minutes of waiting time, and as we were rather hungry, we ate at neighboring TGI Friday instead. We returned to the hotel after 426 miles of driving, and it later proved to be the third longest drive on a single day. Even if we hadn't left the car much, we had seen a lot along the way. While still in Alabama we had a light shower, but beside from that, the weather had been very nice, sunny and a clear blue sky with temperatures between 95 and 100 F, making it rather nice to stay in the vool climate of the car.
Rejuvenation
The end goal of the next day was uncertain. We were heading for Miami, but had planned for another overnight stay before getting there. This was planned to be "somewhere around Daytona Beach" but no more precise than that. But first we had to get there. Before leaving Tallahassee we went downtown to see the state capitol, and we also passed a few churches and Florida State University before we returned to I-10 and turned east. Just before Jacksonville, the largest town in Florida, we turned south on US Route 1 to St. Augustine. We had been here before, and the only reason to go there again, was to visit The Fountain of Youth. I felt that some rejuvenation was in place. So once in town we headed for Fountain of Youth Archeological State Park. When we bought our tickets I got a $ 1 senior discount which I suspected I would be asked to return, when we left after having drunk from the spring. Before entering Tim had to use the restroom, and while he did that I took a few pictures outside the park. We also used some sun screen as it was clear day, with no clouds and the temperature was around 100 when we got there at 1.30 pm.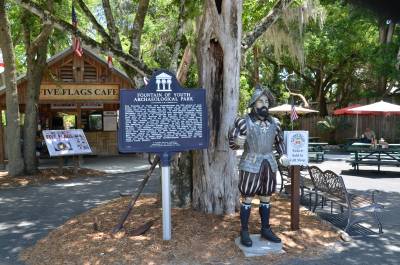 A little oversized image of Juan Ponce de Leon outside the park. He discovered Florida while on a hunt for the fountain of youth. Ponce de Leon was told to be the tallest of the conquistadores on his expedition, and he stood only 4'11'' on his bare feet. The average height amongs the Spaniards were 4'9'', and later called the area "land of giants" due the local indians with their towering average height of 6'3".
Inside the park we started by admiring the peacocks right inside the gate. Unfortunately most of them weren't displaying their feathers, but one did. I would have liked the white peacock to to so, but he was apparently not in the mood. By the way, do you know, that it's not their tail feathers the males display, as their tails are rather short. What they do display is so-called covert feathers on their back, that covers the tail feathers. After peacock watching we went straight to the building, that houses the fountain itself. On our last visit we were handed a small plastic cup with a small amount of water, but this time the cup was empty, and we had to fill it up ourselves. To make sure it would work properly I drank two full cups of the sulphurous water that tastes a lot better than it smells, and so did Tim (drank, not tasted better). Afterwards we headed for the gift shop. Here we bought some more water to bring back home, to the people we thought needed rejuvenation. For some reason Tim bought some for his friend in Florence, South Carolina and his mother, while I bought some for my boss! Unfortunately I lost my water somewhere along the way. I don't know where, but it wasn't in my luggage when we got back to Denmark. Anyway I was very disappointed, that they didn't require me to return my senior discount. So much for rejuvenation! Promises, promises, promises! I later discovered though, that you have to give the waters it's time to do it's job, but thats a story for another article later on. By the way, since my last visit to the Fountain of Youth, the fountain itself had been covered with bars. The park ranger told me, that it was because some visitors wouldn't settle for drinking the water but put both hands and feet into it as well.
After the visit we headed back to I-10, but through town, so we could get some pictures, primarily of buildings from the Flaggler era. Once back on I-10 we continued south. We tried to find a hotel early, in order to get some laundry done before dinner time. 50 miles further south we reached Ormond-by-the-Sea just north of Daytona Beach and here we decided to call it a day. We found a hotel and at 4.30 we were in our room. While we were bringing our luggage to the room, it started to rain rather heavily, but before out laundry was done the sky was blue and the sun was shining once more. While Tim went to the lobby to get some quarters, I chatted with a lady, who appeared to be a long time or even permanent resident in the hotel. We both stood on the balcony watching the rain. She was waiting for her kids that had run an errand for her, while I was waiting for Tim. She told me how to tell the difference between tourists and locals at the beach or the pool. If you saw someone in the water in June, July or August, you could be sure it was a tourist. The locals only went for a swim in March, April, September and October when it was not so hot, and with a much lower UV Index.
When our laundry was done, we visited a Walmart (once again) to buy more water. The 32 half liter bottles that we bought in Bowling Green was gone, and we had to get some more. This time we bought 28 bottles for $ 3.50, so it was the same price per bottle as the first time. Then we returned to the hotel, or rather the opposite side of the road from the hotel. The woman in the reception had told us about two restaurants right across from the hotel. We discarded Pig Stand and chose Houligan's Spirited Sports Grille. The sporty came from the usual television screens showing different sports channels, but the food was good, and the waitresses looked nice in short shorts. Not as short as at Hooter's but nice anyway, at least for an old libertine like me ;-). For once we didn't eat boneless wings for starters. Tim had chicken tenders, while I ate my first potato skins in years. Tim doesn't eat anything with cheese, and as we normally share I avoid it too. But this time I picked the potato skins anyway. The recipies may vary from place to place but here they were served with cheese and diced bacon (of course), finely chopped spring onions, and finally some spices. And they were great. After dinner we returnes to the room and relaxed with baseball on tv, the internet and a couple of books.
- Return to Long Bridge Trip page -
- Return to Travel page -