Winding roads
On July 12, it was time to leave Cherokee and thus the southwesternmost part of North Carolina to head further north and east to Wilkesboro - still in the part of the state called Western North Carolina though. Here I would stay for the rest of the trip, and this would be the last longer drive except for the last day where I was driving from Wilkesboro to Washington Dulles. From Cherokee to Wilkesboro is a distance of only 160 miles (about 255 km) by the fastest route, but I did not intend to take that, as I had taken it several times before and wanted to see something new. However, part of the way can't be skipped without going on a very long detour, like through Tennessee or down to South Carolina. So I left Cherokee right after breakfast, heading for Maggie Valley and I-40 on US Highway 19, which is the only road that leads in that direction. When I reached I-40 I followed this east, but not for very long before I headed south.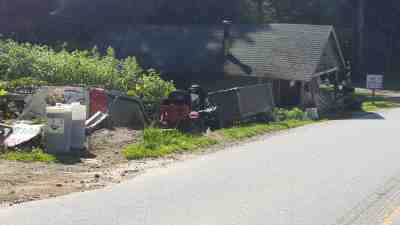 Home of "Sam, the Original Carolina Hillbilly" in Gerton.
My first goal was the small settlement, Edneyville, near Hendersonville. Here I wanted to see if I could find "Sam, the Original Carolina Hillbilly", as he calls himself. Along the way, I made a stop at a gas station, partly to fill up the car, but also to call home. Throughout my stay in Cherokee, there had been absolutely no cell coverage, but here my phone worked again, so I called both Tim, Tina, Dorte and my parents. When the conversations were over, I continued southeast until I reached US Highway 64, which I took northeast to Edneyville, where I finally, after some driving around, located the the small cabin that Sam is living in. The driving around was because it turned out that Sam did not actually live in Edneyville as I thought, but in Gerton, an even smaller settlement north of Edneyville. Unfortunately, there was no trace of the man himself, only a sign claiming that you could buy his walking sticks here. Sam usually appears in cowboy hat, cowboy jeans and not much more, and he likes to tell stories. Normally you are welcome to take pictures and I actually had hoped for a picture of myself with this interesting older gentleman, who has a long white beard.
As I could not find Sam, I decided to continue toward my final goal, but once again I did not choose the fastest way. Instead, I set the course southeast through settlements like Bat Cave and Chimney Rock. The latter is home to Chimney Rock State Park and the famous Chimney Rock, but as I had already visited this place a couple of times, I continued past the state park and on to Lake Lure, where I discovered that there was a beach. I hadn't noticed that when we drove through town 17 years earlier, but that was the case. I made a short stop so I could get a couple of pictures of the beach and the many people who was enjoying the sunny day there. From Lake Lure I could have made it easy for myself by continuing south-east until I met US 221 and then have headed north, but it would still have been too easy, so I didn't do that. Instead, I took a very small road northeast from Lake Lure.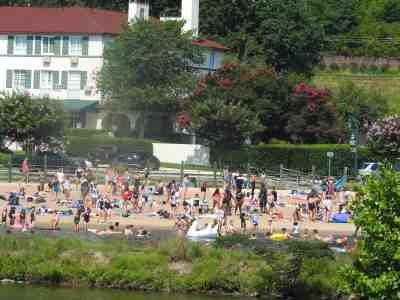 People on the beach in Lake Lure
On this small road named Bills Creek Road, at least the first part of it after Lake Lure though it changed its name a few times along the way, I reached West Marion and from there to Marion, and then I was back on the interstate. From here I could have taken the interstate east, but neither this time did I resort to such a simple solution. Now I had a wish to drive on winding roads. More specific North Carolina State Route 80, which begins just outside Marion and heads north. I drove through the town and found NC 80 without any problems. First, however, I stopped at a gas station, partly to get a cup of coffee, partly to mount my dashboard camera - on the windshield (ie on the inside of course). The first few miles aren't very exciting, but after a while you get to the stretch of road that is called Devil's Whip. Over a distance of approximately 11 miles (about 18 km) there are 160 curves. And from here the excitement began. The road is not very wide, and with all the curves, it isn't wise to drive too fast in your car. At the same time you meet many motorcyclists who think it's a pleasure to drive as fast as possible on this particular road, that is considered an Eldorado for bike riders. So you have to be very aware of bikes when you enters a curve, and many accidents happen on the road, but fortunately not on this occasion. Tim and I had driven on NC 80 back in 2012 when we got lost after a detour but not on this particular stretch. When I approached the last part of the route known as "The Longest Three Miles", with 50 turns in 3 miles while the road ascends almost 1.200 feet, I turned on my dashboard camera and I've made a video of these recordings and added to my YouTube channel, titled "En tur på Devil's Whip" or in English "A Trip on Devil's Whip", a relevant title I even if have to say so myself.
In the town of Micaville I reached a major road once more, US Highway 19E, which I took east toward Spruce Pine, "Mineral City", as it is called, due to the rich gem and mineral deposits found in the area. For example, most of the quartz used for the production of microchips are mined in this area, but also many other minerals. I just drove through the city and on to the east. From here I drove straight to Wilkesboro via Banner Elk and Boone. From Boone, the four-lane highway US 421 heads straight to Wilkesboro, and the motel I had booked from home was just off this highway and just across from one of the city's shopping and restaurant areas. The room was excellent and the same was the food. After a visit to the local Walmart I chose to have dinner at Applebee's on the opposite side of the highway from my hotel. Normally the chain has an offer called 2 for 20, where you pay $ 20 for a starter to share and has two entrees. My request to have 1 for 10 was purely rejected, by the waitress who was not open to arguments so there was nothing else for me to do than to pay full price for the hot buffalo boneless wings starter as always at Applebee's, and for the main course (more chicken, lemon marinated this time).

Back at the hotel, I called the inn in Winston-Salem, where they could tell me that they had actually found my toothbrush (see the article County seats and dams), so now I had the first item on the next day's schedule. I was going to Winston-Salem to pick it up.
- Return to Summer in Western North Carolina -
- Return to Travel page -