A search in vain
Once again the day started with me enjoying a not too healthy but large breakfast made by Rose Noakes. Even if I had ordered a bit less than the previous day, it was still a bit overwhelming. After being filled completely to the limit of my ability I set of for some unplanned adventures. As it was the 4th of July I had originaly planned to spend the day in Lenoir, watching the 4th of July festivities, but once more I was fooled, as almost none were planned. Most Independence Day activities had taken place on Saturday July 1st, which is reasonnable come to think of it, as you have Sunday to sleep it off, and in this case Tuesday to relax. I think I'll wait until 4th of July actually falls on a Saturday before I put my hopes up once more. What was left of the celebrations were the fireworks, which of course took place in the evening, so I was left with a day with nothing planned. I could add that no other towns in the neighborhood were celebrating anything either.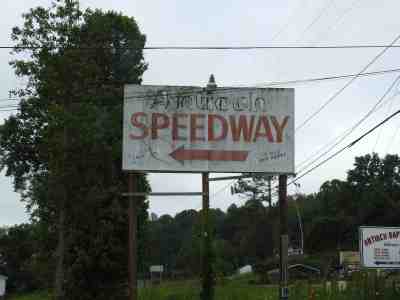 Entrance to Antioch Speedway between Lenoir and Morganton close to Foothills Regional Airport.
As I had nothing planned to do, I had to improvise. I decided therefore to start off with one of my favorite pastimes, locating graves. In this case I would go looking for Frankie Silver's grave. Don't you know who Frankie Silver was? Then look her up on the internet or learn Danish and read the story on this homepage :-)
According to the desciption I had read in a book, Frankie should be buried in a field near NC Road 126, 12 miles out of Morganton, therefore I thought it would be rather easy to locate. So I sat the course out for Morganton as my first goal. Heading south on US 64 or NC 18 - the two roads are sharing lanes here - I saw the same things that I have seen a lot of times before, going on that same road. Arriving in Morganton I decided for a tour around town, including a walking tour on Main Street, looking at the historic district. Next I drove by the old insane asylum, today a modern psychiatric hospital, Broughton Hospital from 1883. The buildings are on the National Register of Historic Places, but as it's a working hospital with around 800 patients annually, I just drove past the place. By the way, one of the legends about Frankiie Silver claims that her execution took place where the hospital is now, while other legends places the galllows in other locations elsewhere in town.
After my hospital drive by, I headed for NC 126, which was rather easy, as it was actually straight ahead from where I already was. NC 126 begins in Morganton and leads mostly west though with some bends to the north and south around Lake James. When I reached the road, I reset the trip counter, and took off. Slow and easy so I could enjoy this road that I have never driven on before. When the counter reached 10 miles, I started looking for the grave or a field where the grave could be. I decided to concentrate on the left hand side of the road, so I could keep one eye on traffic. If I hadn't found anything in five miles I would turn around and look to the other side on my way back. When the counter reached 15 and I still hadn't see anything, I turned around og drove in the opposite direction, but with the same lack of luck. A stone is placed on the grave, but it is rather low, and I agreed with myself that it probably was not visible from the road. Even if I passed different fields, I didn't want to walk right across other peoples property, so I decided to give it up - at least on this occasion. In a later article I will get back to why, I couldn't findt the grave. While on my way back to Morganton I stopped at a gas station to fill up the car and get myself a cop of coffee and a bit to eat as it was now well after lunch time.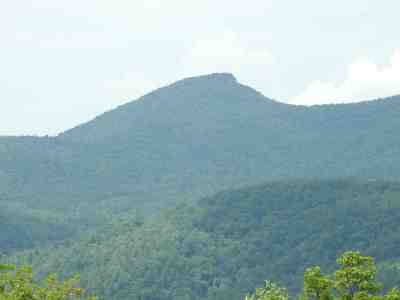 Hawkbill Mountainin the haze as seen from Brown Mountain Overlook on NC Highway 181 north of Morganton.
When I got back to Morganton I decided (a lot of decisions in this article) to take NC Highway 181 north. In 2015 I wanted to stop at Brown Mountain Overlook on that highway while it was daylight to take some pictures of the area and some of the mountain tops, but every time I got there it was either pouring down or foggy, so nothing further away than 50 yards were visible. The afternoon, when the sun was finally shining, I got hopelessly lost in the mountains and were running out of gas while darkness fell, and when I finally got out of the mountains it was completely dark and I was nowhere near NC 181! More about this experience in the article Getting lost in the mountains on the 2015 fall page. Now I wanted to give it another try, and this time I was sure that I would not get lost, as I was already on NC 181. I found the overlook easily enough, it was daylight and the sun was shining. Unfortunately it shone so much that everything was covered in a light haze. But I managed to get some rather blurred pictures of Table Rock, Hawkbill Mountain and other significant peaks that are visible from the overlook.
As I didn't leave Rose especially early it was now mid afternoon and (another decision) I decided to head north towards the small village Pineola. My goal was actually Blue Ridge Parkway that I reached a few miles before the village. I took the parkway north to Blowing Rock, and as usual I enjoyed the drive very much with the nature surrounding the road, the views and all, even if it was only a short trip, even shorter than the day before. But Blue Ridge Parkway was not the theme of this vacation, only an added bonus. Passing through Blowing Rock I observed a lot of people walking around with picnic baskets and other picnic equipment, so I guessed they were celebrating 4th of July by having picnic in parks (like I saw in New Orleans in 2004) or elsewhere in nature. But I just headed for Lenoir on US 321.
After having relaxed in my room for a couple of hours I went for dinner. I dined at the same Ruby Tuesday restaurant, where I had dined four days in a row in November 2015, every day sitting at the same table. When I entered I asked the seater if I could have "my usual table", which made her look completely mystified. And I have to admit that it was another seater than 18 months earlier. and when I explained my joke, she looked as if she thought I was crazy, and even if she smiled I'm not sure she thought it was actually funny. So much for me trying to make a joke. As usual the food was good and the salad bar excellent. When I got to the parking lot after dinner, the fireworks had started but some distance away, so instead of going there I just stayed in the lot for 10 minutes or so, enjoying the sight. Then I returned to the Irish Rose. When I got back the cicadas were busy making noise as they actually did the whole time I was in North Carolina. They were so noisy that if I wanted to sleep it was impossible with an open window. I records a few seconds of their song on my phone, to prove to people at home, who has never head the sound of cicadas how noisy they actually are. I never saw cicadas, but I think at least some of them were 17-years cicadas, as one of the broods occurred in western North Carolina this year.
When I got inside I was alone as Rose was out, so I just filled out the breakfast order for 7.30 and went to my room. I had to leave the next morning, so I packed most of my stuff, checked the internet so see if the outside world was still there - which it was - and went to bed.
- Return to Summer in Western North Carolina -
- Return to Travel page -