The first colors
The next morning I had set the alarm clock to ring as usual when on holiday, wanting to leave early. Only this time I was alone so the morning ritual was over in much less time than ususal, and after approx. half an hour I was ready and the luggage was back in the car. The hotel did not offer breakfast, but I hadn't counted on thatr, so I just ate the last of the fruit I had bought the day before. When I had dragged key and brass block around the corner to the office and lifted it to the front desk counter, nobody was there, so I rang the the designated bell. A very strained voice from the back office, evidently belonging to the same lad as the day before, moaned a question about whether I was checking out. When I confirmed this, the voice from the back room told me to just leave the key on the counter. The guy clearly had no intention of moving himself to the front desk to do business, so I left the key and around 7.15 am I left the motel and headed for the interstate.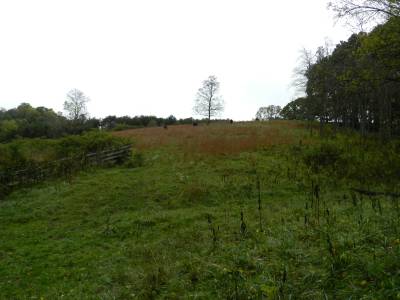 I knew what way to go, but for the record I turned the gps on and keyed in the address for my hotel in Banner Elk. As expected, the gps wanted me to head south by Interstate Highway 81, which of course had initially been the reason for I me staying in Front Royal. The first stretch was not a freeway but a local road, Virginia Road 55 to the town of Strasbourg, located in the Shenandoah Valley. Here I met with I- 81 and the gps announced that now I should just stay on I-81 for the next 210 miles (about 340 km) before doing anything. I did make a a single stop at a rest area, to do what I needed to do, and stretch my legs, before continuing. Here I saw the first fall colors, but they weren't especially pronounced. Interesting though, was a tree that was completely green on one side, but with beginning fall colors on the other. This illustrates how much the sunlight means for fall foliage.

On the way south, I passed several signs for places that were familiar from previous visits, Massanutten Mountains, Luray Caverns, Charlottesville, Lexington, Natural Bridge, Roanoke and many more. After the 210 miles, I was directed onto I-77, which surprised me a little, since it headed southeast, away from the Blue Ridge Mountains, of which I had been driving on the western edges. As Banner Elk, the goal of the day, is located in the mountains, I had thought that I would continue on I -81 and then later by some byways to the town, but but the gps thought otherwise, and for once, I decided to obey. I therefore changed to I- 77 and experienced the interesting phenomenon that I was once more on I- 81. For a distance of a few miles the two intersates share lanes which is quite normal on interstates. What is less usual is that after I switched from I-81 South to I-77 South, I got to drive on I-81 North! This is due to I-81 taking a turn in a southerly direction to follow I-77, which means that for about 10 miles, you can head south on I-77 while at the same time be heading north on I-81. After approx. 40 miles on I-77, I crossed the North Carolina state line and had thus arrived in the state in where the vacation would be spent.

I now began to see road signs for Statesville, which I have visited a few times before and would also to visit later on this trip. At Statesville I-77 crosses Interstate Highway 40, which we've been using somewhere or other on all all our roadtrips in the United States, except in 2008, when we were in New England only. Both Statesville and I-40, however, would have to wait till later on, because the gps wanted me to switch to U.S. Highway 421 before I reached the county seat of Iredel County. I was now aware of what the lady in the little box was up to. U.S. 421 runs through the town of Boone, the county seat of Watauga County, and this is close to Banner Elk. Along the way 421 passes through Wilkesboro, where I was to spend the last three days of this vacation. Shortly before 421 I left I-77, but only to visit a gas station and have a cup of coffee. Outside the gas station was a large truck with a picture of a pretty girl who looked familiar. When I returned to my car, the girl was getting into a bus with a similar portrait, while a driver climbed the truck. I remembered that it was one of the in Denmark lesser known American country singers, and the set up with the truck and bus, indicated that she was on tour. At the time of me writing this (almost six months after the experience), I have forgotten her name, but I 'll probably come to think of it again sooner or later.

In Wilkesboro, I stopped for lunch at a Ruby Tuesday restaurant where Tim and I ate dinner in 2012. Here I ordered marinated chicken breast and a salad as I was not particularly hungry, though I have only had had a few apples and some watermelon. I got my salad from the salad bar and ate it while waiting for the chicken. I had forgotten that I had ordered no other sides, so a little later the waitress arrived with a nice plate with a piece of marinated chicken breast and nothing else. It looked a bit strange, but the taste was good. After lunch I continued along U.S. 421 to Boone, and then some 15 miles on smaller byways to my hotel, which was a bit south of Banner Elk. Though the time was only 2.30 pm, my room was ready, and when I had unpacked the car I rested for about an hour in the room Well rested I decided to take a look at the countryside.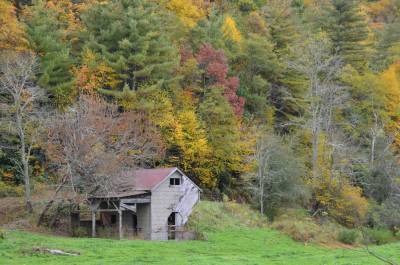 Banner Elk is not far from the Blue Ridge Parkway, but I would postpone a visit here until later. Instead, I headed south by the the same road that I had arrived on, but instead of going back towards Boone, I drove along small roads towards Linville Cavern, the only cave complex in North Carolina, which is open to the public. We visited the caves in 2002, and I would like to repeat that experience, but unfortunately it was closed for the day when I got there. I therefore continued south along U.S. 221 (which is the road that leads by the caves ), and along the way, I had saw the first real fall colors, in addition to a number of the characteristic gray sheds, tof which there are so many in the Blue Ridge Mountains. Around 5.30 I turned around and headed back toward Banner Elk. My original plan was to visit the waterfalls at Linville Falls, but when I got back there, it had become so dark that I gave up on that idea. Although there are fairly good paths for different viewing points at the falls, it was to dark to see anything anyway, so it must wait for another visit.

Instead, I returned to the hotel on some small byways. After having freshened up, I drove north to town. Here I used the gps to suggest restaurants, and just chose the one closest to the parking lot where I was parked - and it turned out to be a good choice. Bayou Smokehouse and Grill was a restaurant with Louisiana and Cajun theme, even though it was far away from the cajun area. The entrance was through a General Store, where I bought myself a bottle of steak sauce to bring home. The restaurant was down some stairs and the food turned out to be excellent - and the server was very service-minded. I delicated myself with nachos and some smoked, chopped beef with quessadillas and salsa sauce. When I got there I was almost alone in the place, but before I left, the restaurant was full. Granted, it was not gigantic, but still. After dinner, I returned to the hotel and relaxed for a few hours before I went to bed. After all I had driven about 340 miles from Front Royal to Banner Elk and so further about 100 miles on my afternoon trip. With detours, it was probably around 450 miles or approx. 725 km in total for the day. Next day I was only going to drive a relatively short trip to Cherokee, but it turned out that it nevertheless got longer than planned.