Five in one day
The heading is referring to us visiting or passing through five states in one day. This is not record breaking though, as in 2012 we visited or passed through six states in one day. You can read more about this in the article Where is Ohio on the 2012 travel page. Back then we drove 605 miles to achieve it, but today we only had to drive 350 miles. Our plan was simple, we were heading north from Memphis to Saint Louis; no detours of any kind, and we actually (almost) succeeded.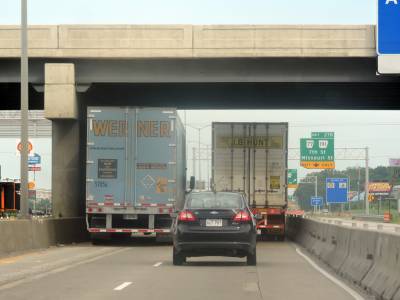 From the hotel just south of the Mississippi/Tennessee state line, we headed north on the freeway to Memphis. Here we changed to I-40 (which we have used on every roadtrip in USA except for one), and turned west. We crossed the Mississippi River into Arkansas, and then headed north on I-55 to Saint Louis. It was on the short stretch on I-40 we finally managed to get a picture of a J. B. Hunt truck to send home to Dorte - and it was driving side by side with a tgruck from Werner. Heading north we made just one single stop to refill the car and change driver. It was in the neighborhood of the small town of Sikeston. A little confusion (due to directions from our gps) meant that we ended up going northeast on I-57, but we found a gas station, filled up the car, had some coffe and changed drivers, before heading back to I-55.
With no further ado we continued to Saint Louis, and arrived very early (around 1 pm), and our room wouldn't be ready for about two ours. We therefore decided to take look at the confluence of Mississippi and Missoury, so we crossed the river and headed north on the Illinois side. The confluence is around 10 miles north of Saint Louis, across from Alton, where a rumor has, that pirate Jean Lafitte is buried in one of the cemeteris under an assumed name. We didn't go looking for him though, but made a stop near Hartfort, where there is a "confluence tower" from which you can see the two rivers. We parked the car and paid the entrance fee to the tower, and after a short waiting time, a guide took us up in an elevator. The tower has three viewing platforms, the first 50 feet above ground, Here we didn't stop as the guide told us, that there was nothing to see from this height. On the next in 100 feet we stopped and left the elevator to look at the confluence, but at this height only the Mississippi was visible, but we we could see Saint Louis in the distance. On the final platform, 150 feet above ground, we had a nice look at the confluece and the oil refinery in the opposite direction. There are many oil refineries in the vicinity of Saint Louis, and this was one of them. It was quite windy up there, so we had to hold on to our caps and our glasses as well. When there was no more to see, and the guide had told us all there was to tell about the confluence, and a bit about the Lewis and Clark expedition, she took us down again. On ground outside the tower was a small garden with floweres and other plants brought home by Lewis and Clark from their expedition.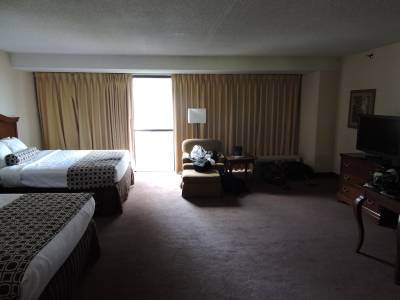 When we had seen all the flowers, we returned to the car and drove half a mile south and then followed a small tributary of the Mississippi, River Dubois or Wood River down to it's confluence with "the big river2. Here Lewis and Clark had their winter camp from fall of 1803 to their take of in May 1804, but except a memorial plaque, there wasn't anything to see, so we returned to the highway. Less than half a mile further south is the Lewis and Clark State Historical Site, but we didn't stop there. Instead we continued to a nearby Walmart to do a little shopping, before returning to our hotel. As on my first visit to Saint Louis, the freeways caused us some problems. The exits had other numbers than what our gps expected, and we crossed the river a couple of times, and when we finally found the right exit, it was blocked due to roadworks, so we had to take the next one. This gave us the opportunity to see a part of the suburbs, that we would not have seen otherwise. Finally we managed to get to the hotel, and while I enteres to check in, Tim tried to find a place to park the car. Just before we arrived a busload of convention guest had arrived as well, so I had to stand in line for about 30 minutes to check in. When I was ready Tim entered. He had parked the car and together we went to pick up our luggage and bring it up to our room, which proved to be rather big, at least compared to the rooms we later had in towns like Philadephia, Boston and not least New York City. We relaxed for a couple of hours, then went out to get some supper.
The local MLB team, Saint Louis Cardinals, were playing home against Pittsburg Pirates that week, so downtown were full of people dressed in red, waiting to go to Bush Stadium. So was most restaurants, but we managed to get a table in a TGI Friday, and the food was good, and a bit more expensive than Denny's and Applebee's. The weather had been fine all day with sunshine, a few clouds and temperatures between 80 and 85, and it was still warm when we walked back to the hotel. In the distance we heard a few thunder clashes, but it stayed dry, and nothing more came of it. Home at the hotel we turned on the television, to watch some sports, but the only thing that were showing were baseball, of which I knew nothing, but before our vaccation was over, I learned a bit of what it was all about, and had become somewhat of a Cardinals fan, though not as much as Tim is a Saint Louis Rams fan, but we continued to watch the Cardinals play whenever they were on television, whereever we stayed.