National Park Shutdown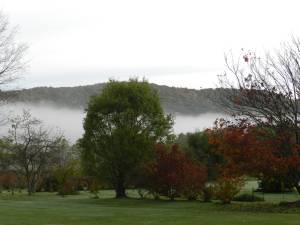 Next day I was heading south to Cherokee, and once again I got an early start, since I only had myself to take care of. I could have chosen to drive along the Blue Ridge Parkway, but I gave up on that idea as the weather was not particularly good when I left the hotel, rainy and misty. Instead I let the gps lead the way. It took me on small roads south and then west. the route which the excellent gps suggested eventually took me to U.S.70 and then along I-40 which I met around the small town of Old Fort. From here I continued along the freeway to Asheville and on to Lake Junaluska, where I left it. This was my first, but not last visit to I-40 on this vacation. In this town, named for the cherokee leader Junaluska, you can visit the Museum of Methodism, and in the town you also find the headquarters of the World Methodist Council, which is a federation of Methodist churches, representing 75 million people in 132 countries. Not bad for a town of less than 3,000 inhabitants. As I am not particularly interested in Methodists, I continued without stopping here. In Lake Junaluska I changed to U.S. Route 19, which leads west to Cherokee. We have used the same route on several previous visits to Cherokee and I would come back to it the very next day. The road passes through the even smaller town of Maggie Valley, with only 607 inhabitants. This town is best known as a winter sports town (The Catalochee Skie Area is located around town with three chairlifts, two conveyor belt lifts and mainly artificial snow ). The town is also home to the theme park Ghost Town in the Sky.

Neither winter sports nor amusement park had any special interest, but I made a stop in town anyway. Partly to stretchmy legs, which at that time been bend in the car for a couple of hours, and also to look at a small river that ran alongside the road - and then took a picture of the city sign. Maggie Valley can only boast of two "celebrities". One is Marvin Sutton, known as "Popcorn", a famous moonshiner and bootlegger who ended up committing suicide in 2009 after having been given a prison sentence. He made a home movie on how to produce moonshine, a production, which he sold on VHS tape. The film can be seen on YouTube in it's length. The other "celebrity", has a significant Danish connection. It was here in Maggie Valley that Peter Lundin in 1991 strangled his mother before he returned to Denmark after having served some years in prrison, and later was convicted of three murders here. After a short stop I continued through the mountains to Cherokee. From Maggie Valley there are around 16 miles (25 km) to Cherokee and after about 6 miles you enter Qualla Boundary, home of The Eastern Band of Cherokee Indians. Qualla is not a reservation as most, as the land is owned by the tribe and has been since 1838. The territory is a land trust, that is owned by the tribe, but is managed by the U.S. Bureau of Indian Affairs. The area has its own police force, and North Carolina's state police have no jurisdiction within the boundaries - but the FBI has. Reaching town you pass Harrah's Cherokee Casino, a huge block of concrete that seems quite out of place in the area, but earns a lot of money for the tribe.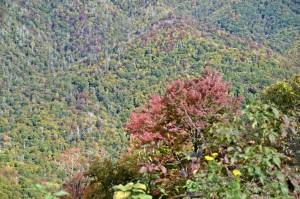 It was not yet noon when I arrived in Cherokee so it was far too early to get my hotel room. I decided drive into the Great Smoky Mountains National Park, although the park shutdown was still in progress. U.S. 441 which runs through the park from Cherokee to Gatlinburg in Tennessee wasn't closed, and maybe I could spot some autumn colors. I therefore continued past the hotel and on through the town and headed out of the 441 One of the first places we typically visit is Mingus Mill, an old water mill not far outside Cherokee, but I could not make it there as the side road leading up to the mill was closed. I therefore continued on 441, but most pull-outs were blocked with traffic cones and "no parking" signs. Also the road leading to Clingmans Dome was blocked. At the highest point on the 441, right on the border between North Carolina and Tennessee, is Newfound Gap, and here the parking lot was actually open even if the toilets were closed. Here I met with around 200 others who had been "forced" to stop here as well. I managed, however, to find room for the car and I took a few pictures, but the colors were not that great. While I was watching, I fall into conversation with a man of my own age, and we got to talk about the missing colors. He told me that it was due to the too good weather. All towards the end of September, daytime temperatures remained at 25 - 28 degrees Celsius (77 - 83 F), and only about a week before my visit, the night temperature finally had gotten below 15 (59) degrees. He believed that what was needed to get the colors to emerge in full bloom, was a heavy rain, with appropriate temperature drop over a few days. Unfortunately I couldn't wait for that to happen, so I decided to look for richer colors another day, and then do something completely different the rest of the day. I can also confirm that it was a warm day. As I looked at a thermometer much later in the day, it was 24 (75 F) degrees at 4.30 pm and it was on October 15th!

I decided to take a short trip in the surrounding area and returned to Cherokee. Once again, I passed my hotel and left town, this time heading west. 10 miles west of Cherokee you find Bryson City ( 1,400 inhabitants), where Tim and I had visited a pharmacy in 2012. That was not why I drove there though. But also in 2012, we had been looking for a "mound", which however we did not find, but now I would try once more. The mound is all that 's left of Kituwa, the traditional first town or mother town of the Cherokee Tribe. The town disappeared after 1838 when the majority of the tribe was forced to move to Oklahoma Territory on the Trail of Tears. The mound was the site of the tribal "council house". This time I managed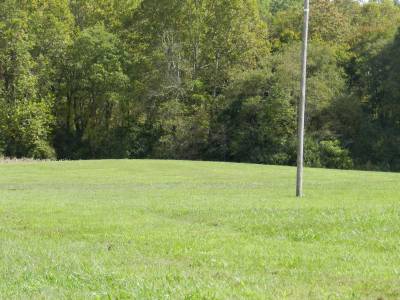 to find the mound, but I now know, why we had troubles the first time arround. The mound, if you can still call it that, was in the middle of a lawn, and itself covered with grass. It is on the other side of a railway line from the road, and it is not much more than 4' high. Hadn't there been a sign right next to the mound, I probably wouldn't have found it find it this time either. I took some pictures, and then I continued west towards Robbinsville, where there is a small museum for Junaluska, the Cherokee which gave his name to the lake and the city, that I had previously passed. Tim ands I also visited this museum in 2010, but as I found it very interesting, I'd like to repeat the expericence.

From Bryson City to Robbinsville is a distance of about 30 miles and it took me only 40 minutes to drive, so I arrived at the museum around 2.30 pm. The museum itself is not much larger than a small cottage, but very interesting if you are interested in the the history of the Cherokees. I was the only visitor, and the lady who looked after the museum showed me around the three small rooms and told me about both Junaluska and the tribe's history in general. When that subject was "completed" we talked about a lot of other stuff such as her children and mine (she was Cherokee herself, and both her children worked at the casino in Cherokee while studying, my daughter is a nurse and my son has a degreee in history, but drives trucks for UPS), the economic situation in the U.S. and Denmark, discrimination against African Americans and Native Americans in the United States and so on. None of us were busy, so we chatted for about 1½ hours. Then we said goodbye and I walked to the top of the hill where the museum is located. Here is the burial site of Junaluska, and although I had been there before, I took a few pictures of the memorial. Then it was time to return to Cherokee.

When I returned, it was a little after 5 pm, and I got my hotel room, with a balcony, so I sat out there and enjoyed life while I studied those who walked and drove past below. Since I had not eaten lunch, I was a bit peckish at 7 o'clock, and just chose to visit a local diner, which was right next to the hotel. It turned out to be the typical Southern diet - tasty and unhealthy like h.... I ordered the fish and were served approx. two half whales with accessories in the form of french fries, hush-puppies and beans. The fries and the puppies were obviously fried, and the beans on the side were cooked in butter - you know what you get. Back in the room I relaxed with a cup of coffee and a book - and that completed that day.