Sightseeing at random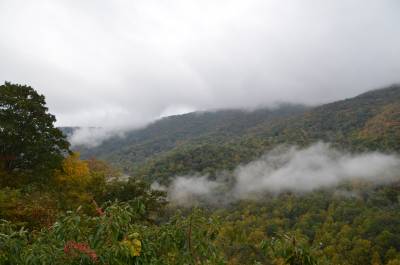 The next day was devoted to sightseeing with Cherokee as the starting point. Originally I had planned a visit to the Great Smoky Mountains National Park, but as the shutdown was still in progress and there was not much to look at along highway 441. I decided to do something else. Starting from Cherokee I would take the Blue Ridge Parkway south from Cherokee to Ashville. Although the road mainly goes in a northern direction from Cherokee, the very first stretch between Cherokee and Asheville forms an arc to the south. It was this arc that I had last visited in 2000, that I would now drive once more. There are quite many things to see along the Blue Ridge Parkway, but on this stretch there are not many famous attractions, apart from the road itself and the nature around it, so there weren't as many tourists than further north. On the other hand there are many pull-outs where you can enjoy the landscape, for example at Water Rock Knob, Richland Balsam where you reach the highest point on the entire road at more than 6.040 feet above sea level, and finally I made a stop at the Mount Pisgah look out. I drove the stretch slow and easy - slow is a must as the speed limit never exceed 45 mph on the parkway and often are down to 35. Unfortunately the weather was not the best for enjoying the views, misty, drizzly and cloudy. I managed to take a few pictures though.

At Asheville I left the parkway" to drive at random for a while. By that I mean that I turned off the navigation unit, and headed for small secondary roads, that I switched between when I met one who looked interesting for some reason. As I didn't know which direction I took and for how long, I had absolutely no idea where I was. It was quite fun, and if I got really lost, I could turn the gps back on again - or better, ask somebody the way. This random driving meant that I got further and further into North Carolina's rural areas and saw a lot of places that I had not previously seen and probably will not get to see again, as I have no idea where I was. At one time though I met the to Blue Ridge Parkway once again, and decided that I might as well take it back to Cherokee once more, and take another drive from there. I therefore turned southwest (according to the built-in "compass" that was in the car - the navigation unit was still off), and then I headed forward. The different areas near the BRP looks much alike on this part of the parkway, so I couldn't really tell if I had previously seen the landscape, but I realized after a while that I had not. This became clear to me, when I saw a sign for Mount Mitchell State Park, which is located around 25 miles north of Asheville, not south of it, where I thought I was at the time.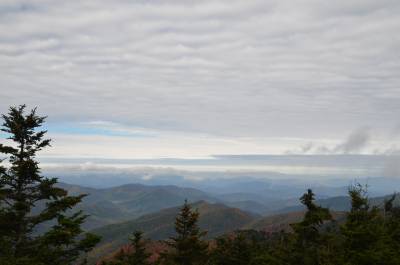 Mount Mitchell was on the next day's schedule, but since I was here anyway, I decided move forward the visit, so I left the parkway and drove up to the state park. Mount Mitchell is the highest point in the United States east of the Mississippi and was the highest point in the United States until 1845, when Texas joined the Union. 6.684 feet the mountain protrudes, and on the top there is an observation deck - and I wanted to go there. Oh silly me! From BRP there is about 5 miles along the small North Carolina Road 128 up to a car park at the foot of the summit! From there a 1.000 feet long path leads up to the summit and the observation deck. The path is said to be wheelchair friendly, and it is paved, I have to admit that, but it must be built for people in electric wheelchairs - or people with extremely strong arm muscles, as it is quite steep in places. Well, I finally fought my way up to the summit and climbed up to the observation deck, only to discover that it was time and effort wasted. The fog hung so low that there was absolutely nothing to see when I finally got up there. I tried to take a few pictures, but when I came back to the hotel and saw them in a larger format on my tablet, they showed not so much as a silhouette. Only gray-white fog. I therefore didn't stay long on top, but went back to the parking lot, which was under the cloud level, and the view was therefore much better although not too good either. I took some photos though before heading down once more.

Instead, I returned to the parkway and headed home - now I knew what direction I was going to take. But after a while I saw a sign pointing to "Zebulon Vance Birth Place". That chance I wouldn't miss, so I left the parkway again to return to the small secondary roads. I followed the signs, and even though the route was not marked perfectly, I managed to find the place. I could tell you a long story of Zebulon Baird Vance, but I shall refrain from that. I will only say that he was North Carolina's governor during the Civil War and once again later. He ended his days as a U.S. Senator and is immensely popular in North Carolina. He was defending Tom Dooley in the trial against him, which was the main cause of my interest. A bit more about Vance can be read in the article Supporting Cast on the Tom Dooley page. Now I was at his birthplace, which was supposed to be an ordinary home of the well-off in rural North Carolina in the years around the turn of the 19th century. Not big as the "palaces" often seen in movies of that time, but they belonged to rich cotton or rice planters and were typically situated somewhat further south, such as in South Carolina, Georgia, Alabama, Mississippi and and Louisiana. Anyway, contrary to what some people believe today, Vance's parents were not poor rural working class people. His father owned 18 slaves who lived in three slave cabins, some distance away from the family's own home. One of these slave cabins can still be seen in the area, although it has been moved somewhat closer to the main building. This is in turn a replica from the early 20th century, as the original house was so ramshackle, that it had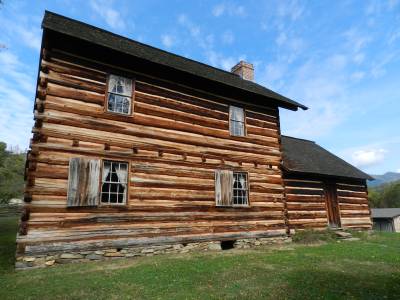 to be demolished. In the area you can also see an old smoke house, where meat were smoked for conservation in addition to various other buildings. In addition, a "fridge " in the form of a spring house built over a small creek. Here the family could get water, and the creek was lead through a trough, where milk and butter and other foods could be kept cool. In addition to the different buildings, there is also a small museum with an exhibition about Vance and his time. Especially the photographs from the period wwere interesting, and as it was all free, I can only add say that it was worth every penny.

When I was done with Vance it was mid afternoon, and now I really set sail homeward bound. I turned on the navigation unit to tell me the way back to the hotel, and it took me for some more miles on very small roads in the area with new exciting sights, but eventually it lead me to I-40, "The Mother of All Interstates", as we call it, because we've run it on all road trips in the United States except one. I took the freeway a short distance south before I switched to NC Route 19 to Cherokee through Lake Junaluska and Maggie Valley as the day before. In the short piece on the highway, I started a "game", that we had spent time with before, when driving on interstates. The game is simply to notice how many trucks from the recognizable major U.S. carriers we met. On previous trips, the Arkansas-based company J. B. Hunt, had been dominant in the eastern states , but on this occasion I didn't see a single one, neither that day or later. On the other hand, I saw some of its competitors like Schneider, Swift, Werner and Knight.
Well back in Cherokee, I relaxed at the hotel for a while, and then went out to look at the city before I returned to the same diner, as the day before - this time with something other than fish on the plate. Ham and a salad was the menu before I took a walk along the river, enjoying the evening, and finally returned to the room and a well-deserved cup of coffee. As I sat here, I used the time to look at the internet for things to do in the morning, as Mount Mitchell already had been taken care of. Statesville and Brown Mountain were some of the places that flowed into my mind, but more on that in the next article.