A nervous state of mind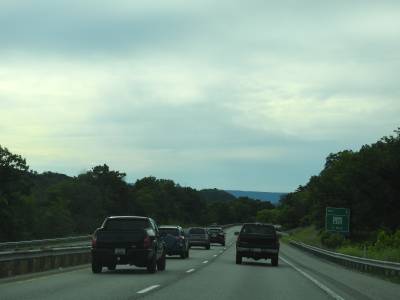 Interstate Highway 68 in West Virginia
All packed and ready to go on our 2016 USA road trip. Participants this year was as in 2014 me and my son, Tim. All we needed to do was online check-in at British Airways. My check-in went smoothly, but when we tried to check-in Tim, something strange happened. The system told us that they could not check him in, as there were some problems with his travel-visa. That made us wonder a bit, because as Denmark is part of the US Visa Waiver program, we didn't need a visa at all. All we needed was an ESTA declaration, and we both had that. Tim had used his during his visit to South Carolina in March 2016 without problems. We tried to call the US Embassy in Copenhagen, but all we could get in touch with was a voice response system; there was no way to talk to a person unless you had a direct number, which we didn't. Along the way though, the machine told us, that all Scandinavian visa requests were handled by the Stockholm Embassy, so we called them instead, but with as much luck. All we could get in touch with was another voice response system and none of the options were relevant to us, and no way to get in touch with an actual human being. Instead we called British Airways. They could tell us, that there were no remarks of any kind on Tim. So we decided to try to check in one more time, and this time it went smoothly. We, especially Tim was still nervous though, but as there was nothing we could do about it, we just had to relax. I for my part spent the evening making a new travel plan, in case Tim was stopped along the way - a travel plan with shorter stints, that I could drive on my own.
The next morning we were picked up by a taxi at 4.30 am, and as we had already checked in, all we had to do were to check-in our luggage and show our boarding passes and passports. Tim was still nervous that his travel would be rejected, but nothing happened. So after eating breakfast in the lounge, we headed for the gate, boarded and flew to London without incidents. In London we had almost two hours and 30 minutes, so once more we spent them in the lounge. The next passport control came at the gate, but everything went fine here as well. That meant that we were allowed to travel, and all that remained to be seen, was if Tim would be allowed to enter The United States. For the first time ever, we were seated on the upper deck of a Boeing 747 in an almost empty Business Class. We got around 4 org 5 hours sleep along the way and landed i nDulles International after a flight as boring as they come.
In Dulles we had to pass the final hurdle, Immigration. When we got there a nice airport official asked us if we had visited USA within the last 12 months, using the same passports, and as we both had, we could to the automatic passport control machines and didn't have to stand in the very long line for immigration. So we went to the machine, scanned our passports and fingerprints, had our picture taken, answered some questions and had a receipt printed. We were still a little nervous about what would happen to Tim, but he got his receipt all right, so we went to the Customs and Border Protection Officer, showed out passports and the receipt, and were let through with no further ado. Finally we could relax, Tim most, as he later told me he had been nervous until he was inside the USA.
Heading north
We got our luggage fairly quickly, but had to stand in line around 15 minutes to get through customs. Outside we located the bus to the Avis office. Already before leaving Denmark we had discovered, that I had forgotten my Garmin GPS back home in Denmark, so we had discussed renting one. The lady at the counter told us that it would cost us $ 15 a day, more than $ 300 for the trip. As we both agreed that we could buy one cheaper than that, we declined. We later saw a lot of Garmin Nüvi navigational systems in a Walmart priced between $ 99 and $ 125. Anyway the clerk instead offered us an upgrade of our car to a car with a built-in navigational system for $ 15 per day. I explained to her that it would make no difference from renting the gps. She then did some calculations and conferred with a colleague, and then offered us the car upgrade for $ 8 per day. This we accepted and we got a Nissan Maxima. For some reason even the larger cars we rent in USA has rather small trunks, and so did this. The best I have had so far was the Ford Fusion I rented in November 2015. The Nissan was no exeption to the rule, but we managed to get out four pieces of luggage and two backpacks in there. There was no room though for the cooler that we had planned to buy the next day, so we decided to move the backpacks and maybe one of the large bags to the backseat of the car later.
Victor Cushwa Memorial Bridge is a pedestrian bridge across I-68 at Sideling Hill Rest Area in West Virginia.
We set the gps to guide us to the goal of the day, Cambridge, Ohio and then left Dulles. From the airport we headed north on Dulles Toll Road. If some have already read the articles Waterfalls, wine and a kissing bridge and Memory failure on the 2004 Family Visit page, you will know that we have experienced some problems with the toll on that road. This time though everything went smoothly when we left the toll road near Leesburg. From there we continued north to Frederick, Maryland, where we changed to our first interstate this year, I-70. Contrary to out latest trips, we drove a lot on interstates this time, as we had some rather long day trips planned, but of course we also drove on US Highways, State Routes and County Highways as always. I-70 is a rather pretty interstate, or rather it has some rather pretty surroundings going through the mountains of Maryland. Near Hancock, Maryland we changed to I-68 that took us down through West Virginia. Shortly after entering West Virginia we made a stop at Sideling Hill Rest Area. Here we changed drivers and I took over from Tim, who had taken the first stint. I-68 has it's western terminus in Morgantown, and here the gps ordered us to get on to on to I-79 north, and so we did,
In Washington, Pennsylvania, just south of Pittsburgh, we changed interstate once more, this time back to I-70. Staying on I-70 all the way would have made the trip quite a bit longer, so the "detour via I-68 and I-79 saved us some time. From Pennsylvania, we drove through the northern panhandle of West Virginia and into Ohio. We stayed on I-70 to Cambridge, and found a hotel close to the freeway. It was now almost 10 pm, and we had been up almost 36 hours (including the 4-5 hours sleep on the plane). We checked in and went to the Denny's next to the hotel, for a quick dinner before heading to bed. The next day we were going to see a bit of Ohio, a state we had never visited before. Especially we would like to see Cincinnati as it was on our way south.
The 540 kilometers (335 miles) from Dulles to Cambridge is the longest we have ever driven on a day of arrival in the USA. And we also set another record for a first day, visiting five states (six if you count West Virginia twice).
- Return to Long Bridge trip page -
- Return to Travel page -