Look out for panthers
It had become time to leave The Keys and head north once more. From home we had decided to go to Tampa and take an overnight stay there, but while in Florida we had changed that decision. Our goal now was just to drive as far as we could manage, stay the night whereever and then continue the next day to Columbia, South Carolina in stead of going via Atlanta, Georgia as originally planned.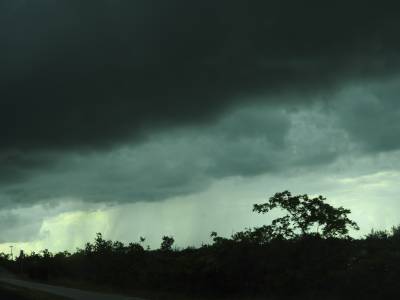 Black clouds over The Keys just before the rain reached us.
As you can read in the article Meeting butterflies and colleagues, I had been the driver going to Key West, and now Tim would be the driver heading north, giving me the opportunity to take some pictures, but that was not to be - or rather I only managed to take a few, because of the weather. When we had checked out of the hotel we just had to turn left, and go on for a mile, then we were at the bridge leading from Key West to Stock Island and we were back on The Overseas Highway. When we turned north we could see black clouds amassing in front of us, and very soon it started to rain, and not long after that, it was almost impossible to see anyhing through the windshield, so we had to slow down. All the way north it kept on raining more or less. It didn't stop until we reached Key Largo, so I got a few pictures when the rain eased. I did get a not too bad picture of Sombrero Key Lighthouse, 5 miles offshore from Boot Key.
When we reached the mainland, the rain stopped and the sun broke through the skies, and even if we never got a clear blue sky, it didn't rain more that day. When we got to Florida City, the first town on the mainland, we stopped to get gas, a cup of coffee and switch drivers. We had decided not to go across Florida on Interstate 75 as it is a toll road on that stretch, and as our means of payment were limited to a camera taking a picture of our licenseplate and then send the bill to the rental car company we were trying to avoid that. And that proved to be a wise decision as the rental car company charged a rather substantial fee for collecting the money from us (you can read more about that in the article To wrestle alligators). Instead we would use Florida Highway 90 across the Everglades to Naples. We now looked at our map, and decided that Florida Road 997 would be the easiest way to get to Fl 90. As the gas station was right where US 1 met Fl 997, it was easy to find. Fl 997 proved to be a narrow two lane highway, and as we met a lot of roadwork it took us some time to get there. The road was also known as Krome Avenue, why I do not know but it may have been named after a person as no place by the name Krome was anywhere nearby. Finally we reached Fl 90 wich shares the roadway with US 41. The road through Everglades was a four lane highway and the speed limit was 70 miles like on the interstate.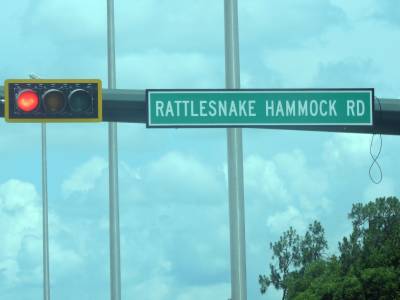 Strange name for a road!
Along the way Tim, who was riding shotgun fell asleep, so we didn't get a single picture going through the Everglades. When we reached Naples on the western shore of Florida we once visited a Walmart. I bought more shirts, and we also bought some gifts to bring home to Clara, my granddaughter. Along the way we met a warning sign with a picture of a puma and the text "Panther Traffic". (In Florida and other places in USA they use the word panther for what we in Europe call puma). Such a sign we will never see in Denmark. All warning signs about animal crossing, just has the picture of a wapiti. In USA I have seen pictures of alligators, bears, bisons, cows, horses, turtles, racoons armadillos, moose, and standing. walking, running and jumping deer and now also a panther. Step up Highway Agency in Denmark! Unfortunately we didn't meet any panthers, but you can see a picture of the sign in the Florida Album, on my photopage. Seeing one would have been interesting. But we saw another sign, this one bearing the name of a road. Rattlesnake Hammock Road! I don't know how it got it's name and whether there was a rattlesnake in a hammock or if it is a hammock for rattlesnakes.
When we reached I-75 we changed to that. From Naples and north it is no longer a toll road. It's only on the stretch through Everglades. This stretch of the interstate by the way is known as Alligator Alley. We had changed drivers at our stop at the Walmart and around Tampa we changed once more, so once again Tim was driving while I was riding shotgun. When we just cleared Tampa signs and traffic radio warned us about a roadwork 20 miles ahead that caused considerable delays, and when we got closer the traffick slowed down, but it never really stopped. And the considerable delay proved to be only 15 minutes.
130 miles further down the road we reached Gainesville and decided to call it a day. We decided to have something to eat and then find a hotel. We had dinner on the Texas Roadhouse that we had talked about a lot, but yet managed to try on this trip. We then found a hotel and got a room. When we had brought in and unpacked our bags, we discovered that the toilet was out of order. As no plumber was on call we had to have another room, so we packed our stuff once more and moved a couple of rooms further down the hall. This time everything was in order, and we could finally relax after a long day. The 520 mile drive would later prove to be the longest on the whole trip. The weather had been changing a lot from heavy showers in The Keys and only 77 F, to cloudy through the Everglades and later more an more sunny with temperatures up to 100 F when we got further north. When we got to the hotel around 8.30 pm it was still 95. So once again we were grateful for the aircondioning!
- Return to Long Bridge Trip page -
- Return to Travel page -