The cursed road
I'm certain that some witch or wizard has placed a curse on Dulles Toll Road! No matter what I do, I simply can't get it right, but I'll get back to that below.
I'm back in Denmark after another excellent vacation in western North Carolina. In some ways it was very similar to previous vacations in the area, in some ways it was very different - in a good way. But let me get on with this first article.
My son took me to the airport, where I had to pick up some gifts, that I had bought for people I were to meet. So after dropping my baggage (check in was done online) and going through security I located the Georg Jensen store and picked up my presents. Then I spent the next our or so in a lounge right next to gate I was flying from. I flew from Copenhagen via London to Washington Dulles. As usual the trip to London was uneventful. In London I had to spend two hours, so I walked to lounge only to find out that the plane was delayed one hour due to late arrival, but finally we got underway, and when we landed in Dulles, we were still a little over an hour late. I cleared immigration with no delay as I could use the machines, because I had previously entered USA with the same passport and the same ESTA.
When I got to the bagage area, my bagage was already there, so I just had to grab it and walk to customs. The last two times I have arrived in Dulles, I have stood in a long line for customs, but not this time, as the custom desks were unmanned, so I just walked through, and didn't even got to turn in my customs declarations form, that I had filled out on the plane. As I had slept 3 or 4 hours on the plane I didn't feel tired, so now I was ready to begin my vacation for real. I walked outside to where the buses to the rental car companies leaves from. Normally you only have to wait about 5 or 10 minutes for a bus to arrive, and several buses did arrive while I waited, but none of them were for Avis. After 40 minutes the bus arrived though, and as I was the only passenger, I was also the only one in the Avis office. I got my car, a Chevy Malibu this time, which was a first. I set my gps to take my to my hotel in Sterling (it was now around 11.30 pm), and then it went wrong - or rather I made a wrong decision. At one time the gps told me to take the next exit from the road I was driving, only when it told me that, I was next to an exit, so I thought it meant the next after that, but it didn't. Around 300 yards further on I met the toll booths leading to Dulles Toll Road in direction north. The signs said that I had to pay with either EZ-Pass or coins, and I had neither. In the articles Waterfalls, wine and a Kissing Bridge and Memory Failure, both on the 2004 Travel page, I talk about previous problems on the toll road.
I'm not quite sure if I should actually write the next part of a story if a law enforcement officer should happen to read this page! I didn't know what to do, so I stopped the car while i tried to figure somethig out. Finally I decided, that as it was late and I was the only car around I would simply turn around and go back the same way I had come, even if it was in the wrong direction. I managed to get back to the exit without meeting anybody, and this time I left the highway correctly. From then on everything went smoothly, and I found the hotel without any more troubles. I got my room and after sending a few texts to relatives back in Denmark to tell them I had arrived safely I went to bed.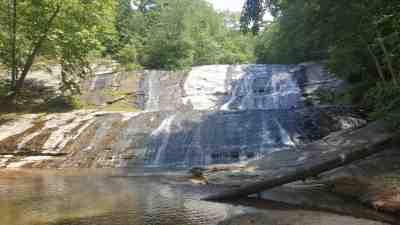 Moravian Falls, a waterfall in the census-designated place of thre same name in Wilkes County.
I had set my alarm to 7 am next morning and after having refreshed myself and eaten a bit of breakfast, I started out southbound. Virginia Road 28 to I-66, and then west to Front Royal and Strasburg. Then south on I-81 for 215 miles to just north of Wythesville, where I-81 and I-77 intersects. Then south on I-77 for another 60 miles or so, into North Carolina and on to US Highway 421 to Wilkesboro. From Wilkesboro 4 miles south on North Carolina to Moravian Falls. Here I made a short stop to take some pictures of the falls before continuing on NC 18 to Lenoir, today's goal. On my first visit here I had some problems when I tried to locate The Irish Rose Bed and Breakfast, but this time I knew how to get there so I did, and I arrived around 4 pm after a long tiresome drive.
I was received by Rose Noakes, the owner of the place like The Prodigal Son, and we talked for a while. Then I carried my bags to the room, the best in the house with the 17' times 9' en suite bathroom! I stayed in the room and unpacked. I had only booked three nights, as Rose had told me in a mail, that she would be leaving for Europe as soon as I left the place :-), so maybe she kept it open just for me? I prefer to believe so! After unpacking I returned to Rose in the kitchen and we chatted for a while. From Denmark I had brought her a box of salt! Not ordinary salt, but salt from the small Danish island of Lęsų in the Kattegat ocean, where salt is produced today from salty ground water, in the same way it has been produced on the island since medieval times. The salt is quite expensive, but as it is saltier than ordinary salt, you don't use that much and the taste is very good. After our chat I went out to have something to eat.
As I was tired after the flight the day before and the 400 mile drive, I wasn't actually very hungry so I settled for a sandwich on a Subway. Then I returned to my B&B and had another chat with Rose, and at the same time ordering next mornings breakfast for 8 am. Back in my room, I wrote a couple of mails to people I was hoping to meet during my visit. After that I went to bed quite early as I had some sightseeing to do the next day.
Just a sort notice on the people I hoped to meet. I will tell you more about that in due time. In the articles, Just another day in western North Carolina - Ghosts and an execution on the 2015 page and Buying a book on the 2016 page I told how I tried to meet with Mrs. Charlotte Frye and how we never met, but we would give it another try, so she was one of the people I mailed. In the Buying a book article I also told how I bought the book, The Tom Dooley Files by Charlotte Corbin Barnes. When I got back to Denmark I read the book, and then I mailed her, which became the beginning of a long mail correspondence and along the way I also mailed with her husband Bill Barnes, and the two of them had invited me to stay with them in their home, while I was in Charlotte. Acutally their home was in the suburb Matthews, but more about that when I get that far. I just have to say though, that without the efforts of Charlotte and Bill, I would never have met all the nice and interesting people that they indtroduced me to. I will get back to all of them at due time, but right now I will just thank Charlotte and Bill once more for what they did for me, and also thank John Hawkins, Zelotese Walsh, Faye Bell, Carolyn Anderson, Sam Mask, O.C Stonestreet and not least Steve Hill for taking their time to meet with me and share their knowledge of the Tom Dooley case and the area. Charlotte and Bill also introduced me to singer/songwriter/musician and airline pilot Rob McHale and his band. Another thanks go to Charlotte Frye, who I finally met and Margaret Martine, daughter of the late Edith Carter, whom I met for the first time. So a large thank you to Charlotte and Bill for the introductions.
- Return to Summer in Western North Carolina -
- Return to Travel page -